Museum Exhibit on Lowell's Greek Community Opens Aug. 1
Lowell's Greek Community Featured in Upcoming National Park Exhibit
"The University of Massachusetts Lowell, in partnership with Lowell National Historical Park, announces the opening of an exhibit on the Greek community in Lowell, Massachusetts, titled 'Acropolis of America: The Greek Community in Lowell 1874-2020,' on August 1. The temporary exhibit will be on view at the Boott Cotton Mills Museum, 115 John Street, Lowell, Massachusetts, through March 2021, according to Tracy Shurtleff, secretary to Superintendent Celeste Bernardo.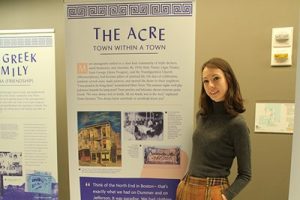 Web photo courtesy of UMass Lowell
"The 'Acropolis of America' exhibit documents the role the city of Lowell played in the history of Greek immigration as the home of the third-largest Greek population in America. From fewer than 10 Greeks in 1880, the city's population grew to a thriving community of 35,000 by 1925. They worked in mills, ran grocery stores, and helped each other through the Great Depression. Despite urban renewal in the Greek Triangle neighborhood, the community remained strong as evidenced by churches, a full-day school, businesses, festivals, and several social and cultural organizations.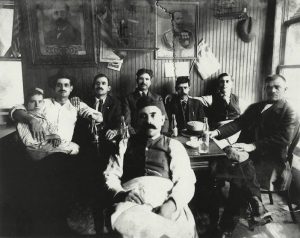 Greek immigrants at Kostas Vergados's cafe, Market Street, 1921. (web photo courtesy of pappaspost.com)
"Descendants of Greek immigrants achieved success in business, academia, entertainment, and the military. Greeks also became a political force including Dr. Paul Panagiotakos, George Eliades, Ellen Sampson, and Paul Tsongas. The exhibit is dedicated to Dr. Charles Nikitopoulos who had the idea for and worked on this exhibit until his passing in July 2019.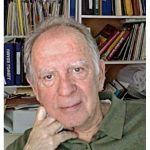 Charles Nikitopoulos (1941-2019)
"The exhibit is sponsored in part by The Hellenic Culture and Heritage Society of Lowell and the Dr. Christos J. Bentas Endowment for Hellenic Studies at UMass Lowell.
"Dr. Robert Forrant, Distinguished University Professor, is the lead curator of the exhibit. The research and design team includes UMass Lowell students from Manchester, N.H., and from Andover, Townsend and Tyngsborough, Mass. The researchers made use of documentation from the UMass Lowell Center for Lowell History."
For more information, contact the Park at (978) 970-5055 or write to Laurel_Racine@nps.gov.