Lowell Diners: Words by Susan April; Photograph by Paul Richardson
Susan April, a writer in the "Literary Lowell +" catalogue on the home page of this blog (top right), sent us these compositions about three diners in Lowell. Here's her profile in our catalogue.  
Susan says she grew up in Lowell in Jack Kerouac's shadow: "My father went to St. Louis de France grammar school with Jack's sickly brother, Gerard. What Dad remembers of him? 'He was never there. Even when he was.'
"The diner cars are jazzed up now, thanks to Lowell tourism for the National Park. But I remember their run-down, haunted days (and nights). This flash fiction channels the crumbling Lowell, more than the current polished nostalgia."
These pieces were published in Blink Ink #30, Spring 2018, and are reprinted with the permission of the author.
Born in Lowell, Paul Richardson attended the University of Massachusetts in Amherst, where he studied Comparative Literature, and the University of Grenoble in France. Paul studied photography at the Essex Photographic Workshop in Essex, Mass. He has a studio at the Brush Gallery & Studios in downtown Lowell. Diner image (c) Paul Richardson, Paulhrichardsonphotography.com (Don't forget the H in the web address) Please Click on the photograph for a larger view.–PM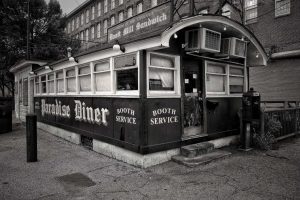 With Jack at the Paradise Diner
"Ti'Jean. Bienvenue."
"Coffee. Black."
"Christ, where's your shoes? It's five below."
"I left them in Florida."
"Look friggin pale for Florida."
"I'm friggin hungry, that's what."
"I could spot you a triple Boot."
"With natural gas?"
"In Paradise, Jack, the beans are always free."
Who's There?
A bars-closed, freezing 2 a.m., and Hunter slips into the Owl Diner. Teeters on the ruin of a red vinyl stool. "Anyone home?" He takes a spin on the stool. It ricochets and throws him to the floor. Cook peeks in and shrugs. Neon owl winks.
Cupples Square Diner
I passed this diner every day. No beer and tangy flare of cigarettes like open-doored Blackie's Bar. But a drool-forcing bacon smell I had to endure every single day. And I was hungry. Always hungry. So I sneaked in. But the owner threw a mug. "No dogs!"
—Susan April