LHP/LNHP Preservation Award Nominees Needed
In this cross-post from "Learning Lowell," Chris give us the background on the Lowell Heritage Partnership/Lowell National Historical Park  Annual Preservation Awards. He interview the players and talks about last year's honorees including our colleague Dick Howe. It's time for the community to offer up nominations of those who deserve recognition for their work and contributions. The award event is scheduled for Thursday May 8 during the celebration of Doors Open Lowell 2014.
We've been learning about dozens of preservation stories in Lowell, some large and others below the radar. In some cases, these are historic preservation stories, in which unique architectural assets aren't just preserved, but given a new life that allows visitors and residents to interact with history. In other cases, "cultural heritage" is preserved. Preserving cultural heritage could mean many things: research and documentation of culture, preserving oral histories, passing on traditions of art and folk craft, providing venues for groups to showcase their culture, holding festivals and celebrations, and teaching children and adults about everything which makes us human. Recently, I learned about an award that honors and celebrates achievements in these two areas, sponsored by Lowell National Historical Park and the Lowell Heritage Partnership. I believe it is critical for the awards' success to have a wide diversity of candidates, so everyone who knows of a student, group, or individual effort should send in a nomination—whether or not the effort is well-known.
The history of the Lowell Annual Awards for Historic Preservation and Culture, also known as the Community Excellence Awards, starts in 2006. Sue Andrews, who helped set up the award program, was kind enough for me to discuss its beginnings. She worked with a similar award program in Blackstone Valley National Heritage Area, and it seemed to not only be a perfect way to not only raise awareness of achievements within Lowell, but also a way for the National Park to learn about community efforts large and small. In her words, it would help to "make the voices out in the community heard."
The two categories, historic preservation and cultural heritage, were based on the National Park's mission to "preserve and interpret the nationally significant historical and cultural sites" throughout Lowell. This year, two recipients in each category may receive awards: a middle through college student, and a member of the broader community. I began to see the awards as a way to create a dialogue between groups, facilitating sharing of resources and collaboration.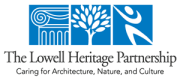 It was this spirit of collaboration that brought the Lowell Heritage Partnership in as a co-sponsor. The LHP was an organization I didn't understand when I first moved to Lowell. It serves as a "Friends of Lowell National Historical Park" group, but its purpose seemed much broader than just serving as a nonprofit arm. And although it preserves and enhances Lowell's cultural heritage along with its natural and architectural heritage, it doesn't serve the same purpose as the Cultural Organization of Lowell, either. Rather, many individuals, committees, and groups contribute time or resources to the partnership, and I now understand it as a vehicle of collaboration, making a stronger connection between the National Park, neighborhood groups, and the Lowell community.
Last year's winners included Richard Howe Jr. for his cemetery tours, the Southeast Asian Water Festival committee, Lowell Community Health Center for the renovation work in the Hamilton Mills, and Albert Lorenzo for a research project on the Lowell Canal system. The 2013 awards also posthumously recognized Dr. Patrick J. Mogan, considered by many to be the "Father" of Lowell National Historical Park. The Room 50 blog has a number of photos from the ceremony. The ceremony is part of May's Doors Open Lowell, an event that lets participants tour renovated buildings, many of which are normally closed to public.
Southeast Asian Water Festival Committee accepts award in 2013, Paul Marion watches to the right (Courtesy Room 50)
I asked Paul Marion, president of the LHP, to talk about what made these awards important. He pointed out the value in recognizing people who "help to conserve our heritage day to day," normally with little attention. He also said:
The awards speak for the value system of the National Park Service, Lowell Heritage Partnership, and preservation advocates in the community who seek to encourage vigorous, thoughtful, and enduring stewardship of the city's distinctive places and stories. Much has been accomplished in the past 50 years when it comes to reclaiming Lowell's position in the American narrative, and the benefits have been enormous during that time. It is important that we praise the efforts of those who contribute to this ongoing effort to protect and honor the history of Lowell…
We must always be vigilant in taking care of the physical, environmental, and cultural assets of Lowell—and we should always do so with an affirmative and optimistic spirit. We present the awards in that spirit.
For the official press release and nomination forms, click here