JFK Visits the Red Sox at Fenway Park, 1946
From the archives at the John F. Kennedy Library: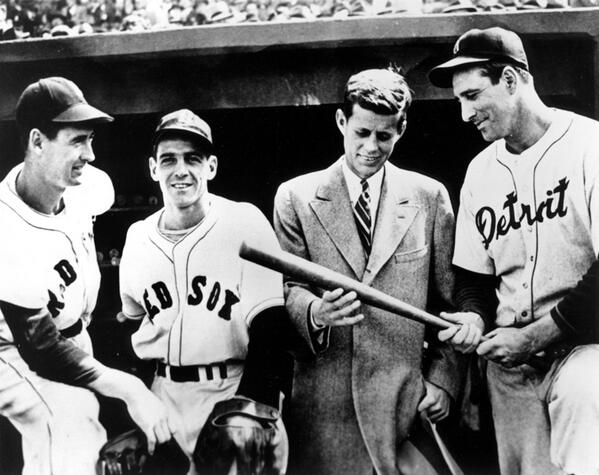 Fenway Park, Boston. April 1946. Ted Williams, Eddie Pellagrini, John F. Kennedy, and Hank Greenberg. Photographer not noted. Photograph in the John F. Kennedy Presidential Library and Museum, Boston.
In 1946 – James Michael Curley, the legendary local politician was serving as the  U.S. Member of Congress for the Eleventh Congressional District when he decided to not to run for reelection but instead to run for mayor of Boston. With the seat open and long eyeing a place to run – young, energetic and World War II combat veteran John F. Kennedy entered the race – along with nine other candidates. He ran hard and he visited everywhere – including Fenway Park. JFK is pictured above at Opening Day, Fenway Park in Boston.