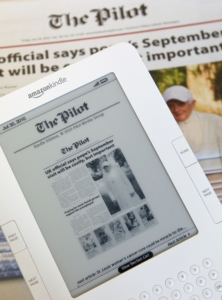 Boston Catholic Church officials announced Thursday that the archdiocese's weekly newspaper is now available through Amazon's Kindle e-reader and via an Apple iPhone application.The 181 year old The Pilot – America's oldest Catholic newspaper and the official newspaper of the Archdiocese of Boston –  is the first Catholic newspaper to publish an "e-edition" on an  electronic reader. Cardinal Sean O'Malley – himself a Kindle user – said in a statement that the latest efforts are part of the archdiocese's
efforts to bring its message to as many people as possible particularly the young people.
Read the full article here  at the BostonPilot.com.