The Sherwoods Rocked the House
Little John and the Sherwoods Rocked the House
By Paul Marion
". . . the most exciting and memorable days of my teenage years . . . ."—David Arsenault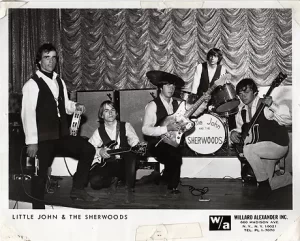 When "Light My Fire" was number one nationwide in August 1967, the Summer of Love, the Doors played the Commodore Ballroom, a performance and dance hall with tremendous entertainment bones near the Lowell train station. The earlier iteration of the Commodore, which had opened in 1924 as the Kasino, brought Count Basie and Duke Ellington to the city. People came from all over for the big sounds. The modern Commodore presented Jimi Hendrix, Peter and Gordon, the Jeff Beck Group featuring Ronnie Wood and Rod Stewart, and the Kinks. Fans saw Cream, Vanilla Fudge, Moby Grape, Ultimate Spinach, and the 1910 Fruit Gum Company—note the food trend in names. Tickets ran from $2 to $3.50. [Sold in 1973, the renamed Mr. C's Rock Palace lasted ten years, during which fans experienced Cheap Trick, B. B. King, the Ramones, Foghat, Orpheus, and others.]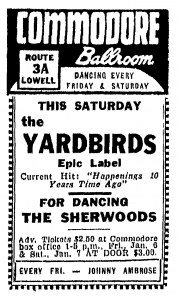 The Sherwoods opened for the hottest bands.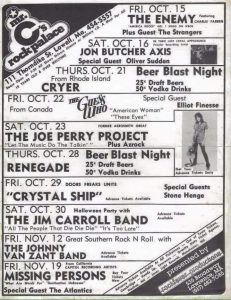 Poster from the Mr. C's Rock Palace years.
In the 1960s, Canobie Lake amusement park over the state line in Salem, New Hampshire, showcased Sonny & Cher, Brenda Lee, the Supremes, and many others. The record stores in Lowell, Garnick's and Record Lane, stocked the latest music. The five-and-ten stores on Merrimack Street, Giant Store on Dutton Street, and Beaver Brook Department Store in Dracut carried 45 records and albums that kids heard about on TV shows like Shindig, Hullabaloo, and the long-running American Bandstand with host Dick Clark. Local garage bands played at high school dances and parties. Battles of the Bands sprung up in parish halls and the Grange Hall in Dracut. The music never stopped.
Two AM radio stations, WLLH and WCAP, served the region, especially WLLH, with its pop music format in the 1960s and '70s. In 1971, WLTI FM radio (for a time WJUL and now WUML at UMass Lowell) gained a studio in the basement of  UMass Lowell's Lydon Library and aired performances by Jethro Tull, Frank Zappa, Cheech and Chong, and others along with music consistent with its "underground radio" slogan.
The Commodore's popular house band in the mid-1960s was Little John and the Sherwoods, like Paul Revere and the Raiders in name and energy. They rocked the house with covers of top hits and a steady stream of Beatles' numbers, with a few original songs mixed in. Band member Ed O'Neil told the Lowell Sun: "We'd rehearse forty to sixty hours a week. We'd go in sometimes at eleven in the morning and rehearse until eleven, twelve at night. Plus, we'd play there three times a week."
The Sherwoods sometimes practiced a few houses away from mine on outer Hildreth Street in Dracut, a couple of miles from  Lowell. Drummer David Arsenault's house was on New Boston Road, two curves past the Shaw Farm dairy cows. The road runs parallel to Hildreth for a stretch. I could see his family's home across old farmer fields that had begun to sprout small houses in a development marketed as Raven Acres (Oriole Drive, Blue Jay Avenue, Raven Road). I was a Beatles nut, too, and would sit on the cinder-block front steps and listen to the amped-up guys slinging fists across steel strings and banging the snare, tom-toms, and cymbals. The five-man band surfed on the British Invasion wave led by The Beatles, Rolling Stones, Hollies, Freddy and the Dreamers, Kinks, and Animals. American groups pushed forward, too. The Beach Boys. Mitch Ryder. The Four Tops.
In December 1965, the Sherwoods cut a single for the Fleetwood music company with two songs they had written in a flash, "Long Hair" on one side and "Rag Bag" on the other. By March 1966, the record ranked third on the list of Top 45 Hits at Record Lane stores in Lowell and Lawrence, after Barry Sadler's "Ballad of the Green Berets" (1) and "You're My Soul & Inspiration" by the Righteous Brothers (2) and ahead of Nancy Sinatra ("These Boots Are Made for Walkin'"), Cher ("Bang Bang"), and The Beatles ("Nowhere Man").
Charlie Gargiulo of Lowell was a young teenager when he saw the band a couple of times. He says, "They took on near legendary status when they put out a single, an honest-to-God record. I bought it and had it for a long time. The fact that a local group had a single was a near Jackie Robinson-like moment for us Beatles-worshiping kids who could picture scruffs like us having a chance to become genuine recording artists someday."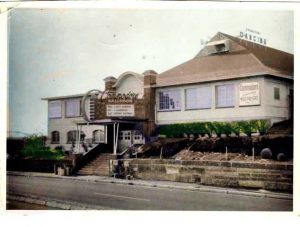 The Commodore in Lowell.
A thousand kids would pack the Commodore on weekends at the height of the rock music explosion in the 1960s. Larger venues drew up to 3,000. David Arsenault told talkingteenbeat.com, "our manager [Commodore owner Carl Braun] got us booked at other venues, mostly colleges, and the ballrooms at the beach resorts throughout New England."
The Sherwoods had chances to tour with the Beach Boys and Young Rascals when they were hot, but honored the house-band contract that kept them home to open for the Yardbirds with Jimmy Page, Neil Diamond, and other chart-toppers. Just before Arsenault got drafted into the Army in 1966, his bandmates cut his long hair on stage at the Commodore. "They threw locks of my hair to the screaming girls in the audience," he said.
When he returned from his Army service in Germany, his bandmates had split up. He kept in touch with them and played for his own enjoyment. In addition to Arsenault on drums, the band members were John Harrington (guitarist and singer), Barry Blufer (bass player and singer), Bob Star (singer), and Bob Rock (guitarist) who was later replaced by Ed O'Neill (guitarist and singer), and later, Ronnie Gagne (drums) and Dave Sloan (keyboards).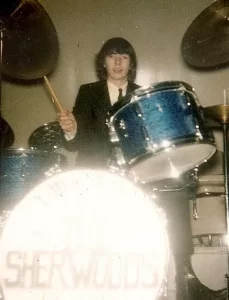 David Arsenault of Little John and the Sherwoods
[For background facts and images, thanks to Merrimack Valley Magazine, talkingteenbeat.com, Music Museum of New England online, The Sun newspaper, concertarchives.org, wikipedia.org for local radio history, and rateyourmusic.com]