Another Report from the Field: A Rerun from May 2009
One more in my series in the spirit of "Lowell Walks" from the days when I hit the trail each weekend, usually in the morning. Lotta water under the canal bridge since 2009. — PM
Scenes From an Urban Redevelopment Zone
by Paul Marion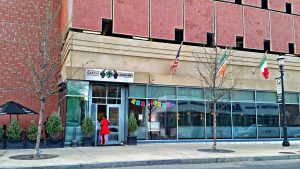 Garcia-Brogan's (web photo courtesy of mami-eggroll.com)
From the high ground of the Lord Overpass near Durkin's Carpeting and Interiors you see to the north on a banner over Dutton Street the Textile Museum's white-suited astronaut reaching for a big ball of woolen yarn floating in space. We ought to hang that spaceman banner on every parking garage for a couple of months while the Museum rolls out its new permanent exhibition—Textile Revolution: An Exploration Through Space and Time. In a single image, the Museum pushed the mill story into the 21st century.
The rocking blue graffiti'd letters on Sun Electric in that subterranean area off-shore of the Lord Overpass; the agitated letters on the fully painted side of the building set against a night cityscape backdrop. Electric Motors & Pumps. The left side of the mural painted in peach, lavender, and greens, picking up the early spring colors, new-leafed trees, and weeds springing into shape. In the grassy path on the safe side of the guard rail the man-hole cover is in synch with the theme: "Lowell Electric Light Corporation."
King St., Revere St., Garnet St., Middlesex St., Pearl St. Freddy's Auto Repair, Domestic and Foreign. Ocean State Nails & Hair Salon, and across the way the closed Best Buy Sea Foods. The massive warehouse reminiscent of the former Curran-Morton monster on Bridge Street that was demolished to make way for Kerouac Park, a near-indestructible bunker of concrete and re-bar. U.S. Dry Cleaners. KWG PC, Computer Repairs & Sales. La Tijera de Oro Barbershop with its poster of artfully cut hair/shaved heads featuring tattoo-type designs, a real body-art shop. La Differencia Restaurant promises "The Best Caribbean Flavors." The Law Offices of George P. Jeffreys. An iron front grate pulled down tight to the sidewalk. Court House Deli by the Livingstone family—door propped open. Two guys eating breakfast. Construction underway at Garcia-Brogans, the Mex-Celtic eatery "getting in on the ground floor" of the Early Garage.
Garrity's Antiques (Always Buying Estates). Sailboat-cover sheet music of "Bobbin' Up and Down" on a wooden table. An amateur painting of JFK in a blue polo shirt, holding sunglasses, looking at the ocean from his Cape Cod compound. A poster from the Metropolitan Opera's 1981 production of Parade in NY. Framed Monet maritime scene print and a City of Medford Fire Department Certificate. Lamps. A wooden sled. Trunks and chairs. Mirrors and out-of-state plates and dishes and white figure skates. 1950s model cars. A gold metal troubadour, slightly damaged like a broken Aphrodite.
At the Lowell Transitional Living Center small clusters of people waking to the day, talking excitedly under the blooming dogwood trees. The sidewalk is a path of pink petals. A black man steps up and sweeps a blonde woman off her feet and into his arms with a loud "Good morning," and everyone laughs.
Ever notice that the WCAP radio sign is between two signs for Cappy's Copper Kettle? WCAPPY?
Major's Pub. Loft 27. The Lowell Gallery. Ray Robinson's Sandwich Shoppe. Mr. Al sitting in a chair reading the paper when a Saturday morning customer steps in for a haircut. A block away at the Majestic Barbershop there's one guy in the chair and two young guys waiting. Washington Bank. Sim's Driving School. Electrical Distribution. The Club.
Garnick's Music Center. Classic used album sleeves pinned up on the side wall: Songs by Ricky, The Buddy Holly Story, The Beatles Yesterday and Today, Orpheus Ascending, Glad All Over by the Dave Clark Five, Elvis's Blue Hawaii, The Beatles' Something New, and Surf City by Jan & Dean. In the 1960s, Record Lane on Central Street and Garnick's on Middlesex were the hot-spots for the latest music. Aisles of albums in between television sets and phonograph consoles (hi-fi and stereo). What's left is an echo of its heyday. There was a straight line to Garnick's from "J. C.'s Golden Oldies" on WLLH and TV's American Bandstand, Shindig, and Don Kirshner's Rock Concert.
Romeo and Juliet Cafe. Allied Retail Systems, Specialists in Service, Sales, and Supplies since 1959. The closed Elliot's Famous Hot Dogs stand. Cars and trucks nosed in against the Owl Diner, advertising Haddock and at least one job available. Favor Street and the Eliot Church (Could they sell hot dogs on Sundays and call them Eliot's with one "l"?).
All the other scenes I missed.
May 9, 2009