Sandra Yannone reads from "Boats for Women"
As Trasna continues to celebrate National Poetry Month, we also note that this week marked the one-hundred and ninth anniversary of the sinking of the RMS Titanic. The ship was constructed by Harland and Wolff in Belfast, Northern Ireland, and its last port of call was Queenstown (now Cobh), Ireland. Its loss was one of the most sensational events of the twentieth century, and it remains the third most written-about subject of all time. Here, poet Sandra Yannone, and self-proclaimed Titaniac, reads four of her poems from 'Boats for Women.' Published by Salmon Press in 2019, the opening poems in this collection are dedicated to the Titanic.
Sailing Day, Southampton, 10 April 1912
Most of the city makes its way to the quay to help launch Southampton into nautical history. Everyone knows a crew member on board. As departure time inches closer, families dressed in their Sunday finest run willy-nilly through the streets. Fathers hoist their cargo up onto their shoulders; mothers tug at their little ones' sleeves. Everyone wants to be able to declare "I was there" when the Titanic breaks free from White Star Dock, berths 44 and 43 at twelve o'clock. On board the crew and provisions are ready: sweetbreads, sausages, fish, and meats, fresh cream, fresh milk, eggs, and butter. 2,000 pounds of coffee, hundreds of barrels of flour, thousands of quarts of ice cream, 8,000 cigars.
A Night to Remember Your Beautiful Gone
14 April 2017
And there were no more.
Never again could the world
fall apart, off-duty,
put to sea, outdated.
An absurd capacity.
This worked out. This meant
she had to carry nobody.
Even so this took care
of only everybody.
The end of class
denied anything of investigators,
evidence that hundreds
were kept crawling
from ladders
to escape.
They were so hard to find.
The statistics suggest
casualty — not to mention
the chance to be better
but not perfect.
Remembered at the gate,
May we pass, they asked.
No. In fairness,
these distinctions
set policy
as if from no policy at all –
barred the way
but didn't tell anyone.
Left to shift,
enterprising,
no one seemed
neither anything,
just proud of
covering
arrival.
Maiden Voyage
I remember this now, a Sunday
as they mostly always were, late fall,
bending over into the back seat of the car
to rearrange the automotive landscape.
Her fingers reached over, gently pressing
my spine like silver flute keys.
I heard the solo even as I felt it, fingered
for a long time, and by long I mean
still. I wish I had straightened up, turned
and kissed her, a new song,
a tender response to everything
I've felt since and after and before
her play. Or was her hand
just warming up, practicing,
before it would leave,
needing a stable place to tap out
its questions, send telegraphs into the sky
like Jack Phillips and Harold Bride sent for days,
the new Marconi operators so busy tapping out
jovial wishes from Titanic's first-class passengers
that the two could barely keep up
with the news flooding in
of impending ice like the fall before a brutal
winter. Except it was spring, as it is now,
just weeks away from the anniversary
of her sinking. I wish I had made a move
that afternoon, used the binoculars to see
the iceberg in time to turn the ship, to turn
around and look back to kiss her
one first time. But I stayed half
open in the car, folded
like a nautical chart, asleep at the helm,
while her hand circumnavigated my back.
I kept the memory of that and wrote this
poem instead. And Jack Phillips will go down
with his ship, and Harold Bride will survive,
and I'm not sure which one I am
and which one is she or which relics of what
we are to each other will be recovered
years from now from the depths of this sea,
placed under glass in an exhibit
never called wreckage, although
that's what all this is, and maybe
all a maiden voyage is ever meant to be.
Boats for Women
Yes, the boat sank. Yes, it broke in two like a stereotypical heart before it plummeted to depths no one could measure until seventy years later technology caught up and looked its ancestor in the face. Yes is the way the years oxidize the steel, and yes wipes the name Titanic off the bow. Yes are the lifeboats, the davits, the call for women and children first. Yes are the men who cry from the decks.  Sometimes when I kiss her, I am leaving a yes on her lips to remind her that I will go down with the ship. Sometimes when she whispers yes, she is staying on board. But there is always room in the lifeboats for two more women. Yes is the fact that if we were alive on that night, we would have lived.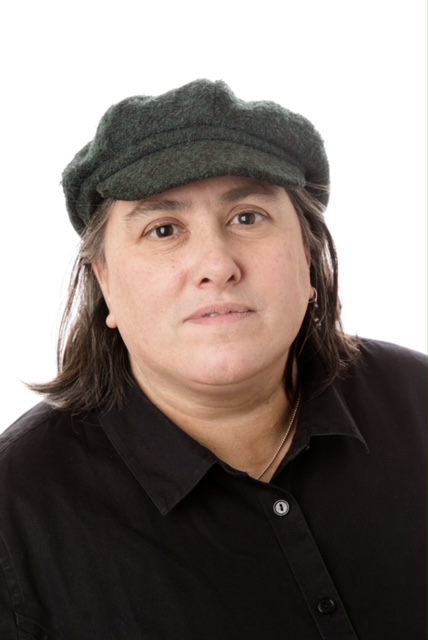 Sandra Yannone grew up near the edge of the Atlantic Ocean in Old Saybrook, Connecticut, where the mouth of the Connecticut River meets Long Island Sound. Her interest in the Titanic disaster of 1912 sparked a dialogue with Ireland, the country where Titanic was built (Belfast) and her final port of call (Cobh, formerly known as Queenstown at the time of the disaster). Salmon Poetry (Co. Clare) published her debut collection Boats for Women in 2019 and will publish The Glass Studio in 2022. Her poems and reviews have appeared in print and online journals including Ploughshares, Poetry Ireland Review, The Stony Thursday Book, Impossible Archetype, The Blue Nib, Live Encounters, Women's Review of Books, and Lambda Literary Review and have been nominated for the Best of the Net and Pushcart Prizes. She currently hosts Cultivating Voices LIVE Poetry on Facebook via Zoom on Sundays. Visit her at www.sandrayannone.com.