Ireland's Most Loved Independent Bookshops – by Trasna Writers
IRELAND'S MOST LOVED INDEPENDENT BOOKSHOPS
This week on Trasna, we feature a few of Ireland's Independent Bookshops. Ireland has over 200 Independent bookshops, and they fulfill a role that larger chains don't: they are true members of their community. As poet Enda Wyley explains: "Here you drop in to browse books, have a chat about the latest releases and sometimes bump into book loving friends too." Many of these shops promote local authors, have knowledgable staff, have extensive online services, and offer overseas shipments. A few of this year's contributors share their own most loved independent bookshops, and why they matter. What are yours? We'd love to hear.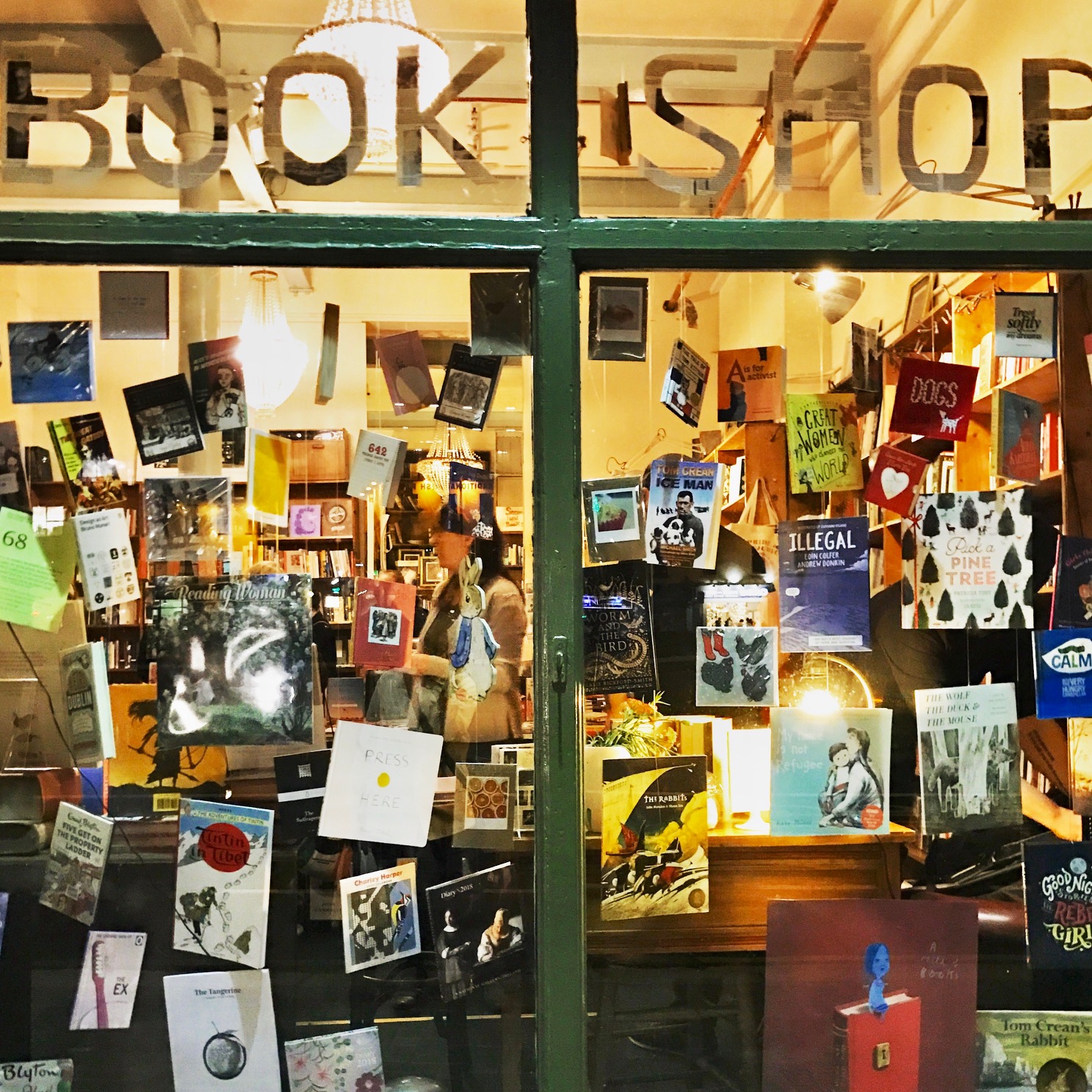 Winding Stair Bookshop, Dublin
ENDA WYLEY ~ 'The Painter on his Bike'

There is nothing like a good neighbourhood bookshop and I am very lucky to live within walking distance of Dubray, Rathmines, founded in 1994 and one of the eight branches of this Irish bookseller which began in 1973. What do I love about it? There is always a welcome there, most particularly from Vivienne Luke. I have known her since my daughter was young and she was part of a bookclub for children which Vivienne ran with such care and imagination, often organising authors to come and talk to the young readers too. And that's what's great about Dubray, Rathmines, there is a strong community feel to it. Here you drop in to browse books, have a chat about the latest releases and sometimes bump into book loving friends too. If you are seeking out a particular book, they are more than helpful at ensuring you get it. The staff love books and are always happy to recommend books too and to guide you towards a book you had not expected you'd like. Here is a shop that also goes out of its way to support local authors, displaying their books prominently when published and genuinely being happy for their successes. I was delighted to see my recent book of poems, The Painter on his Bike, clearly visible on a shelf there. I felt I'd made it! Many thanks to Vivienne and all the team at Dubray Rathmines for years of happy reading.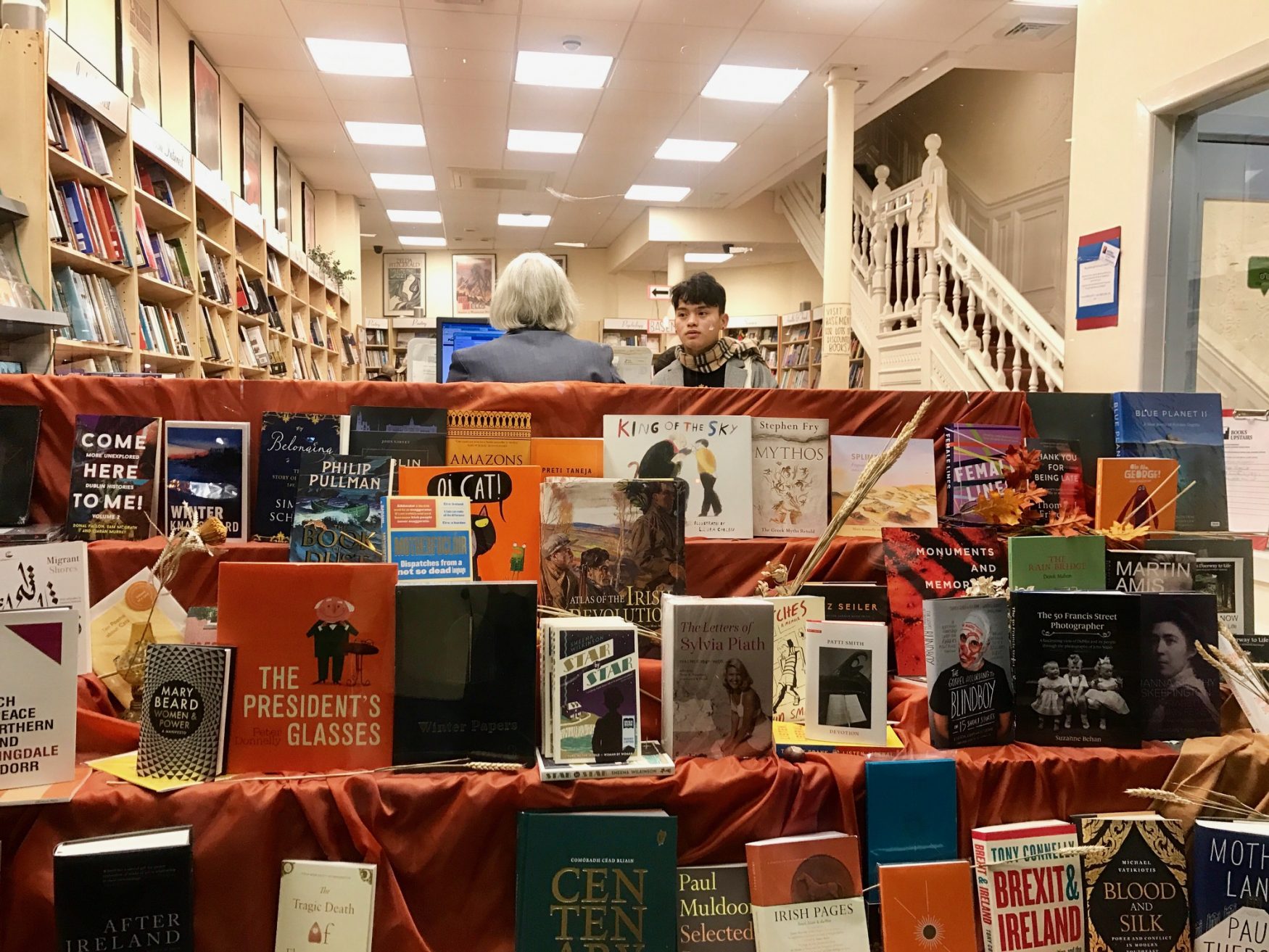 Books Upstairs, Dublin
JEAN O'BRIEN ~ 'Rupture, and other poems'

I would like to nominate Book Upstairs, Dublin's oldest independent bookshop, as my favourite bookshop, Maurice Earls its owner and his wonderful and knowledgeable staff make everyone welcome and will direct you to books you may like etc. Maurice runs regular reading (free) for authors to platform their work and offers his premises for book launches. An all round writing community.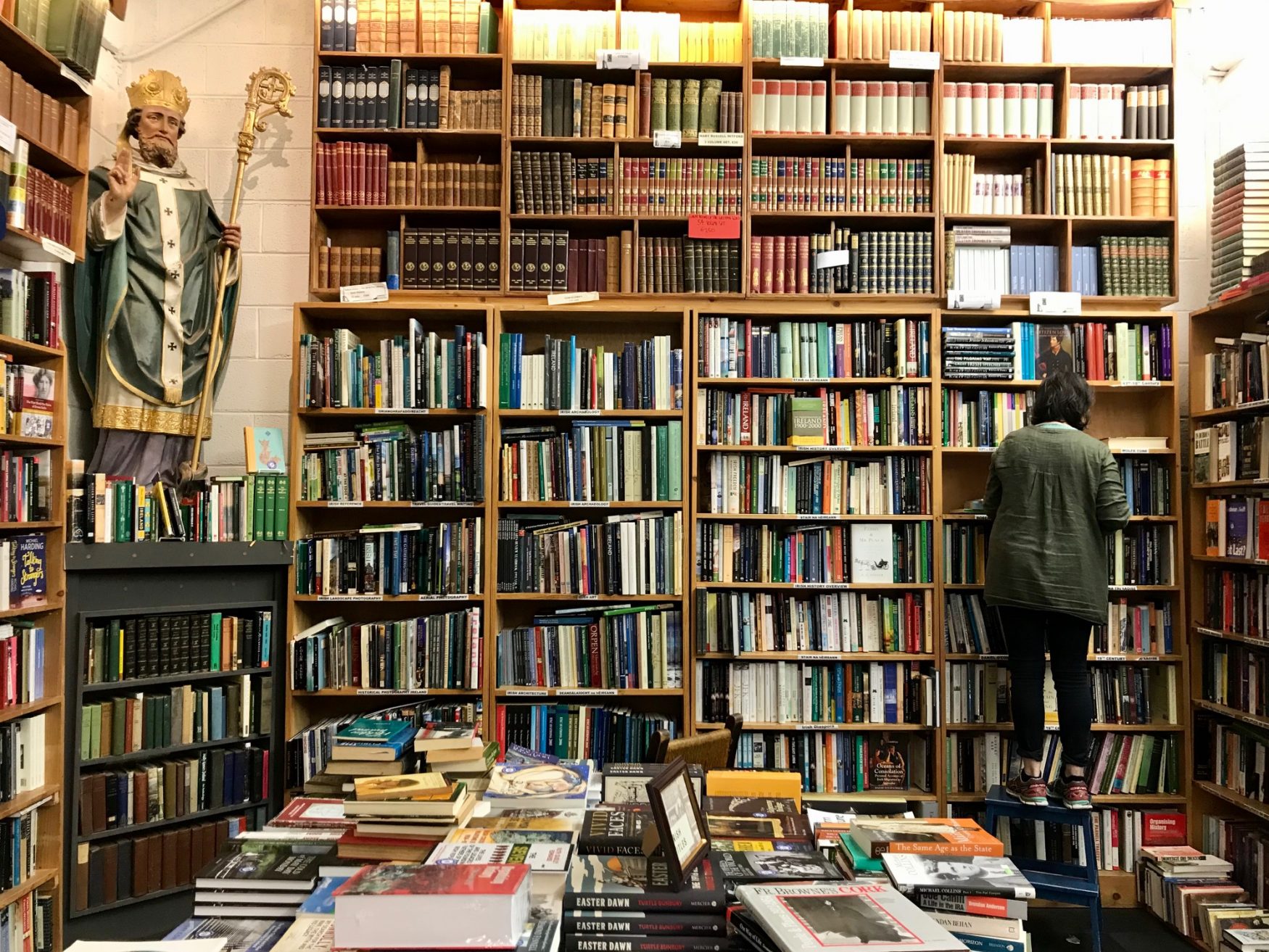 Charlie Byrne's Bookshop, Galway
BILLY FENTON ~ 'Droichead na nDeoir, and other poems'

Based in an old cinema, the Book Centre in Waterford, always reminds me of a cathedral, a cathedral of books. When I lived in the North West for many years, a journey back home was never complete without a visit, and even now living only a few miles away, every drive into town is incomplete without a stroll and a browse through its nooks and crannies.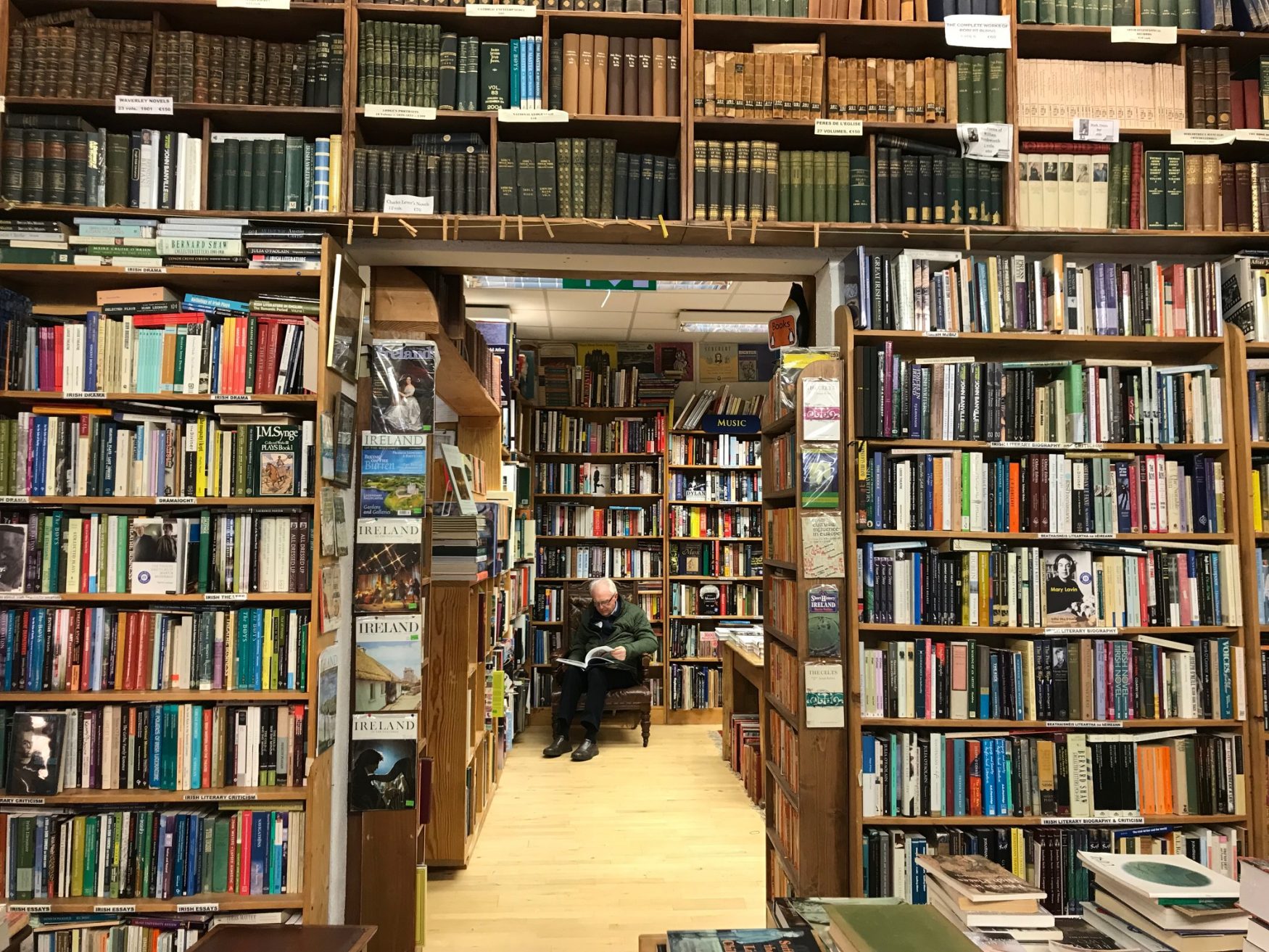 Charlie Byrne's Bookshop, Galway
MARTINA DALTON ~ 'Leaving White Bridge, and other poems'

My favourite bookshop is The Book Centre in Waterford. The building is Art Deco in style and used to be a cinema, so once you step inside the doors, the building still retains that sense of having left the 'real' world behind. Everything about the building says 'stay, there's no rush' – the smell of coffee, the circular maze of books, the seats dotted here and there to let you rest while you make your choice.
If you're lucky you might catch a poetry reading, a book launch, or even a choir raising the roof! A bookshop like no other, now more than ever, it speaks to me of comfort, of warmth, and of coming home.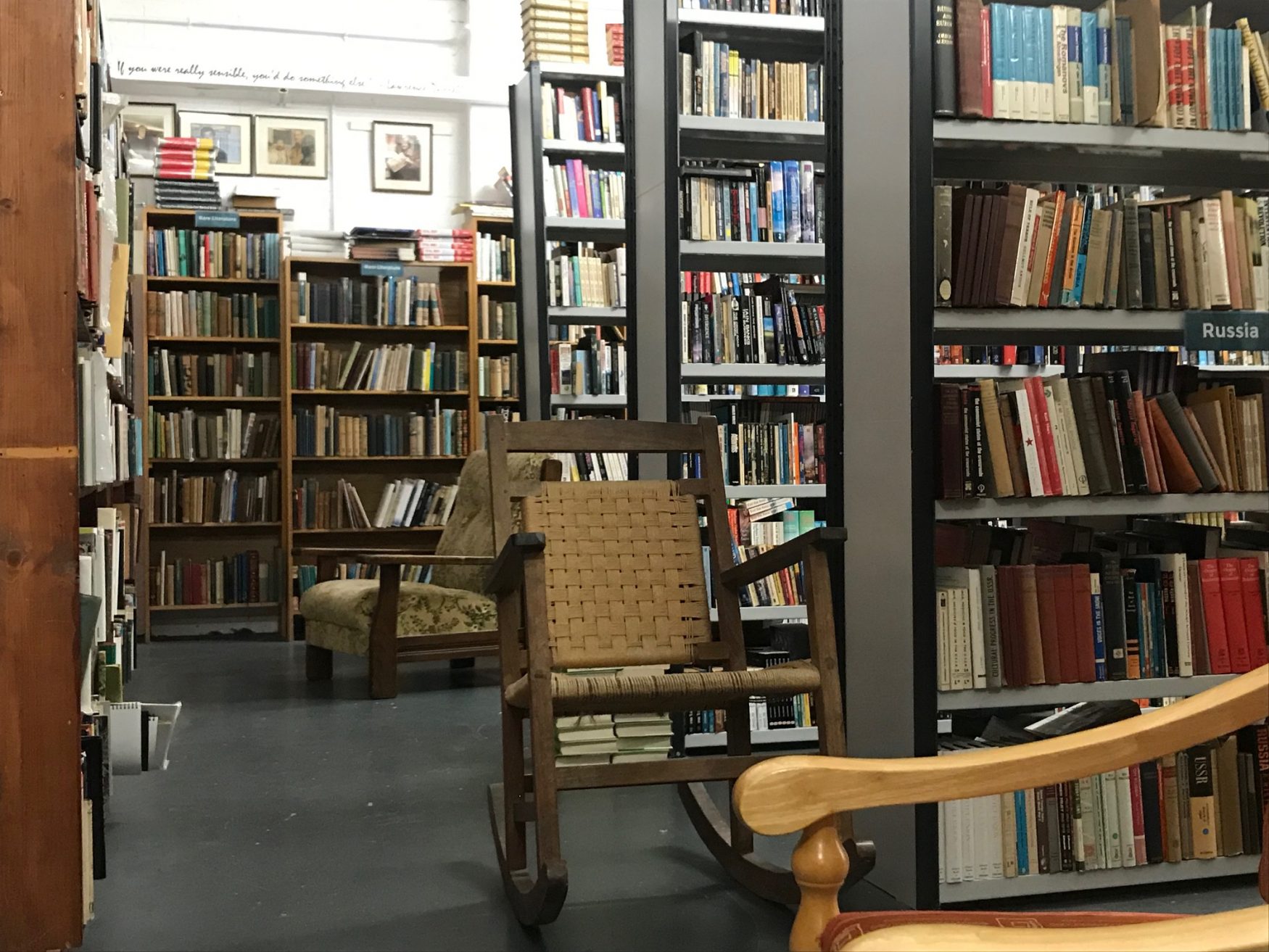 Kenny's Bookshop, Galway
TOM HUNT ~ 'Boston University and the continuation of a proud Irish athletic tradition.'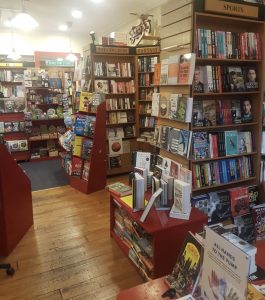 Just Books, Mullingar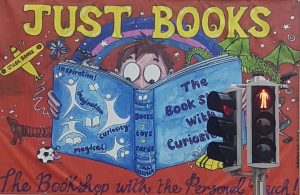 Just Books, Mullingar: A cornucopia of great books and excellent, informed service.
ALAN MCMONAGLE ~ 'Even the Rainbows are Social Distancing'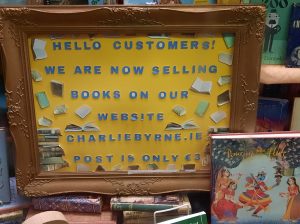 Charlie Byrne's Bookshop, Galway
I've been crawling under tables and chairs in Charlie Byrne's since I was a young lad twenty or thirty or forty years ago. I love its staff, its layout, its energy; I love that every time I go in I leave with something I did not expect to find. It's an ongoing adventure of a bookshop and no two visits are ever the same.
BERNIE CONDON ~ 'Woodbines and Tall Tales'

My favourite 'bookshop' has to be my local Library, in Clonmel, Co. Tipperary. The array of books in there is astonishing. Apart from missing my family during the lockdowns, I have truly missed going to the library to sit and write, surrounded by inspiration, and human interaction. My writing just escalates when I'm surrounded by books.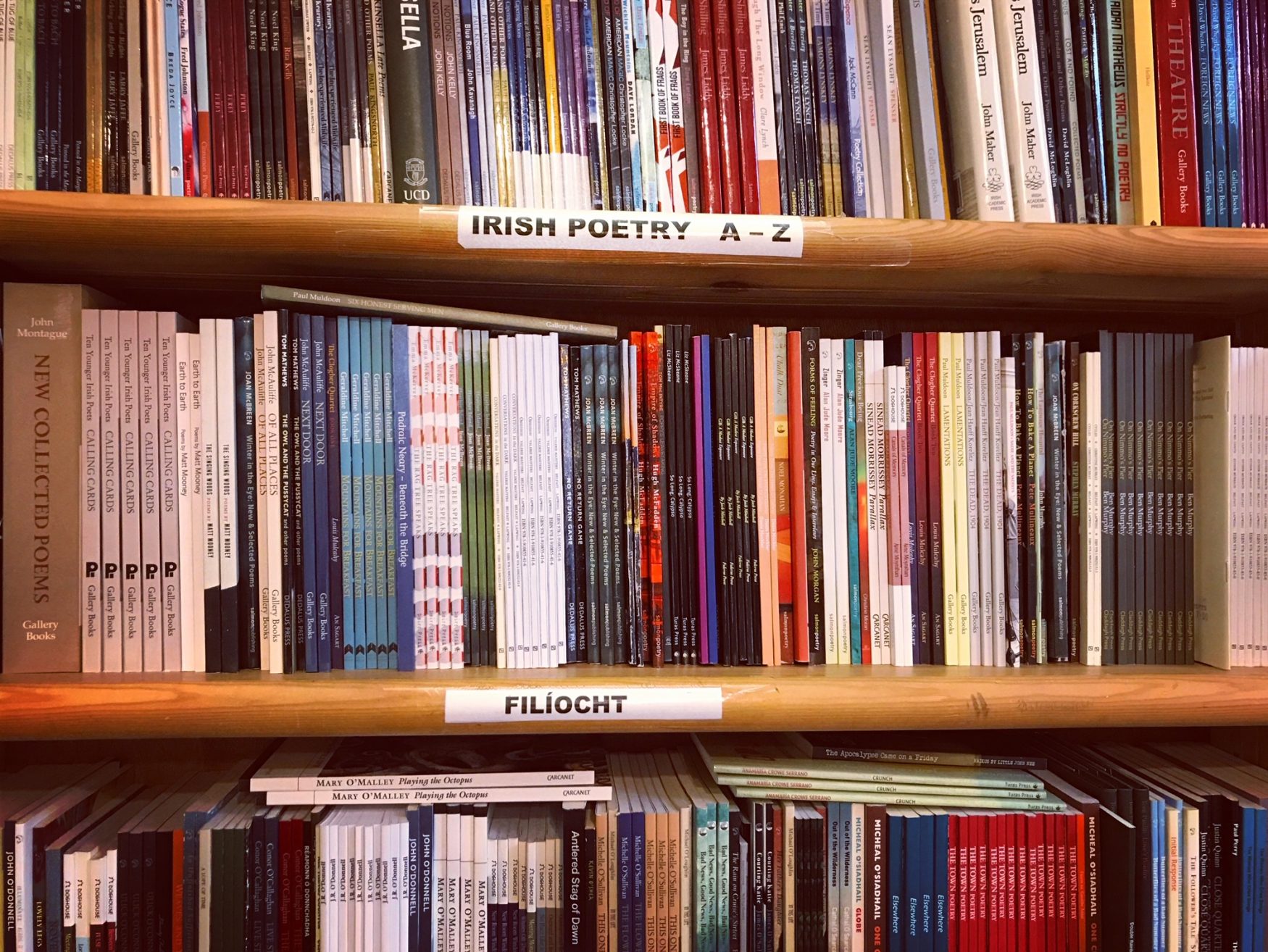 Charlie Byrne's Bookshop, Galway
CHRISTINE O'CONNOR ~ The Last Lines of Henry Thoreau and Yeats' Ring-Stained Copy of Walden
As an American, and a long-distance shopper, one of my favorite bookstores in Ireland, is the shop at the Museum of Literature Ireland (MoLI). They have a great selection of books, along with literary themed gifts and cards. This year I ordered: A more Complex Truth: Selected Writings  by the late Nuala O'Faolain; Minor Monuments: Essays by Ian Maleney; and, Why the Moon Travels by Oein DeBhairduin. While much of shopping has moved online due to COVID concerns, check out the many Irish bookshops that make overseas orders a painless affair, and do so much to support local authors.
PHOTOS of the Winding Stair Bookshop; Books Upstairs; Charlie Byrne's Bookshop and Kenny's are by Christine O'Connor; of Just Books by Tom Hunt; and of the sign at Charlie Byrne's Bookshop by Alan McMonagle