The following is an email message sent to my friend John Suiter in Chicago at 6.30 AM, about three hours after the mythic contest between the Boston Red Sox and Los Angeles Dodgers ended with an 18th-inning victory in game three of the World Series. I quit watching TV after the top of the 15th inning when the Red Sox blew a good chance to break the 2-2 tie with at least one run. That was at 2.30 AM. The game of over seven hours, longest in World Series history, began at 8.00 PM Eastern Time. I've loved baseball for 60 years, brought along by my father and second-oldest brother, David, from the time I was four or five. For a time it was my dream to play major-league ball, but I was not good enough to get beyond high school baseball. I was the size of Jose Altuve and Dustin Pedroia minus the super-raw talent required for a short guy to succeed in the big leagues. I've followed the Red Sox all this time, watching them miss being champions until the now-legendary 2004 defeat of the dreaded New York Yankees and ensuing World Series win against the St. Louis Cardinals. The game last night and into this morning spurred me to tell John what I was feeling. He had sent me an email message from Chicago after waking up and seeing the game was still on. He wanted to know if I was up in New England and were we watching the action simultaneously. Here's what I wrote to him—I added the title "Red & Blue Diamond Heroes & Villains" just now.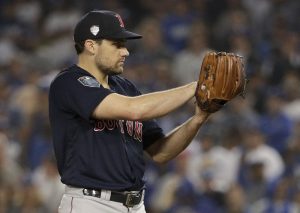 Red Sox pitcher Nathan Eovaldi (web photo courtesy of NY Daily News)
John,
It was baseball like opera, like a Russian novel, baseball binge-watched in real time.
I turned off the game after the top of the 15th when the main man Mookie (is he nicknamed for Mookie Wilson of the Mets or for Mookie in Spike Lee's movie?) took a whiff pitch with two outs and JackieBradleyJunior on second. Backwards K. Our proven-MVP Mookie broke a record with 0-7 in a World Series game, matched by shortstop Xander B., 0-8. The top 3 slots for Red Sox were, like, 0-23. Terrible. But they had a chance to win.
I couldn't watch more. It was 2.30 AM. The game did not end for another hour. I couldn't watch with all the horror movies of past Red Sox seasons in my head. Even with them up 2-0 in the World Series, I felt total dread. The sporting life is never safe for a Red Sox fan.
Nate Eovaldi. What a superman. He pitched a whole game, 97 pitches until he got stung by Max Muncy. Max. I think he was named after my recent story narrator, Max in Maine, in some crazy time-warp twist of birth in Texas or wherever Muncy is from. Maybe Trenton, N.J., where his mother slipped through a seam in a black hole and read my future short story on my website just before going to the hospital to give birth and name her new boy Max. The new Kirk Gibson of LA-LA Land. 18th inning. Bottom. What more could Nathan do? Fly to Nathan's in New York and get that man a red-hot, a Coney Island, a half-dozen with onions, relish, and mustard as yellow as Tweety Bird in the cartoons.
Eduardo Nunez. A Boston Globe writer said he was in the wrong sport last night. The Bosox third baseman should have been in soccer shorts for all the tumbling, diving, and lurching he did from the 12th inning on. Is he dead yet? I was thinking after each of three falling-diving up-ends. A Facebook friend put up a clip from a Monty Python film with the knight missing two arms and a leg saying, I'm invincible.
The game was Boston's but for a skid in the near-outfield grass by 2b-man Ian Kinsler, who is what on the side? A bagpipes salesman? A kilt manufacturer? No, it turns out he's in business with rock star Jack White in Texas, making baseball bats. But, Kinsler, who got beat out for his college shortstop spot at Arizona State by Dustin "Pedey" Pedroia (who would go to the Sox), causing Ian to transfer to Missouri—Kinsler slips and makes a wild throw to first that never-before-playing-first-base Christian Vazquez (catcher) cannot haul in, not his fault—the throw goes wide to the photographers' corral. Run scores. Run scores. Tie game instead of a win for Boston. Nate must have died inside. Fellow pitcher Rick Porcello told the Globe he cried for Nate when it was over because Eovaldi left nothing on the field. An epic relief job. Magic Manager Alex Cora pushed him to the brink. 97 pitches. Leaving the scary Drew Pomeranz, lefty, sitting alone in the bullpen for what seemed like eternity, afraid to bring in Drew who could blow up in an L.A. Minute. It was Drew "Don't-Go-There" Pomeranz unless Nate had taken a line drive to the forehead. Even then maybe Cora would have made Brock Holt pitch. Brock-star has played everywhere else this year but catcher.
Oh, the pain. Insufferable Globe scribe Dan Shaughnessy with his insufferable tics (the Sons of Cora, like the Sons of Farrell and the Sons of every other Boston manager, plus his pop music name-drops) is already writing the obituary for the 2018 Sox. They were up 2 games, and now they are dog meat.
For 14 and 1/2 innings I watched one of the most magnetic baseball games I've seen on TV, even if only 4 runs scored at that point. They had me. The prospect of going up 3-0 vs. L.A. was not to be believed but suddenly possible before Mookie got whiffed and then the Sons of Dave Roberts hung in by fingernails until Max Muncy, let go by Oakland in 2017, blew a hole in the imaginary surreal HOOD dairy company blimp of Fenway Park fame floating beyond the outfield wall in Chavez Ravine, a stadium whose loaded origin can be learned in Ry Cooder's concept album of the same name that tells us about the working-class Mexican-American neighborhood that got bulldozed and wound up in hands of Brooklyn baseball money-men who brought their product to the west coast. But that's another story for another day.
Here, this morning, it's all hail Nate Eovaldi, the fallen almost-hero of the Carmine Hose who grew up in Alvin Texas, also hometown of hardball god Nolan Ryan, can you believe that synchronicity? Nate Eovaldi who came back from Tommy John surgery and pitched like Babe Ruth last night, the way the Babe in red socks pitched 14 innings in 1916 against the Brooklyn Robins in the borrowed Boston Braves field in Beantown. Nathan Eovaldi who performed under the Olympian gaze of Sandy Koufax sitting close to the field in a Dodger comp seat and looking like ten million bucks, a survivor of the Rat Pack-era who has kept his dignity and handsome looks. We remember Sandy Koufax. We will remember Nathan Eovaldi even though he got the "L" in game three of the World Series of 2018.
So, it's on to the field tonight after a seven-hour game. Ernie Banks used to say "Let's play two," and they did last night even though unplanned.
Writing from the high hill in Amesbury, Mass., whose Main Street mural poet gave the name to Whittier, California, where the Quakers put down roots and up grew a toxic plant called Richius Nixonium, but that's another story. The Whittier Quakers of today were surely wearing Dodger-blue caps and rooting for Max Muncy at midnight. Root, root, root for the home team.
Au revoir, my dark hours correspondent.
Your fellow fan