Poet Kevin Gallagher Brings Back John Boyle O'Reilly
A Review of John Boyle O'Reilly: The Apprentice from Drogheda by Kevin Gallagher (Red Fox Press, 2020). $26 USD/22 Eu
By Paul Marion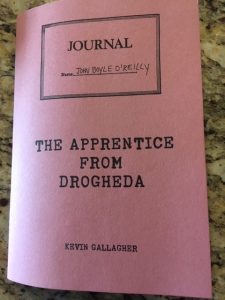 Drawn back from history's mist in the form of a splendid rose-colored chapbook made in Ireland, John Boyle O'Reilly is a substantial Boston writer who needs a revival. I didn't know the name. Kevin Gallagher changed all that with a series of poems composed on Achill Island in County Mayo, west Ireland. A notable poet and publisher with a political-economy portfolio, Gallagher edits and produces the always urgent spoKe literary annual.
"I learned of O'Reilly at a visit to the Irish Immigration Museum in Dublin," Gallagher explained. "Then I came home and learned what's in these poems, and that there are two statues of him in the Fenway. He was President Kennedy's favorite poet." And all this time we thought Robert Frost had the edge with JFK.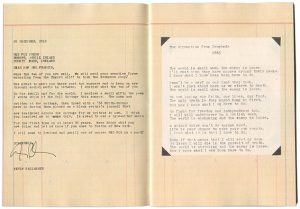 The twenty-one poems in The Apprentice make up one of four sections in a seventy-page manuscript Gallagher recently completed. Titled The Wild Goose, it's named for the literary magazine O'Reilly put together on the prison ship Hougoumont in 1867.
But I'm ahead of myself.
O'Reilly (1844-1890) of Dowth, Ireland, the author tells us, "was jailed in Britain's best prisons for attempted infiltration and mutiny [he had brought Irish Republicans into his military regiment to undermine the Brits], and then shipped to Australia for a life of hard labor. He escaped by swimming to a Boston whaling ship and sailed to the U.S. In Boston, he became editor of the Boston Pilot [before it was the bishop's paper], an abolitionist, and poet."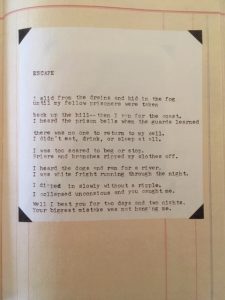 Gallagher wrote the poem sequence while in-residence at the Heinrich Boll Cottage on Achill Island and then typed the manuscript on a 1956 Smith-Corona machine when he returned home. He works the biographical clay expertly, picking up the maverick twenty-one-year-old just before he's arrested. Often in a fourteen-line structure, the poems remind me of the non-rhyming blank-verse sonnets in Robert Lowell's Notebook, another book loaded with history and current events. The O'Reilly poems are not current for us, but Gallagher's poems are fresh in their period. He handles the facts and context smoothly, shifting voices from the Apprentice himself to, for example, Father McCabe, a co-conspirator in the escape from Down Under. There are also documents like the alert to the British colonial network that an "imperial convict" is at large—"dangerous, conniving, untrustworthy."
SONNET TO THE SUN
THE GAZELLE was a New Bedford whaler
two and one half years out from its home port–
took me as far as the Cape of Good Hope.
There I boarded The SAPPHIRE, from Boston,
and sailed all the way to Liverpool.
I stepped on your shore with the name John Soule.
No one expected Prisoner 9843
to be under their nose in a cargo ship.
we passed IRELAND as we sailed westward.
The sun's rays of golden glory flowed down
on my old home on the hill, wood, and river,
as God's pity on Ireland's face.
Thank you for shining the light on the same
heaven of long ago, once more, for me.
***
In America, O'Reilly is a celebrity at the Cooper Institute in 1869:
"I stood on the platform and I looked out/At two thousand people cheering my name."
O'Reilly had seen the No Irish Need Apply signs when looking for work in 1870. But he didn't want the jobs being denied to him:
"I wanted to be a newspaperman./My only weapon would be my pen."
Later, established in the city, his public words are consequential. Gallagher gives us his take on remarks at the Boston Club (1872) and Fanueil Hall (1885) where O'Reilly says, "I will be counted in with the Black men," writers of "new songs and new music," the black man who is "spiritual,/ worshipping with his soul and not his mind," who "will bring great poets, painters,/and great fashioners of God's beautiful shapes. . . ."
In one slim volume, Kevin Gallagher returns to Boston one of its outstanding figures. O'Reilly's books include Moondyne and Songs from the Southern Seas.