Bob Hodge's New Book: 'Tales of the Times"– Bonus Track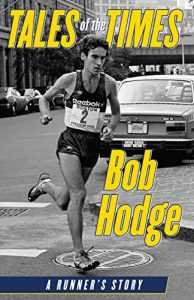 One of our occasional contributors, Bob Hodge, has a new book about his adventures in running, Tales of the Times. Bob finished third in the Boston Marathon in 1979 and won the 1982 Beppa-Oita Marathon in Japan. His memoir is filled with rich and lively accounts of an elite athlete's adventures, the highs and lows. These days he is the librarian in the town of Berlin, Mass. Bob offered us a few outtakes from the manuscript of his memoir, which we are happy to share with our readers. Consider this as material from the director's cut as we publish a few pieces in the next couple of weeks. Bob likes to include a music track with his writing, which you will see below. Kudos to Bob, who had a few book-signings planned in the area until the virus crisis hit. Please consider ordering his book from amazon (if they are still delivering books in this emergency) or the publisher, Barb's Beer Foundation (yes—here's the website).–PM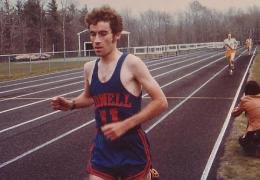 Wheelhouse
by Bob Hodge
Was waiting for an opportunity to run the mile again. I knew it was in my repertoire, but I was competing for my college team and we had a solid miler who was my good friend and training partner, and so it was rarely an option since I could generally handle the two mile and sometimes a leg on a relay.
In the winter of 1976, I had been back in college at the University of Lowell for one year and although I achieved fair grades enough to stay eligible for track. I was floundering around with my head in the clouds and restless, but running kept me focused on running.
I never had that vaunted school spirit, that college rah-rah just seemed juvenile, I mean hey, c'mon, I am a very serious person in a place of higher learning just trying to make sense of my young life find some order in all the confusion.
I studied Business Management accounting economics statistics, hated them all, being much too early for me to connect any of that with the whole.
I also studied Great Books of Antiquity and Irish Literature and Literature of the Beat. I loved those, could relate, not that my grades were any better, my philosophy, B' s are more than good enough.
My miler teammate had the school record for the mile, and the local rag the Lowell Sun had done a big story about it, and I was very envious and wanted to break his record 4:11.
Friend and teammate yes, but also rival when it came to racing it was take no prisoners show no mercy and maybe even sometimes in workouts which we did at Tufts University Indoor facility with the tunnel track.
I drifted through my days that winter and spent more time with my Lowell friends than with my track mates. I had a work-study job checking ID's for entrance to Costello Gym, and I saved some money for my school expenses and spent some going to the bars on the weekends. I lived with my parents about a mile from school and rode my bike back and forth or walked.
I spent most of my school day in the music library on the South Campus, formerly Lowell State, listening to jazz records that a teammate who worked in the library turned me on to. I read and listened to jazz music and skipping out on my statistics course, which I had not a prayer of passing anyway anyhow.
Love Supreme
https://m.youtube.com/watch?v=lHUapMTgWD0
My Lowell friend Ronnie and I talked about making an extended trip around the country, one of those dreams most young men have of doing something, but never act upon and so it could have been with us, but we persisted, and I knew it was serious when Ronnie traded in his car for a van, and I determined to leave school and get a job to save as much money as possible for our trip.
I was still passionate about running, but I vacillated between collegiate athletics and running with the GBTC running club, and GBTC won out mostly because there were some mature guys on the club to show you the way, but also there were the young turks and punks with their frat boy antics, a nice combo.
I loved running the mile, and unexpectedly I got my chance when my teammate suffered an abdominal strain and I asked Coach Davis if I could run the mile. He gave me a wry smile, "You're going after the record aren't you?" I just shrugged my shoulders and laughed.
Our meet was at Colby College, and their facility was what we considered a good track, an unbanked 200M track. There was no one else in the mile that day that had ever run under 4:20, so I knew what I had to do, and I was confident after having run three by three quarters at Tufts in 3:11, 3:07, and 3:11 two days before with my teammate leading the way and running all of them in 3:07. I only ran the second one in 3:07, so my teammate wouldn't think I could hang with him if I wanted.
BAM I went right out in 30, 61, 2:04, 3:07 and finished with a 61, felt good, my miler teammate grabbed me in a headlock laughing "You bastard! I can't wait to get you in a mile." The second place runner ran a 4:25.
Athletics full of highs and lows this was big and was a lifetime PR, the next week I got some sick bug and struggled for the rest of the season. There would be a few more collegiate running highlights but I had already checked out on academics and it would be nearly nine years before I returned to finish my degree.
I never had another serious attempt at the mile again, I had been seduced by the marathon, BOSTON.
Soundtrack:
I just wasn't made for these times:
https://m.youtube.com/watch?v=WBWe7ntARxY