Marie Louise St. Onge: A Lowell Poem
We're re-introducing Marie Louise St. Onge to our readers. She grew up in Lowell's Franco-American community and lives in Maine now. Marie Louise is a co-author of French Class: French Canadian-American Writings on Identity, Culture, and Place (Loom Press, 1999) and lead editor of Ad Hoc Monadnock: A Literary Anthology (1995). She is represented in Balancing Act 2: An Anthology of Poems by 50 Maine Writers (2018). Her poem "Thaw" appeared on this blog in 2011.  We welcome her back.—PM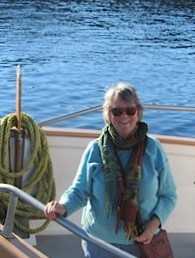 Sweetland Gardens 1969
by Marie Louise St. Onge
"I had nothing to offer anybody except my own confusion."
–Jack Kerouac (1922-1969)
.
Inside the rows of ancient brick, shuttles flew back
and forth, a rapid measure followed by the dull thunk
of beaters on looms the size of rooms. Canals spooled
through the city inky and restless, reaching for the wider waters
of the Merrimack and a salty mouth to set them free.
Each day I crossed the town common and went to a job that freed me
from a ceaseless summer, the ache of the news, and the vapors
of a worrisome home. Walking, I'd take time to wish myself up
into the giant arms of oak trees older than the smoking men on benches
leaning on canes, and I'd fly away the way a dream does in morning.
At work, I'd take orders – same thing every day: English muffin with butter
and tomato for a woman who arrived daily at 11 and sat in the same booth,
coffee for the debauched insurance man who knew where to prey, Cokes for kids
my same age who never left a tip, and frappes for the older girls with blonde beehives
who told me I should shave my legs and put on lipstick.
The days curled aimlessly through the long summer heat in the same way
smoke eased out of mill workers' mouths and dark waters stretched
toward some imagined relief. Next door, the tailor repaired things eleven hours a day
six days a week, sitting with his head down at a tiny table, as suit coats and shirts
wearing paper tags breezed by overhead on a trolley that went nowhere.
On a shadowy October day, Kerouac was buried in the Edson Cemetery in Lowell
wearing too much makeup and holding rosary beads. A nun who taught English
at my school snuck out to attend his funeral. She crossed the street (and the principal)
but didn't take her students. All this played out on one of the grandest boulevards,
upper Merrimack Street, p'tit Canada, Lowell, Sweetland, Kerouac and white roses.
The summer after they buried Jack, I was restless. Sweetland Gardens wasn't
so sweet anymore. I went to work in the Wannalancit Mill. My tasks were simple
and taxing. The boss was a small man with a pathetic mustache, dingy short-sleeved shirts
and a loathing attitude. On a sunny Tuesday morning, bewildered by my routinous duties
and unsure, I quit before the first break's bell.
From there, life unraveled with predictability and surprise. Confused about
almost everything, I tried everything. I tried too hard. Some things held the promise
of an April robin, others held the lack of an empty baptismal font.
Inky canals, trolleys and boulevards take us somewhere, they take us
on a trip around the world, to the small planet called home.
.
–Marie Louise St. Onge (c) 2020