Our new contributor Frank Wagner from Texas has a poem about neighborhood destruction, a subject familiar to anyone in Lowell who knows what happened in the Market Street Greek-American enclave in the Acre in the 1930s,  Little Canada in the 1960s, and the Hale-Howard district in the late '60s/early '70s. Frank is writing about an African-American neighborhood where he grew up in Corpus Christi, Texas. Frank fills in the background: "That was the amazing thing about Lowell and Corpus Christi. Two different regions, different racial and ethnic groups, but the same tight-knit communities, where we were more than neighbors, we were family. All of Hillcrest is scattered now. In the '30s that was the only part of town where African- Americans could buy a house, right next to the docks and the harbor and the oil refineries. They were told to live there—now they have to leave."—PM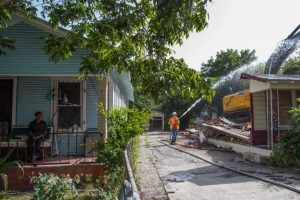 Web photo by Courtney Sacco courtesy of Caller-Times
The Bridge Where We Used to Live
by Frank Wagner
Ten thousand cars and big trucks roll
on the hot and hard asphalt on
the bridge where we used to live.
No driver of any of these
thinks for a second about
rusty tin roof garages,
old red-brick schools,
little drive-in grocery stores,
cracked basketball courts,
and wood-frame houses,
all there no more,
replaced with this hot and hard asphalt,
a new home,
the bridge where we used to live.

The old bridge rose over the docks,
to greet ships from Africa and Greece,
sometimes from Russia, too,
the men in steel-toed boots,
sweat-drenched shirts
came from the
houses in Hillcrest
to load the cotton
and grain for Russia,
unload barrels of oil,
unload cars from Japan,
then got their fistfuls of cash,
to pay bills and rent,
and buy cold doses of beer,
bitter and rich
at one time
on their tongues.

The old bridge began to fall,
all planned that way
a half-century before.
A new bridge had to come through,
and so it did,
and gone were the magazine racks
selling Amsterdam News and Jet and,
oh, don't forget Sam's Barber shop
where they got the Saturday morning trim,
the smokehouse bbq run by Brother Bell.
This is true,
Brother Bell preached, owned and operated
Mt. Zion Missionary Baptist Church,
and his barbeque stand was next to it,
irresistible sweet smell, sweet Jesus,
mommas all over Hillcrest didn't
have to worry about fixing Sunday dinner.

That's all gone, too.
with the Booker T. Elementary,
and the colored Coles High School.
Those schools began to look different
about the time the old bridge was built,
the same time
when they put the new interstate in.
That's when those people
had to take those
old catwalks over to
the schools where those
rich kids went.
This slow stroll
came after a stop
at Garcia's Grocery
for a sixteen-ounce bottle
of ice-cold Pepsi
and pork rinds.
These scholars munched
and drank, then
looked down at racing trucks
on their way.

Everyone in Hillcrest
used to ask why
the police station
was put right there,
on Buffalo Street,
the border where
the Saxet neighborhood
turned into Hillcrest.
Never mind now,
that police station is gone, too,
the exit ramp for
the bridge where we used to live.
–Frank Wagner (c) 2020