New Poem: Chath pierSath on the Cambodian Road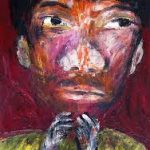 We're sharing some poems by blog contributor Chath pierSath—from his travel diary in Cambodia where he has been for a few months. He often posts multiple times a day from cities and villages in his native country, composing spontaneously and documenting what he thinks and feels. His poems are raw, visceral, urgent, passionate. The words surge in telling the reader what's going on, the compositions at times overflowing. Chath is an author and painter (example above), a former Lowell resident, and a graduate of UMass Lowell's master's program in community psychology. Here's a link to his Wikipedia page, which summarizes much of the work he's done as a writer and activist. — PM
City of Moving Flesh
City of moving flesh,
eden of rats,
madness of engines,
press & press for time,
marching onward,
unpaved road of walkers,
lights, dots in black,
call my name to retreat & hide
among you,
the smallest your grandeur swallows,
press the pressing, out of time,
the aged gone, goodbye, leaving
the night to the young,
in cars, on motos & in tuk-tuks,
who breathe the smothering breaths,
dislodge & discharge resistance, onward in the current,
these bodies are on the prowl, on the hunt,
ritz and glamour,
development & progress collide head-on 
with the conscience of souls in the dead, in the living. 
The city of flesh trade, making babies with poverty
to kill each other for wealth,
so many mouths to feed,
so many thirsty throats to satisfy,
alive, but tired & dead inside,
where to go,
but sit & wait for another day of sunlight on my face
in gratitude & in praise of the day
I can join a marching band, drum for drum.
I hum the body electric of every fate.
(December 14, 2019)
—Chath pierSath (c) 2020