'Remembering Arthur Ramalho' by D-Tension
Our friend in Lowell, D-Tension, the writer, performing artist, record producer, and all around-er, recently shared this appreciation of Arthur Ramalho, icon of the city's boxing scene on his Facebook page. With his permission, we are cross-posting the piece here.  The image of the famed trainer is by Danielle Levitt, courtesy of a Hollywood Reporter article by Scott McKim in 2011.–PM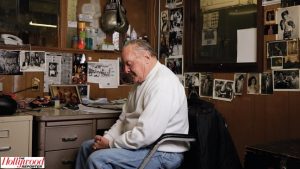 The great boxing trainer, mentor and Lowell legend Arthur Ramalho has passed. This is a true loss for the city and for the youth AND the elderly people of Lowell. Arthur dedicated his life to working with both. He was a giver.
Here's a story I've never had the opportunity to tell. When the now movie-famous boxer Micky Ward was in mid career he was not the household name he is now. He was Lowell famous but the Arturo Gatti fights had not yet happened and no one could have imagined there would one day be a movie in the works.
At that time, my friend and fellow hip hop artist Fee thought it would be cool to make a song for Micky to play on his way to the ring. We recorded "One Hit To The Body" but we needed to figure out a way to get the song to Micky. We posted it on line and Lowell boxing mega fan Jerry Colton heard it and brought it to Arthur's attention. Arthur had me bring the CD to him and he gave it to Micky and his brother Dicky Ecklund. Micky then used it on his ring walk in his biggest career win, the first Gatti fight.
Arthur didn't know me from a hole in the wall but he did that for me and I will always be thankful.
But wait there's more.
Years later Arthur contacted me and gave me contact information for Oscar winning Director David O. Russel. Dave was directing "The Fighter" and Arthur wanted to make sure he knew about the song. "You didn't get this phone number from me, you understand?" Yes I understood.
Unfortunately the movie ends before the Gatti fight so my song didn't end up in the movie but I did and I wouldn't have if it weren't for Arthur Ramalho. Rest In Peace, sir.
Oh and here's the song. https://youtu.be/0k5JmIp0NbQ