Writer Dave Perry Nails the Dylan-Lowell Event of 1975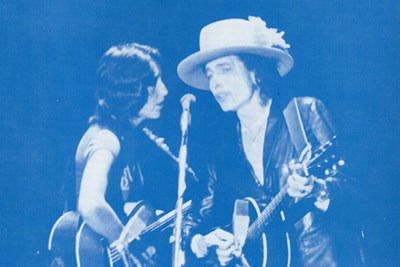 Joan Baez and Bob Dylan singing in Costello Gym, Nov. 2, 1975. Web photo courtesy of UMass Lowell.
The media is full of reports about a new movie and music release tied to the legendary Rolling Thunder Revue tour of Bob Dylan and friends in 1975-76, which made an earthquake of a jolt in Lowell when the group played Costello Gym on what is now the north campus of UMass Lowell. Dylan and company put Lowell on the show list because Dylan wanted to visit the Jack Kerouac sites in the city. He cited Kerouac as a major influence when he started out as an artist. With Allen Ginsberg and local guide Tony Sampas, brother-in-law of Kerouac when Jack married Stella Sampas and moved to Lowell in 1967, took Dylan to key locations including the Grotto of Our Lady of Lourdes behind the Franco-American School on Pawtucket Street, a favorite religious place for young Jack, and the author's grave in Edson Cemetery.
Reporter extraordinaire Dave Perry, now writing for the university, got the eye- and ear-witness story about the momentous happening. Read his account here.
Here's my notebook sketch of the scene made a day later.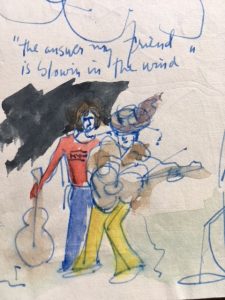 Dylan and poet Allen Ginsberg at Jack Kerouac's grave in Edson Cemetery, Nov. 3, 1975. Web photo courtesy "Bob Dylan's Rolling Thunder" by Martin Scorsese.