Farewell, Guy Lefebvre, a Lowell Connector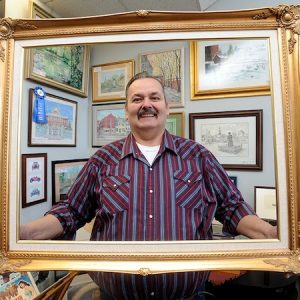 Web photo courtesy of HOWL magazine and Tory Wesnofske
We learned today that Guy Lefebvre passed away at his home in Maine. Our sympathy goes to his family and many friends. I will always remember Guy's good spirit and generosity in the years that he ran his Lowell Gallery at the corner of Central and Jackson streets in downtown Lowell. I got to know him through our mutual enthusiasm for historic Lowell, a topic with infinite handles and seemingly no limits. As my friend and co-blogger Marie Sweeney says with a laugh, "There's always a Lowell connection." Guy was a living Lowell Connector in his day, always ready to support city heritage initiatives and make time to help people who were doing the history thing.
When I first met him, I called him "Guy," saying it in English, the hard G with EYE, like GUEYE, but then realized he used the French pronunciation, the hard G and long E sound, like GUEE. And his last name wasn't easy when you looked at it on paper, one of those French surnames with silent letters when said the French way: Le-FEB (vre) or Le-FEV. Some people said La-FAVE or La-Feeber. I liked that he nudged you to say GUEE and that he was proud to be French Canadian-American.
We worked together on a limited-edition print in tribute to the Ladd & Whitney Monument in front of Lowell City Hall. He said he'd do a print and frame copies if I wrote something original. I don't know if he sold 10 copies after we did the project, but I enjoyed collaborating with him. He was quick to take books I'd written for sale in the gallery. We did better with those than the limited-edition print over the years. His gallery, while a small business offering framing services and artwork for sale, was as much of a cultural asset as some of the city museums, even though just slightly larger than a phone booth (an artifact of the pay-phone era—he may have had an old Lowell phone booth in storage, complete with numbers scribbled inside like GL-20048, the GL for Glenview). Local people or visitors could walk in and look at the paintings and historic photos, prints, etchings, and maps on the walls—for free. You knew you would see Janet Lambert-Moore's colored sketches of Lowell scenes. I know some of them came back to buy something special or ask Guy to do a custom frame-job on an autographed photo or an award certificate or a favorite movie poster, as I did for a "Doctor Zhivago" collectible poster the size of a small banner.
Guy had a million interests, some of which he talked about during his radio appearances on WCAP about 20 steps away from his gallery. His private collection of Lowell photographs, Benjamin Butler illustrations, rare postcards, and more put him in the elite category of collectors of Lowell items. He presided at the gallery counter a little like an old-time bartender who enjoyed the back-and-forth with customers.
Many of us were happy that he found buyers for the Lowell Gallery who have kept the business going and then some. We were also glad that he got a break from the "office" and was able to have time away up country for several years. We hear people say that someone was "an original," often after they've passed. It goes without saying that Guy Lefebvre was his own guy, original and authentic, who leaves a legacy of stories, laughs, and lasting contributions to Lowell.
Here's a link to a Jennifer Myers story about Guy published in Howl magazine in 2017.