Jay Atkinson: Writer in Motion
Jay Atkinson: Writer in Motion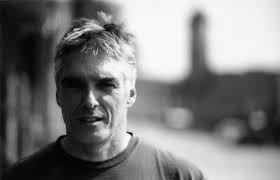 When I asked Jay Atkinson what he's been up to this year, he gave me a rich summary that included a song-bite: "Take what you need and leave the rest . . ."
Jay lives in Methuen, Mass., and Lowell has been one of his special places for a long time, from his university teaching days to his presence at literary events and drop-ins at favorite eateries or "the Shrine," St. Joseph's on Lee Street. He and I played high school sports in the old Merrimack Valley Conference–hockey for him, baseball for me. I've enjoyed watching his writing career gain altitude—eight books and counting, plus many articles in magazines and newspapers. Jay teaches writing and a course on Jack Kerouac at Boston University, where he's been on the faculty for ten years.
This past year, he continued to promote his latest book, Massacre on the Merrimack, a highly praised account of the Hannah Duston story from the dangerous period when English settlers pushed against the native people in our region. Jay said, "One of my most memorable events was a reading and discussion with the judges, lawyers, and staff of the Massachusetts Appeals Court. The highlight was an hour-long meeting in Justice Peter Agnes's chambers, along with two other judges who asked me to sign their books. Never done that before."
When I asked Jay about writing and publishing these days, he said, "The fracturing of big media, including books and magazines, etc., continues, but strangely, I feel less encumbered by marketplace decisions and am only writing what I can't not-write, if that makes sense. I am superstitious and don't talk about projects before they come to fruition, but I have five things I'm passionate about nearly finished."
Another development is the "Explorer" series for New Hampshire Magazine, more than a dozen outdoor adventure stories he's been writing in collaboration with visual artist Joe Klementovich. Here's the latest article about pond hockey. Two stories ran this year, and five more are in the pipeline. He said, "In a sense, I'm writing an old-fashioned adventure novel in installments, with my rugby pals as 'characters.' One offshoot of this is a new multi-media storytelling class, a seminar really, that Joe and I will teach at Boston University this spring."
There's travel in his future. In March, he'll be at Valdosta State University in Georgia as part of the school's Writers Series. He'll spend three days on campus, reading from new work, meeting students, and teaching a seminar on narrative to the writing faculty. The gig was arranged by Dr. Ted Geltner, a Journalism professor and biographer of Jay's mentor, Harry Crews.
You can learn more about Jay and his writing on his website.