Brian Simoneau: Getting the Poems Out There
In Lowell literary history, the back-of-the-envelope version used to highlight Lucy Larcom, the women writers of the Lowell Offering magazine, and Jack Kerouac, along with legendary visits by Charles Dickens, Edgar Allan Poe, John Greenleaf Whittier, and H. D. Thoreau. That envelope has more names now. In our time, many writers have emerged from the community while others are passing through as teachers and visitors or doing other kinds of work. Our series of "catch-ups" with writers linked to the city and region continues with news from a writer who is doing well getting his poems in front of readers. He also makes an effort to promote the work of other poets.– PM
Brian Simoneau: Getting the Poems Out There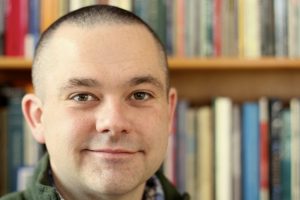 Brian Simoneau gave a poetry reading at Mill No. 5 when his first book, River Bound, came out a few years ago. Lowell, Mass., is all over this book. The poetry grapevine had carried news about him to me in the city. I was glad to meet him because we have a lot in common, including baseball, French Canadian-American roots, and mutual admiration for poet and teacher Garrett Hongo with whom Brian studied in the University of Oregon Master of Fine Arts program in creative writing. I was a student of Garrett's in the MFA program at the University of California, Irvine, long before.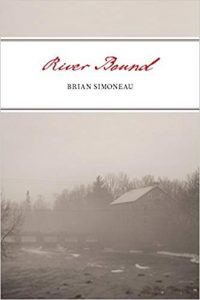 Local folks may recall Brian's father's car repair shop near the corner of Mammoth Road and Riverside Street, A's Auto Cool, specializing in radiator repair. Growing up in Pawtucketville, Brian was a catcher in the neighborhood baseball league, PYO, and attended Ste. Jeanne d'Arc School. After Central Catholic High School in Lawrence, where he ran track, he went to Amherst College, followed by graduate school at Boston University (English & American Lit) and then the writing program in Oregon. He's had a work-study scholarship to the Bread Loaf Writers' Conference in Vermont and an Emerging Writer Fellowship from the Writer's Center in Maryland.
Brian lives with his wife, Tregony, a pediatric pulmonologist, and their three daughters, aged ten, seven, and two-and-a-half, in West Hartford, Conn. There's no need for a dad with three small kids to explain himself when a curious reporter asks what he's been up to but Brian said, " I'm slow to respond mostly because I've been a bit unplugged from the internet this month—some poet-friends and I are ending the year with a 31/31 challenge in which we're all trying to write a new poem for each day of December. So far, I've got 14 new drafts in the first 14 days of the month, which feels pretty great to me—I haven't been writing very much (or very well) this year. In fact, before these past couple of weeks, I'd only managed to finish a couple of new poems this year.
"I've learned to see these periods of not-writing as fallow periods, time for thinking and reading and keeping a journal and slowly moving back toward a writing practice. So, I've been reading as much as I can, especially poetry. My absolute favorite books I read this year, though, were Jesmyn Ward's novel Sing, Unburied, Sing and Hanif Abdurraquib's essay collection They Can't Kill Us Until They Kill Us. For poetry, I really enjoyed The Carrying by Ada Limón and Radioapocrypha by BK Fischer. I also spent a lot of time revisiting the poems of both Li-Young Lee and Lucie Brock-Broido."
Brian has an innovative signature project on Facebook that I call his rolling picture-of-a-page anthology which involves posting a photo of a poem he likes from a recent book or literary magazine. It's a generous gesture, helping to increase the visibility of another writer's work, especially writers who are breathing among us.
"Whenever I love a poem, I want to share it with someone else who might love it too. I'm always having 'Whoa, you've got to read this' moments, but since I spend almost all of my waking hours with our two-and-a-half-year old, I mostly find myself sharing things online. I've been posting poems to Facebook and hoping to build a bigger audience for the poems I love. Over on Twitter (at twitter.com/brian_simoneau), I post poems even more often and share lots of posts from my favorite readers and writers."
He had a good writing year, publishing new work in several journals:  Four poems in issue 45.2 of Colorado Review; his most recent poem about Lowell, "The City I Come From Responds," appeared in Third Coast; and poems in Four Way Review and Poet Lore 113.2. Two poems are forthcoming: "Winter's Come and Gone" in the next issue of Sugar House Review  and "Morning Begins with Dark" will be in Salamander next year.
His book River Bound is available from C&R Press, amazon.com, and Small Press Distribution.