Matt W Miller, "Moving the Chains" on the Writing Field
Here's another in my series of updates on active writers with a local/regional connection. I can see Exeter, N.H., from my house on a hill in Amesbury, so Matt W Miller is close by. Readers of this blog may know him from his Lowell days growing up and during high school. He has degrees from Yale University and Emerson College and earned a Wallace Stegner Fellowship in creative writing from Stanford University several years ago. See details about his new book below. His first book, Cameo Diner, was published by Loom Press, while his second book, Club Icarus, won a national prize as a manuscript, the Vassar Miller Prize in Poetry at the University of North Texas Press. Matt had another good writing year in 2018. The links below provide a lot more information. If you're wondering about the middle initial (minus the period), Matt added that to his signature because there's another Matt Miller who is an author, maybe two more guys with the same name. — PM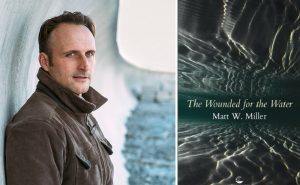 Dual web image courtesy of The Adroit Journal
In May, Matt W Miller published his third collection of poetry, The Wounded for the Water (Salmon Poetry), reviewed by Kate Hanson Foster in Critical Flame, and was interviewed about the book in The Adroit Journal and on  New Hampshire Public Radio.
Recent poems of his have been published or are forthcoming in journals such as Narrative,  Carolina Quarterly, Nimrod International, The Common, American Journal of Poetry, Tupelo Quarterly, Hippocampus,  and The Birmingham Poetry Review.
He was recently a visiting  poet at The University Alabama, Birmingham. He teaches English at Phillips Exeter Academy and lives (and surfs) in New Hampshire with his wife, Emily Meehan, and their children, Delaney and Joseph.
His website is www.mattwmiller.com