Jack Neary, One Busy Theater Guy
In the next two weeks, I'll post several updates about writers in the area who are familiar to many readers of this blog. The activity of these writers is interesting and substantial. They don't have big marketing budgets to promote themselves, so it's not easy for the public to keep up with their accomplishments. The first person in the spotlight is Jack Neary, known around Lowell for his theater activities—local, regional, and national. Jack is an alumnus of UMass Lowell, where he was a baseball-playing English major. Not long ago, he and his partners had the Greater Lowell Music Theatre at UMass Lowell's Durgin Hall, where the company played to about 10,000 people in four years. Jack had a busy 2018, on top of back seat-coaching the Red Sox to a World Championship. — PM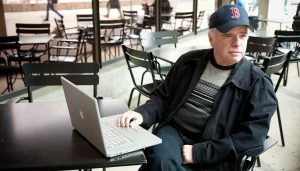 Web photo courtesy of UMass Lowell
Jack Neary: Does He Sleep or Just Nap?
Off-Broadway, a novel, and theatre gigs. Jack Neary of Lowell and now Derry, N.H., doesn't sleep it seems. This year, Jack published an adaptation of THE LEGEND OF SLEEPY HOLLOW, a play that debuted at Dracut High School and was later produced at the Firehouse Center for Acting Out Productions of Newburyport, Mass. For book-buyers, his AULD LANG SYNE, introduced at the Peterborough Players in New Hampshire; a ten-minute play called IDEOLOGUES (in the anthology IT'S ACADEMIC); and his novel, A BANG BANG PLAY are available at Amazon.com.
He works regularly with Acting Out, writing and directing shows with their company of young actors, most of them presented at the Firehouse Center before enthusiastic audiences. Jack reports, "Recently, we staged a new play of mine, FINAL CURTAIN, with our older kids. I had worked with many of them before, and I was able to write characters in this comedy-thriller based on their individual personas. It was fun, and the kids seemed to have a great time, as did the audience."
This year, Jack's play ORAL REPORT was presented at the Boston Theatre Marathon as part of its 20th Anniversary presentations. He was one of five playwrights invited to re-stage one of my early Marathon efforts, while 45 other new ten-minute plays were produced. He also acted for the first time in more than a decade, playing "Nicely Nicely Johnson" in GUYS AND DOLLS at the Majestic Theatre in West Springfield, Mass. Jack says, "I'd always wanted to play the part and never thought I'd get the chance. But I did. Had a blast."
At the moment, he's back at Dracut High School directing two short plays of his for presentation in December. The plays are THE NEW LITTLE RED RIDING HOOD (in which Little Red is retiring from Fairy Land and is auditioning possible replacements), and LUNCH MONEY, a comedy with a jab at bullying that received a prize from the Boston School Department a few years ago. He's also directing my FIRST NIGHT, which debuted professionally at the Merrimack Repertory Theater, at the Actors Studio Theatre at the Tannery in Newburyport, under the auspices of Acting Out. Performances are December 13, 14, 15, and 16. Jack says, "I'm very excited about this. The two actors, John Manning and Jocelyn Duford, are one of the best teams I've ever seen in this play."
Finally, but not least impressive, on December 27, he goes back to Northern Stage in Vermont, to re-stage his TRICK OR TREAT for the off-Broadway production, which opens at the 59E59 Street Theatre on January 12 and runs for six weeks. See the show info HERE. He wrote the show for Gordon Clapp (Emmy Award, NYPD Blue), who will star in the production.