James W. Sweeney: A Lowell WWII Navy pilot remembered….
Yesterday the square at Nesmith and Chestnut Streets ( at the north end of Kittredge Park) was dedication by the City of Lowell in honor of WWII Navy aviator ~ Navy Cross, Silver Star and Air Medal with three stars  recipient ~ James W. Sweeney. Before family, friends, Mayor Kennedy, other officials and veterans the James Sweeney Sq. marker was unveiled while Taps played in his memory. My husband Dr. Bill Sweeney, a retired oral surgeon and historian, was asked by the family to speak about his cousin James W. Sweeney. Here are his prepared remarks.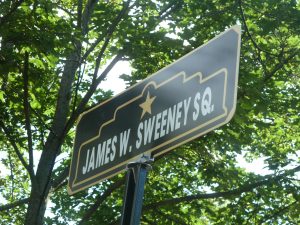 My cousin Jim was a seventeen year old freshman at the Lowell Textile Institute (the forerunner of the current Science and Engineering Departments at UMass Lowell) when Pearl Harbor was attacked by Japanese Naval Aviators on December 7, 1941.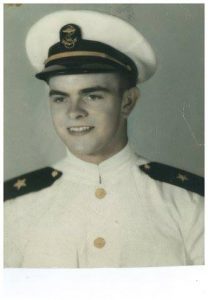 When he turned 18 the next month on January 23, 1942, he volunteered for the U. S. Navy's air program. After passing extensive physical, psychological and intelligence testing, he was accepted and after completing his first college year he became a Navy Aviation Cadet.
It was an enormous and prolonged job to take young men, most of whom had never been in an airplane and not only train them to fly the latest most technically advanced aircraft, but also to fly in combat and in the Navy to have an aircraft carrier as home base.
By the end of 1944 his training was completed and he was assigned to Naval Air Group 94. The aircraft he was assigned to pilot was the Curtis SB2C Hell Diver – the U. S. Navy's carrier-based bomber. It was a large single-engine with a two man crew – the pilot who was also the navigator and an enlisted sailor in the back seat who operated a radio and twin 30 caliber machine guns.
Traditionally, the Hell Diver flew at 10-15 thousand ft. and on spotting enemy ships, rolled over into a 70 degree dive approaching speeds nearing 400mph to as low as 2000 to 1500 ft. and release a 500 lb. bomb then pull out and away from anti-aircraft batteries firing at it.
In 1945 when Jim turned 21, the 94th was assigned to the carrier U. S. S. Lexington. This was the second carrier named Lexington – the first Lexington was lost at the Battle of the Coral Sea in May, 1942. The 2nd U. S. S. Lexington (CV-16) incidentally was built at Quincy Mass. at the Fore River shipyard and is still afloat as a museum at Corpus Christi, Texas.
The Lexington was assigned to the Second Fleet in the Central Pacific under the command of Admiral John S. McCain – the grandfather of Sen. John McCain of Arizona – himself a noted Viet Nam War Navy pilot.
Among the many combat missions Jim took part in , there are two I want to mention.
On July 18, 1945, a number a carrier task force groups were to attack Japanese naval installations at Yokusuka Navy base – the largest in the Japanese home islands. This had advantages and disadvantages. The advantage was, like our battleships at Pearl Harbor they were stationary and could not maneuver like ships under power on the open sea. The significant disadvantage was not only the ship-board anti-aircraft batteries but that many more land-based batteries would be firing at you. And by 1945, the Japanese had been given the technology for radar-guided anti-aircraft guns from their German allies.
On this July 18 mission, Jim scored a direct bomb hit on the Battleship HIMS Nagato. This was very significant, the Nagato for the first year of the War was the flag ship of Admiral Yamamoto, the Chief of the Combined Japanese fleet and he was also the architect of the attacks on Pearl Harbor in Hawaii, the American-administered Philippine Islands and British Malaya – that all occurred at about the same time. In fact, when Pearl harbor was attacked, Yamamoto was on the Nagato in Tokyo Harbor. He moved his "flag" to the Yomoto – the largest battleship ever constructed – when it was completed. In April, 1943 while on a flying inspection tour of the outer Japanese defenses Yamamoto was ambushed by U.S. Army Air Force P-38 Lightnings, shot down and killed over Bougainville in the Solomon Islands.
As Jim's citation reads and I'll quote: "The President of the United States takes great pleasure in presenting the Navy Cross to Lieut (j. g.) James W Sweeney, U.S.N.R… for skillfully and courageously piloting his aircraft in the face of intense anti-aircraft fire from warships and land installations…. And scored a direct hit causing vital damage to the vessel (i.e. Nogato)… for his expert airman ship, courage and devotion to duty in keeping with the highest traditions of the U.S. Naval Service."
For you here who served in the Navy or Marine Corps, you know that in your services the Navy Cross is super-ceded only by the Medal of Honor.
The second mission I want to speak about happened ten days later on July 28, 1945 – an attack on elements of the Japanese fleet in the Inland Sea. In addition to my cousin Jim –it has another Lowell connection.
In a nearby carrier task force group was the U.S.S. Ticonderoga, like the Lexington a new Essex class carrier named for a Revolutionary War battle. The Hell Divers on Ticonderoga were also part of the mission and the gunner in the SB2C piloted by Lt. Raymond Porter was a 19 year old sailor names Norman Brissette from Lowell.
As the fortunes of war would have it, Jim's mission was a success and he scored another bomb hit but on the enemy battleship Isi. He was awarded the Silver Star.
Unfortunately, Porter and Brissette were shot down, captured and imprisoned at Military Police Headquarters in Hiroshima. Nine days later on August 6, 1945 a single B-29 named Enola Gay piloted by Col. Paul Tibbits dropped the first nuclear weapon used in warfare on Hiroshma. Of the twelve America POWS in Hiroshima all but Paul Brissette and one other died instantly. A B-29 crew captured after the bombing told of Brissette's death of radiation sickness ten days later. A documentary called "Paper Lantern" made by a local film maker Barry Frechette tells the Norman Brissette story. (I believe it was shown at the Luna Theater/ Mill#5 a year or so ago.)
Amazingly, after Hiroshima Japan would not surrender so a second atomic bomb was dropped three days later on Nagasaki, Japan. The single B-29 named "Box Car" was piloted by Major Charles Sweeney who was born in Lowell and as a very young boy moved to the Weymouth, MA area. (I'm going to find out if we are related.)
On August 15th the Japanese Emperor ordered his forces to cease fire and on September 2nd on the USS Missouri in Tokyo Bay Japan formally surrendered.
In addition to the Navy Cross and Silver Star, Jim was also awarded the Air Medal with three stars. I'm still tracking down the actions related to this to see if they are related or unrelated to July 18, 28 or other events.
Jim returned to Lowell to his wife the former Marian Roberts of Lowell, completed his degree in Chemistry at LTI and his Masters at Virginia Tech Institute.
His wife Marion ~ they married just before he shipped out ~ had to endure an especially difficult situation… in addition to her husband being in continuous air combat. Jim on one mission had to crash land into the sea. Fortunately, Jim and his gunner a young sailor James Maguire from Philadelphia survived and were rescued by a U.S. destroyer. Jim sustained injury to his face in the crash causing his eyes to be swollen shut and was not allowed by the ship's surgeon to fly for about a month. Marian received a telegram about the crash-landing at sea but no more information! It was almost a month later that a second telegram informed her of the rescue and that James was basically in good health.
He never talked of the war. He had a very successful life as a husband, a father of two daughters Donna Sweeney Sullivan and Kathleen Sweeney LaBrecque and as a grandfather of twelve.
Professionally, he was very successful as Chief Chemist and then Plant Manager for Pellon Corporation in Lowell where he worked until his retirement.
And as my wife Marie wrote about him in a blog post on RichardHowe.com… "He died quietly with strength, courage and spirituality – the way he lived his life."