Civil War Event at Pollard Library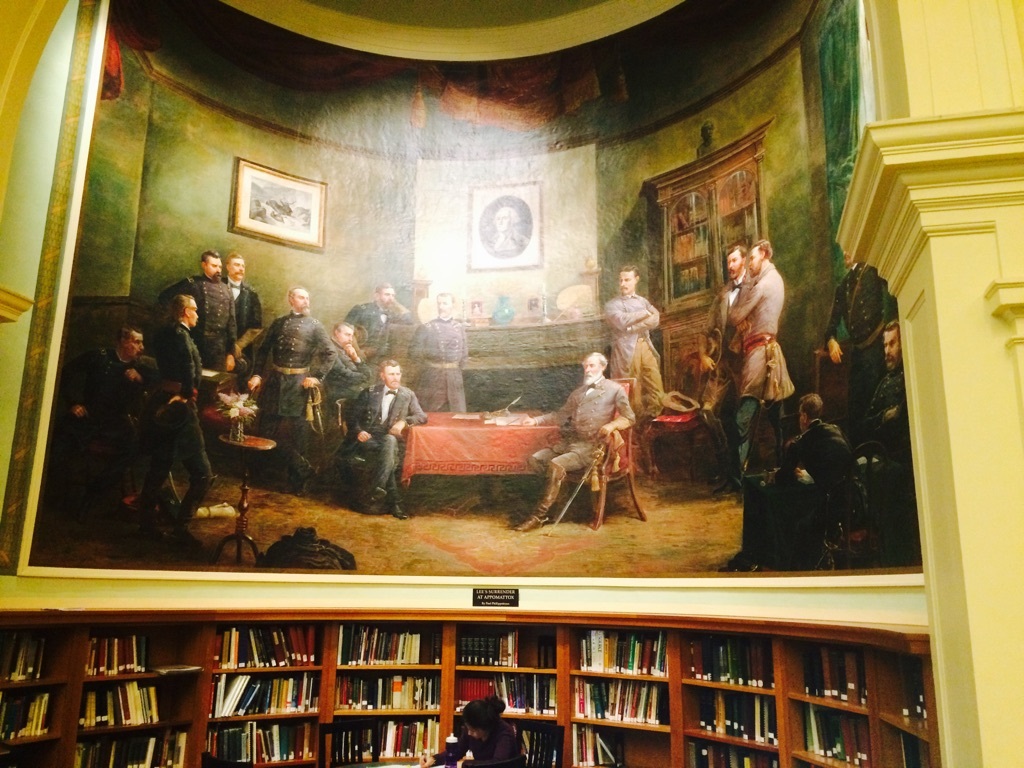 On Thursday April 9, 2015 at 7 pm, the Pollard Memorial Library will commemorate the 150th anniversary of the surrender of the Confederate Army of Robert E. Lee to Union forces under the command of Ulysses S. Grant on April 9, 1865.  Although other Confederate armies fought on for another month, Lee's surrender effectively ended the Civil War.
For several reasons, it is especially appropriate to observe the anniversary of this vitally important event in American history at the Pollard Library.  More than 5000 men from Lowell served in the armed forces of the United States during the American Civil War; approximately 500 of them died during their service.  At a time when Lowell's population was only about 36,000 people, the loss of that many residents had a staggering impact on the city.
So grateful were the survivors to those who gave their lives to save the union that in the 1890s they built a monumental building to their memory.  Called Memorial Hall, this structure housed countless artifacts of the Civil War and was home to one of Lowell's Grand Army of the Republic chapters (the GAR was the main organization for Union Army veterans).  Memorial Hall also housed the city's public library.  Renamed the Pollard Memorial Library in the 1980s and serving exclusively as the city's library today, the structure retains much of its Civil War architecture and many of its artifacts.
Finally, the second floor reference room of the library – which will be the site of the April 9th event – displays a massive painting by Paul Phillipoteaux of the surrender which makes the Pollard Library such an appropriate venue for this commemoration.
As for the event itself, it will feature a recitation of the Pledge of Allegiance (which was written as a result of the Civil War); a talk by the library's Sean Thibodeau on the history of the library, the Phillipoteaux paintings, and the library's Civil War artifacts.  After that, I will give a talk illustrated with a slide show of the road to Appomattox which will provide some historical context for Lee's surrender and its aftermath.
The event is free and open to the public.  Please join us at the Pollard Memorial Library on April 9th at 7 pm.