Writers Roundup at the Old Court, Feb. 23
The 2nd Annual Lowell Writers and Publishers Winter Roundup is set for Saturday, February 23, 12.30 to 4.00 pm, upstairs at the Old Court Irish pub at Central and Middle streets in downtown Lowell.
Publishers and writers attending include playwright Jack Neary, poet and memoir-writer Judith Dickerman-Nelson, Sweeney-and-Seawell creator Dave Robinson, John Wooding of UMass Lowell and COOL (with his new Vanderbilt Univ. Press book about higher education co-written with Kristin Esterberg, as well as books from Baywood Publishing), Ryan Gallagher and Bootstrap Press, poet and writer Chath PierSath, our own Dick Howe Jr (whose book on Lowell Legends is due in March) Lloyd Corricelli and Sons of Liberty Publishing, Steve O'Connor of two-book fame, Julia Gavin of the Artists League of Lowell, fiction and essay writer Kassie Dickinson-Rubico, Matt Miller (whose prize-winning second book of poems, "Club Icarus," is now available), and my Loom Press with books by the above-mentioned Judith, Dave, and Matt, as well as Tom Sexton's new book of Lowell poems and titles by Al Bouchard, Bob Forrant & Christof Strobel, Kate Hanson Foster, Paul Hudon, and other authors with ties to the city and region—with more signing up every day.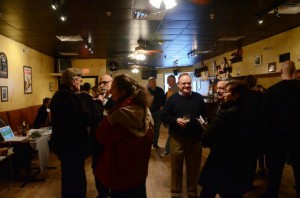 2012 Writers and Publisher Roundup at the Old Court [Photograph by Joe Marion]