"Old Ironsides" ~ U. S. Post Office Honors America's Oldest Commissioned Warship
From the United States Post office: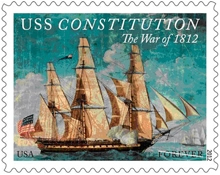 The Postal Service will honor America's oldest commissioned warship, the USS Constitution, with the issuance of 25 million Forever stamps Saturday, Aug. 18.
The War of 1812 / USS Constitution stamps also commemorate the bicentennial of the War of 1812.
The first-day-of-issue ceremony will be at the Charleston Navy Yard in Boston, MA. The event will be open to the public and will take place next to the USS Constitution, nicknamed "Old Ironsides."
Starting Aug. 18, the new War of 1812: USS Constitution stamps can be purchased at Post Offices nationwide, online at usps.com/store and by phone at 800-STAMP-24 (800-782-6724). Support our USPS!
Visit the "Old Ironsides" and the USS Constitution Museum to celebrate the bicentennial of the War of 1812 – it's just a ride down Route 93 to the nearby Charlestown Navy Yard. get more information here: http://www.ussconstitutionmuseum.org/about-us/bicentennial1812/