The Presidential Penchant for Golf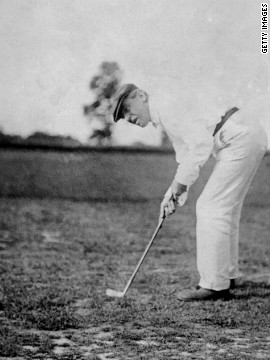 President Woodrow Wilson, the 28th U.S. president, is shown playing golf in 1916. He played more golf than any other president, before or since.
With the comments from some quarters about the time President Obama spends playing golf,  I thought a comparison was in order. After a bit of research I found these nuggets about some our presidents and the game of golf. From the Dwight D. Eisenhower Memorial Commission website:
…When Eisenhower became president there was no doubt in the minds of most Americans that he loved golf.  Early in his presidential years the United States Golf Association, using privately donated money, built a two-hole putting green with a small sand trap on the White House lawn near the Oval Office.  He kept one of his irons in the office so that he could step out to the lawn and practice his swing.

During his White House years Ike managed, on average, to play golf about two times a week.  Most of these outings were on courses near Washington, but his favorite course was Augusta.  The founders, famous golfer Robert Tyre "Bobby" Jones and financier Clifford Roberts were Eisenhower's personal friends. They even erected a small cottage on the grounds where Ike and Mamie could have some privacy during a golfing weekend…

Ike's detractors always complained that President Eisenhower spent more time playing golf than minding the people's business, but, contrary to the advice of his aides, he never tried to conceal any of his outings to the links…

Was Ike the most ardent golfer to inhabit the White House?  Not by a long shot.  Woodrow Wilson, who did everything possible to keep his golf from the public's eye, played over 1,200 rounds while he was in the White House.  Ike, however, played only about 800 rounds during his presidency, about two a week. 
Many US presidents played golf – among them –  Harding, Taft, Wilson, Kennedy (perhaps the best golfer), Ford, Clinton and G. W. Bush!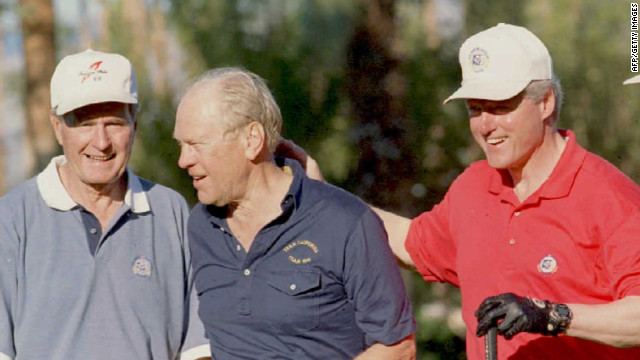 Presidents George H.W. Bush, left, and Gerald Ford pal around after their round of golf at the Bob Hope Classic Golf Tournament, joined by President Bill Clinton, in 1995.