That Dickens in America – He Liked Lowell
This is a cross-post from the Lowell Historical Society blog. The Society is participating in the local celebration of Dickens' 200th birthday and his 1842 visit tio Lowell  in partnership with UMass Lowell, the Lowell National Historical Park and others. There will be a panel discussion on Dickens at the Society's Annual Meeting in late May. Details later.
THAT DICKENS IN AMERICA – NOT ALL WENT WELL – BUT HE LIKED LOWELL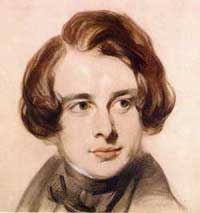 Charles Dickens as a young man… he was 30 years old  on his First American Tour.
Lowell Historical Society VP Gray Fitzsimons passed along this interesting take on Charles Dickens' 1842 American Tour from the BBC Magazine. The side bar further confirms his time in Lowell, Massachusetts (although Lowell is mispelled). Here's the side bar followed by an exerpt and a link to the full article. What do you think? From other accounts, he DID like Lowell
Highlights of Charles Dickens's 1842 itinerary
January 22: Arrived Boston
February 2: Visited mills at Lowel, Massachusetts
February 13: Arrived New York by boat
February 14: Ball at Park Theatre
March 2: Visited Tombs Prison and Public Department
March 6: Arrived Philadelphia
March 10: Visited Capitol and White House
March 13: Dinner at the White House
March 29: Arrived Pittsburgh
April 4: Arrived Cincinnati
April 10: Arrived St Louis
April 26- May 3: Niagara Falls
May 4- 29: Visited Canada
June 7: Left New York for England
From the article:
On his first visit to America in 1842, English novelist Charles Dickens was greeted like a modern rock star. But the trip soon turned sour, as Simon Watts reports.

On Valentine's Day, 1842, New York hosted one of the grandest events the city had ever seen – a ball in honour of the English novelist Charles Dickens…

But a visit which had started so well quickly turned into a bitter dispute, known as the "Quarrel with America"…

As a committed social reformer, Dickens wanted to use his trip to find out if American democracy was an improvement on class-ridden Victorian England.

The novelist particularly enjoyed Boston, his first port of call…
The tone of the visit changed when the crowds and individuals he met as the tour continued became – as he perceived rude, discourteous, undisciplined  – and as Dickens scholar Professor Jerome Meckier  notes: "The longer Dickens rubbed shoulders with Americans, the more he realised that the Americans were simply not English enough. He began to find them overbearing, boastful, vulgar, uncivil, insensitive and above all acquisitive." 
Check out the full article here at: http://www.bbc.co.uk/news/magazine-17017791