Ships Collide ~ Andrea Doria Sinks Off Nantucket ~ July 25, 1956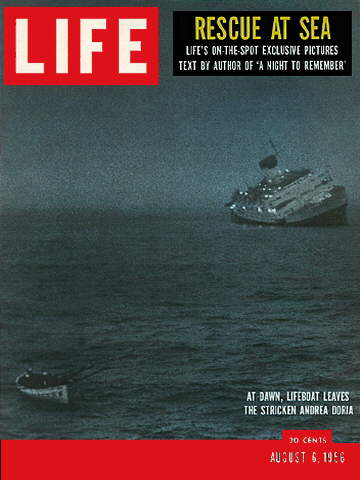 The Andrea Doria Cover of Life Magazine – August 6, 1956
MassMoments reminds us today that on July 25, 1956 the ocean liner Stockholm rammed the ocean liner Andria Doria – the fastest and largest vessel in the Italian fleet known as the "Grand Dame of the Sea" – in the fog off the coast of Nantucket. The Andria Doria capsized and sank hours later. Miraculously, most passengers were rescued by life boats from the Stockholm herself and the French liner – Ile de France.
…in 1956, two ocean liners collided in thick fog, approximately 50 miles south of Nantucket. The Stockholm had just left New York City bound for Sweden. The Andrea Doria was due to arrive in New York at 9:00 o'clock the following morning. The three-year-old Italian liner was not only one of the most luxurious vessels afloat but was considered the safest. She had the latest radarscopes and was built with watertight compartments. Nevertheless, 11 hours after the Stockholm rammed her broadside, the Andrea Doria capsized and sank in 225 feet of water. Thanks to one of the most remarkable rescues ever conducted at sea, all of the 1,706 passengers and crew who survived the collision made it safely back to land.
I remember the 1956 collision of the Stockholm and the Andrea Doria well because just a few weeks earlier that summer before entering Notre Dame Academy, I spent a few days with family in the Hyannis area on the Cape. Also my aunts had sailed to Europe on one of these great ocean liners. It was long before Challenger, 9/11 and the crash over Lockerbie – an accident of this size and nature so close to home was a shock. Sadly, today's Globe notes a death of a diver while exploring the wreck of the Andrea Doria which still lies in the waters off Nantucket. It is a popular place for diver excursions but only safe for the very experienced.
Read the account of the incident here at MassMoments.com.
Note: More on the SS Andrea Doria here at Wikipedia including photos, litigation, studies, book and movie references, diving incidents etc.