Feastday of Saint Marguerite d'Youville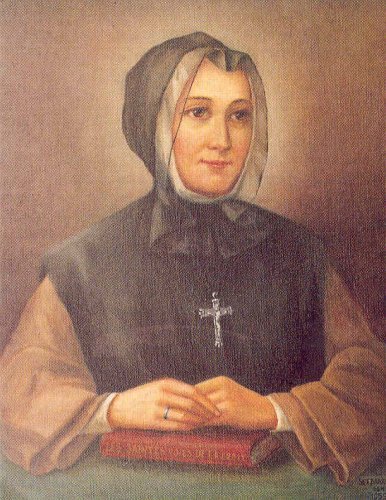 Today – April 11 – is the Feastday of  Saint Marguerite d'Youville (1701-1771), a French Canadian widow who founded the religious order – the Order of Sisters of Charity of Montreal – commonly known as the Grey Nuns of Montreal. Founded to give shelter to the poor, the Grey Nuns later took over the operations of the General Hospital in Montreal. She died in Montreal on December 23, and since her death, the Grey Nuns have established schools, hospitals, and orphanages throughout Canada, the United States, Africa, and South America, and are especially known for their work among the Eskimos.
Marguerite  had a vision of caring for the poor that has spread far and wide. Her sisters have served on almost every continent. Today, her mission is carried on by the Sisters of Charity of Montreal, "Grey Nuns" and their sister communities: the Sisters of Charity of St. Hyacinthe, the Sisters of Charity at Ottawa, the Sisters of Charity of Quebec, the Grey Nuns of the Sacred Heart (Philadelphia) and the Grey Sisters of the Immaculate Conception (Pembroke).
A large number of Roman Catholic churches, schools, women's shelters, charity shops, and other institutions in Canada and worldwide are named after St. Marguerite d'Youville including  the academic institution of higher learning –  D'Youville College in Buffalo, NY.
Locally, the highly regarded D'Youville Senior Care whose entire heathcare campus on Varnum Avenue in Lowell will now be known as the D'Youville Life & Wellness Community was founded in 1960 by  Sisters of Charity of Ottawa – spiritual daughters of  Marguerite D'Youville. 
Calling her the  "Mother of Universal Charity" – Pope John XXIII beatified Marguerite on May 3, 1959 and then in 1990 Marguerite D'Youville – the first native Canadian to be elevated to sainthood – was canonized by Pope John-Paul II of the Roman Catholic Church.