MassMoments: The Miracle of 1980 Hockey Gold
MassMoments reminds us this morning of the  triumph of the 1980 U. S. Hockey team in the Lake Placid Olympic games. The heady win – two days before over the highly heralded Soviet hockey team – may have been one of the most exciting events in American sports. It set up the final face-off for the Olympic gold between the young American team and the team from Finland. The feisty U. S. team that included four Massachusetts players  and led by captain Mike Eruzione from Winthrop and coached by Herb Brooks, inspired a nation at a time when everyone needed a boost. The event claimed national attention even among those who didn't know hockey and certainly never watched before. Even to this day this "miracle on ice" is an iconic part of our American culture and lexicon. I remember the excitement and pride watching the games… the play of goalie Jim Craig… the leadership of Mike Eruzione…Jack O'Callahan and Dave Silk – all young Massachusetts men  and players at Boston University… and the American flag draped around the shoulders of Jim Craig as the exuberant players enjoyed their win for "team and country."
      …in 1980, the U.S. hockey team beat Finland to win the Gold Medal at the Lake Placid Olympics. What really captured the country's imagination occurred two days earlier in the semi-finals. The young Americans' thrilling come-from-behind victory over the Soviet Union, remembered ever since as the "miracle on ice," showed that speed and endurance could outweigh experience and technical skill. In a sport long dominated by Canadians and Russians, the victory boosted the popularity of hockey in the U.S. and raised the nation's spirits. Four of the team's players hailed from Massachusetts, including the goalie, Jim Craig, and the captain, Mike Eruzione, who scored the winning goal.
Read the full MassMoments article
here.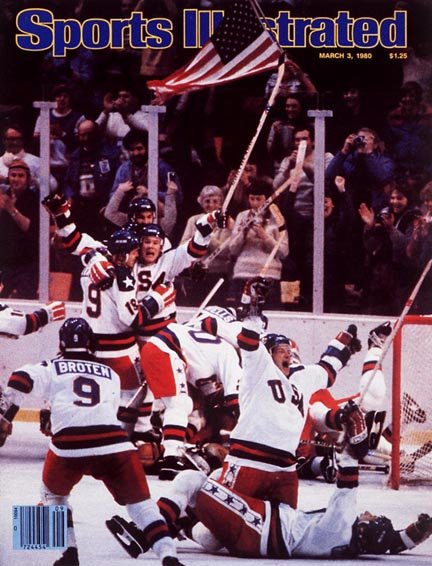 March 3, 1980 cover of Sports Illustrated that ran with no caption or headline.  "Do You Believe in Miracles?" didn't need to be asked.