An All-American White House China State Dinner Menu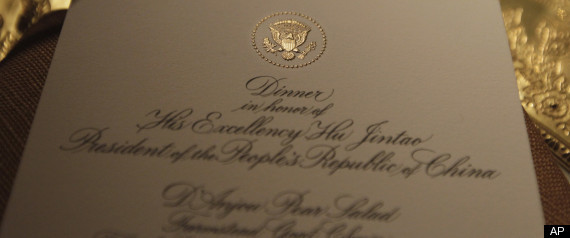 I'm an occasional watcher of the food-focused  networks – especially the Cake Boss, Cupcake Wars with an episode or two of Iron Chef or Worst Chefs thrown-in for good measure. Really though – I'm no foodie – yet I do enjoy local restaurant fare from LaBoniche, Cobblestones and Cavaleiro's to the comfort food of Good Thymes, the River Road Cafe and the Owl Diner. But I have to say – the White House China State Dinner menu piqued my taste buds. The all-American fare with a poached Maine "lobstah" lead seemed irresistible. The dinner was totally prepared  in-house by White house Executive Chef Cristeta Comerford and Executive Pastry Chef Bill Yosses. Here's the "bill of fare" offered to this most important guest:
First
D'Anjou Pear with Farmstead Goat Cheese Fennel, Black Walnuts, and White Balsamic

Second
Poached Maine Lobster
Orange Glaze Carrots and Black Trumpet Mushrooms

Wine: DuMol Chardonnay "Russian River" 2008 (California)

Lemon Sorbet

Double Stuffed Potatoes and Creamed Spinach

Wine: Quilceda Creek Cabernet "Columbia Valley" 2005 (Washington State)

Dry Aged Rib Eye with Buttermilk Crisp Onions

Dessert
Old Fashioned Apple Pie
with Vanilla Ice Cream

Wine: Poet's Leap Riesling "Botrytis" 2008 (Washington State)
Guests included: 
The Honorable Hillary R. Clinton, Secretary of State and The Honorable William J. Clinton, former President of the United States; The Honorable James E. Carter, former President of the United States and Mrs. Rosalynn Carter; The Honorable John F. Kerry, Senator from Massachusetts and Mrs. Teresa Heinz Kerry –  See the full guest list here: http://www.huffingtonpost.com/2011/01/19/china-state-dinner-guest-_n_811278.html
By the way – I loved the First Lady's dress – she looked elegant, beautiful and so appropriate.  Link here to photo of President and Mrs. Obama about to receive their guests at the State Dinner.