Wahlberg and Bale from "The Fighter" on SI Cover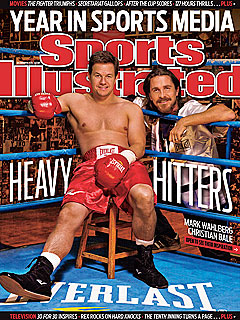 Marl Walhberg and Christian Bale on Sports Illustrated Cover
From People Magazine about "actors as fighters" from Lowell-made movie "The Fighter" on the cover of  Sports Illustrated :
Mark Wahlberg not only received glowing reviews for his undertstated performance as the real-life junior welterweight Mickey Ward in The Fighter, but he unexpectedly landed a national magazine cover.

Sports Illustrated features the actor, 39, stripped down to fighter gear, and lauds the film as the "Best Sports Movie of the Decade." This also marks one of the rare times in the 56-year history of the publication (which, like PEOPLE. is part of Time Inc.) that a non-athlete has graced the cover.

Read the full article here.