Cardinal Comes to St. William's Parish Tewksbury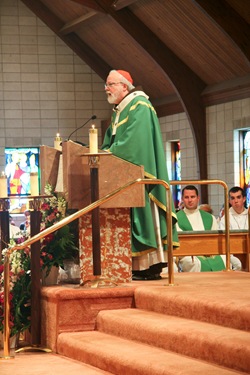 On Cardinal Sean's blog – nice to see the photos of the Cardinal's visit to St. William's Parish in Tewkbsury last week. The parish and the Oblates of Mary Immaculate are  celebrating 75 years of service – 1935-2010.
As the Cardinal noted – Father John Hanley, OMI is the current Pastor (formerly pastor of the Sacred Heart Church and the Immaculate Conception Church in Lowell). The Oblates have served Tewksbury for over 125 years – ministering first to   the spiritual needs of the poor, infirm and indigent at the State Almshouse (now Tewksbury State Hospital) before staffing St. William's which was established in 1935.
From the Cardinal: St. William's is a wonderful faith community that is very, very active. Among other things, they have Perpetual Adoration, many different programs, activities and organizations in the parish, along with a very strong social and ecumenical outreach.

It was a great joy to be a part of their 75th anniversary celebration.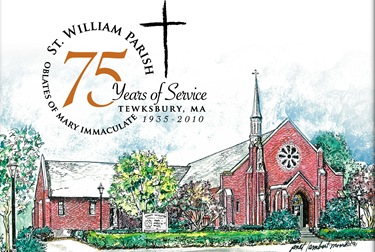 Read more history of  St. William's Parish here.