Globe Touts Lowell's "Banjo and Fiddle" Contest on September 11th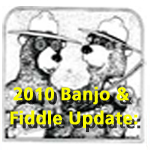 We are reminded by an article in today's Globe here, that on this Saturday September 11th the 31st Annual Banjo and Fiddle Contest holds sway at Lowell's premier outdoor concert venue – Boardinghouse Park in the historic downtown.  Imagine it has been 31 years since Park Ranger and musician Alex Demas put the first event together! There is more  information on the event on the Lowell National Historical Park website here.
The sounds of bluegrass, dixieland, old time mountain picking, and the strains of ethnic dance tunes from all over the world will flow from Boarding House Park in Lowell, Massachusetts, on Saturday, September 11, 2010, during the annual Banjo and Fiddle Contests. The public is invited to a full day of music, food and family fun. The event is free and donations will are welcomed. Free workshops on mountain dulcimer, old-time fiddle, old-time banjo, twin and bluegrass fiddle, and bluegrass banjo begin at 10:00 a.m. The contests begin at noon and continue throughout the afternoon.