Rich Rants, But Praises UML-Bound Andrew Bacevich of B.U.
What to say about political and cultural commentator Frank Rich in today's NYT? He's on a tear against Left, Right, and Center. The only satisfaction he finds in our messed up world today is Jonathan Franzen's new and already-blockbuster novel "Freedom," which Rich says nails the psyche of the time like "The Great Gatsby" and "Bonfire of the Vanities" did with theirs.
The heady intoxication of freedom is everywhere in "Freedom," from extramarital sexual couplings to the consumer nirvana of the iPod to Operation Iraqi Freedom itself. Yet most everyone, regardless of age or calling or politics, is at war — not with terrorists, but with depression, with their consciences and with one another.
I haven't read "Freedom" yet, but I took a second look at it in the window of Barnes and Noble on Merrimack Street. The reviews I've read have been figurative standing ovations. I had just been in there buying Jane Brox's latest, "Brilliant," so I let Franzen wait there until I finish Jane's book.
Rich has high praise for the blunt clarity of Andrew J. Bacevich's  analysis of what went wrong in the two wars of the "9/11 decade," as Rich frames it. Here's what he wrote about Bacevich:
Of all the commentators on the debacle, few speak with more eloquence or credibility than Andrew Bacevich, a professor of history and international relations at Boston University who as a West Point-trained officer served in Vietnam and the first gulf war and whose son, also an Army officer, was killed in Iraq in 2007. Writing in The New Republic after Obama's speech, he decimated many of the war's lingering myths, starting with the fallacy, reignited by the hawks taking a preposterous victory lap last week, that "the surge" did anything other than stanch the bleeding from the catastrophic American blundering that preceded it. As Bacevich concluded: "The surge, now remembered as an epic feat of arms, functions chiefly as a smokescreen, obscuring a vast panorama of recklessness, miscalculation and waste that politicians, generals, and sundry warmongers are keen to forget."

Bacevich also wrote that "common decency demands that we reflect on all that has occurred in bringing us to this moment." Americans' common future demands it too. The war's corrosive effect on the home front is no less egregious than its undermining of our image and national security interests abroad. As the Pentagon rebrands Operation Iraqi Freedom as Operation New Dawn — a "name suggesting a skin cream or dishwashing liquid," Bacevich aptly writes — the whitewashing of our recent history is well under way. The price will be to keep repeating it.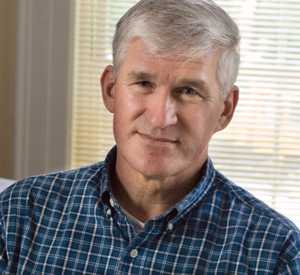 Prof. Andrew Bacevich, Boston University (web photo courtesy bu.edu)
If you would like to hear more from Bacevich in person, he will be the featured speaker in political science Prof. Jeff Gerson's annual 9/11 speaker series at UMass Lowell on Friday, Sept. 17, at 12 noon in the O'Leary Library auditorium, Room 222, at 61 Wilder Street on the South Campus. Visitor parking is available in the lot on Wilder Street. For more information, contact jeffrey_gerson@uml.edu
Read Frank Rich here, and get the Times if you appreciate the writing and thinking and attitude.