More on Lowell Irish Archaeological Dig and The Acre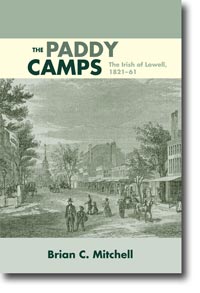 Lowell native Dr. Brian C. Mitchell wrote of  the Irish in Lowell 1821-1861 and the Lowell Acre's "Paddy Camps".
The wire story the other day was just a teaser. A story  in today's Globe tells the fuller story of the  teaming-up of students from UMass Lowell with researchers from Queen's University in Belfast for a weeklong dig on the property at St. Patrick's Church in Lowell's Acre. The dig is part of a broader study of the Irish who immigrated to Lowell before and after the Great Famine and the role they played in 19th-century America.
Researchers say the church grounds, which have not been built on since the Irish settled there, hold tantalizing historic potential.

"We are hoping to find artifacts from their everyday life as clues to their lifestyle,'' said Frank Talty, codirector of UMass Lowell's Center for Irish Partnerships. "That's the story to be told: How did they live?''

The settlement, according to an 1831 article in the Portsmouth Journal that called it "New Dublin,'' consisted of 100 cabins about 7 to 10 feet tall, "built of slabs and rough boards.'' It also included a schoolhouse with some 150 children.

Archeologists will be looking for domestic items such as dishware, hearth remnants, and clay pipes, which were often personalized and bore markings that could be used to pinpoint the owners' Irish origins, Talty said.
Read Peter Schworm's full article here. Stay tuned for the unearthed results.