Tomatoes, Tea, and Beer: A Poem by Charles Nikitopoulos
My friend, teacher, and co-conspirator in Lowell things Charles Nikitopoulos passed away in 2019. He loved poetry and had a long shelf of skinny poetry books at home. He wrote poems when the spirit moved him. He was also a committed gardener with flowers and vegetables in a home garden in the Highlands neighborhood. Charles enthusiastically supported the Flowering City initiative in Lowell. He understood this to be a metaphor for a fruitful life in all respects. With the Hellenic Culture Society of Lowell, he helped produce many poetry events in the community, both on campus and downtown. His group brought award-winning poets and talented unknowns to the spotlight and delivered appreciative audiences. We're posting this poem today in his memory and to extend his spirit. The poem was published in the first issue of The Lowell Review (2021), which is available to order at lulu.com–PM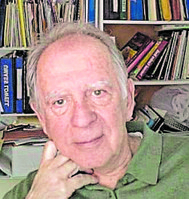 TOMATOES, TEA, AND BEER
by Charles Nikitopoulos
.
Every summer I grew my father's tomatoes.
I trimmed, weeded, and watered,
And planted in the most sunny spaces,
Usually, to no avail.
Every summer in a shady yard
Behind a five-family on Lombard Street,
My father grew his giant super-red tomatoes.
I remember him sitting in his chair,
Sipping Lipton tea while tomatoes grew.
This summer, after an inconvenient illness,
Rainy weather, and non-weeding,
I discovered that tomato vines dutifully
Support morning glories. Sometimes,
Sipping a Sam Adams in my backyard chair,
I marvel that Polivios never grew more morning glories.
—Charles Nikitopoulos