New Poem by Tom Sexton: 'Deerstalker'
A new poem from our regular contributor Tom Sexton, poet of the Atlantic and Pacific sides of our continent. A former Poet Laureate of Alaska, Tom is on the list of distinguished alumni of Lowell High School, the one in Massachusetts. (FYI, Lowell High School in San Francisco, named for Massachusetts poet James Russell Lowell,  is the oldest public high school west of the Mississippi.) Tom Sexton's recent books include Cummiskey Alley (Lowell poems) and Li Bai Rides a Celestial Dolphin Home ( "the imaginary journey of an ancient Chinese poet"). He brought his writing tools to Maine this winter.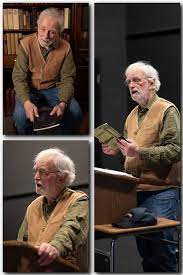 Photo by Kevin Harkins
Deerstalker
by Tom Sexton
Looking through a box of tweed caps
I seldom wear, I discovered the deerstalker
I bought in an Inverness shop long ago
on our way to the Outer Hebrides by ferry.
I thought it was a good way to fit in.
A redheaded woman wearing an oilskin slicker,
as most of the other passengers were,
asked if I this might be our very first visit?
It rained all week; my deerstalker shrank.
One bill curled up. The other curled down.
I looked like Lewis Carroll's Mad Hatter.
But today after trying it on once again,
it seemed to be made for my balding pate.
"Sleep a little longer, it's raining," I said.