Farewell, Bob Martin, Singer-Songwriter Extraordinaire
Farewell, Bob Martin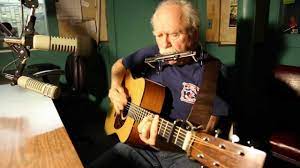 We learned this week that Bob Martin, singer-songwriter of the first rank, passed away after a long illness. Music guru Dave Perry has a tribute on Facebook. Bob was a friend of mine for a long time. I met him in the 1980s when he was already an established musical artist. A brilliant guy from Lowell, he wasn't contained by the city even as it inspired him—and he became widely respected among his performing peers. He toured New England and across the U.S., playing in cafes and music halls, and then took his songs to Europe. He brought me a book of poems from Russia after one visit.
We are waiting for the media notice about his passing and funeral arrangements, but in the meantime for those not familiar with Bob, here's a bio note from a recent anthology of writing from Cork in Ireland and Lowell that featured the lyrics from Bob's song "My Father Painted Houses," which appeared alongside poems, stories, and essays.
Bob Martin is a singer-songwriter from Lowell whose albums include The River Turns the Wheel, Next to Nothin', Last Chance Rider, and Midwest Farm Disaster, his first album, which was recorded in Nashville, Tennessee, in 1972. He left the music business for a time and managed the Mountain Heritage School for traditional music and crafts in West Virginia before returning to Lowell. He has toured across the U.S. as well as in Europe, performing and recording with artists like Bill Morrissey, Cormac McCarthy, Merle Haggard, and drummer Kenny Buttrey, who played on Blonde on Blonde by Bob Dylan. A graduate of Suffolk University, he lives in Lowell with his wife, Anne Marie.
I posted updates and observations about Bob and his music on this blog over the years.
Below are a few links:
This post includes a story about David Bowie that Bob told me, plus a story about his boyhood dreams.
This post recounts a time that Bob and I went to an Irish festival at St Patrick's in 2016.
And here's Bob singing "My Father Painted Houses"
Bob's official website is riversong.com 
You can learn more about him and order music at this site.
We send our sympathy to Anne Marie and the family.
He's a light that will always shine.