Poet Roger West: Toasting Kerouac in Brittany, Quebec, & Lowell
Two days before the 100th birthday of Jack Kerouac on March 12th, I was asked by poet and musician Roger West in France if I could connect people in Lowell with his tribute to Kerouac planned for the hour of the author's birth 100 years ago, 5 p.m. at home in the Centralville section of Lowell. He already had a few poets in Quebec who had signed on to synchronize the salute. In France, the exact hour would be 11 p.m. He and his wife, Kate Rex, would be in the ancestral home village of the Kerouacs in Brittany for this "creative action."
I said I would bring the idea to the special poetry reading scheduled for the evening of March 12 at the Middlesex Community College Donahue Family Academic Arts Center on Central St. (the old Rialto Theater and before that a train depot). Chris Porter, lead organizer of the event, gave me the green light.
I was the first reader, with Scarlett Sabet and Anne Waldman to follow. I asked the 150 people in the audience to join me, loudly, saying "Brittany!, Quebec!, Lowell!," and with that we sent a sound vibe up north and across the ocean, completing what Roger West called a triangle of tribute. I didn't know Roger West before hearing about him from Lis McLoughlin who directs Writing the Land, a partnership between the environmental and creative communities.
What follows is a brief essay by Roger about Kerouac and Brittany. Roger' bio follows the essay.
–Paul Marion, March 23, 2022
==============================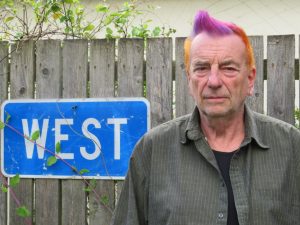 Never Forget You Are a Breton: Jack Kerouac Centenary
by Roger West
Finistère, Brittany: a pockmarked finger of France pointing accusingly westward. Wherever you go here in whatever direction, you very quickly end up at the sea.  Even if you stay put, rivers, brooks and creeks will carry you through estuaries down into coves and bays and sluice you out into the Atlantic. It is the only part of France where you can take a direct line across to North America avoiding and ignoring England (quite wisely) and letting those tides and currents carry you seamlessly from the Celtic Sea to the North Atlantic, through what Kenneth White called that "pelagic front," that place of "wild dynamics," that "field of energy" where waters mix.
Which is what Jack Kerouac's ancestor did 400 years ago, trickling down from the hamlet of Kervoac to the town of Huelgoat and thence to Brest where he shipped out for a new life in Quebec far from that pointing finger. Under a bit of cloud, it has to be said; a little matter of misappropriation of funds and allegations of sexual assault.
Jack did give different accounts of his ancestry based on various place names — Kerwick, Quivouac, Kerneweck, Kervoach — the fluidity of orthography allowing a certain fluidity with exactitude. But his father's words 'Ti Jean, never forget you are a Breton' encouraged him to take a trip to France, recorded in Satori in Paris, to trace his ancestry, a quest hijacked by cognac, women, a missed flight, a lost suitcase, a meeting with a dissolute chancer who claimed kinship and more cognac. The disorderly state of the national archives in Paris also did not help.
Nowadays of course, all this research can be done online, as the Kerouac or Kirouac family have done — or as they now call themselves, the Kirouac Family, Inc. — a formidably organised bunch of realtor rotarian types who have traced their ancestry back to this Breton hamlet.
On Jack's birthday, March 12, in this his centenary year, we wanted to pay homage to Jack, to wish him happy birthday and to read to him. The place of origin of his ancestors seemed an appropriate place as we were in Brittany anyway and so we went first to Lanmeur, the small town that now includes the hamlet of Kervoac. It was here that his family inc. came twenty years ago for the inauguration of Rue Jack Kerouac and the unveiling of a plaque. It caused quite a stir according to the local paper, Le Télégramme, who reported local residents feverishly reading Kerouac's work and feverishly not making head nor tail of it. The visitors came, they were civically received, their dollars appreciated. Today the plaque has rotted away and Rue Jack Kerouac has disappeared; it was, from the photos taken at the time, not actually a street anyway but a field. None of the Lanmeurians we spoke to claimed to have heard of Jack Kerouac.
We followed the route taken by the ancestor, Urbain-François Le Bihan de Kervoac, through the forest to Huelgoat (the name means "high forest") where the Kirouac clan had also been busy unveiling. A plaque affixed to a wall beside the old windmill replete with family motto and crest rendered homage to Urbain-François and simply noted his departure from these shores.  No mention of Jack; it seems that the incorporated Kirouacs are happier to incorporate an embezzler and philanderer than they are the poet who was their most illustrious member. It also seems that this family outing was a trip for the boys and their wives to consolidate that all-important patrilineage. Jack wasn't just a Breton, he was also umbilically a Norman; his matrilineal line goes back in time beyond the disgraced fugitive from Brittany to an established Québeçoise originating from Moussonvilliers in Normandy, France — and, for those who care about such things, with a direct connection to Céline Dion.
But that will have to be another trip. On this rainy and windswept day in Brittany, finding an appropriate spot to offer up birthday greeting to Jack was not proving easy. And a potential embarrassment too for this was to be a triangulated birthday operation.  Over in Quebec, poet friends were assembling in Rue Jack Kerouac, which Jack would be pleased to know runs into, or is run into by, Rue Voltaire, Rue Charles Dickens, and Rue Virginia Woolf, to read him poetry. In Massachusetts, other poet friends were stepping outside and facing towards the Mecca of Lowell to do likewise.
And then down along the narrow and mediaeval Rue des Cieux we found the place, the Sur La Route bookshop and cafe set up by Johann a few years ago to fill that Jack-shaped hole in visitor attractions. Offering herbal teas and cupcakes — though I'm not sure that Jack was a herbal tea and cupcake kind of guy — it was a cosy, book-filled place that was celebrating Jack's centenary month with a series of events.  Inside we met author and translator Kristian Braz who has  translated On the Road into Breton and had a lively and interesting discussion about Jack's simultaneous absence and presence. I finally got to triangulate with my North American comrades and read my suite of haikus dedicated to Jack — to real people and not to an empty signpost or a wall. And Kristian it turned out was a friend of Breton poet Youenn Gwernig who became a friend of Jack's and for whom Breton cultural exile was embedded in the philosophy and culture of the Beats. Jack was encouraged by Youenn to return to Brittany, this time to the Huelgoat area, to make a fresh attempt to reconnect with his (male) ancestors. The two planned to go together. The tickets were bought, the trip arranged; a few days before their intended departure, Jack died. Although he never finished his quest, he did feel, according to Youenn, he'd found his satori elsewhere and anyway. For me, this short trip, inconclusive though it may have seemed, did give me a link with Jack and perhaps my own satori.
==========
Scottish by birth, now resident mainly in France, Roger West is a poet, singer, performer and songwriter–and a punk long before and long after it was fashionable. Erratically and inconsistently published, he concentrates on performing regularly at poetry festivals, including ones in Massachusetts where he has a number of poet friends. He has been at the Kerouac festival in Lowell a few times. And within that he has developed a number of longer performance pieces accompanied by electronic soundscapes and musicians playing live and improvised.