Susan April Gets the White Album, 1968
It Needs Sweeping
by Susan April
On November 25, 1968, The Beatle's double LP White Album was released. I was twelve, in eighth grade, and I had to have it.
Wish I could say I had been swept into Beatlemania after watching their first Ed Sullivan Show appearance on February 9, 1964, but truth is I don't remember watching that show. Sunday nights, we'd usually head over to Aunt Helen's—she had a color tv—to view Walt Disney's Wonderful World of Color. The Scarecrow of Romney Marsh was the movie that night. Don't remember it either.
Here's how I fell for The Beatles. My sister Denise had a record player. Okay, it may have been my brother Armand's once and she "inherited" it, but The Beatles 45s that showed up weekly were all hers. As were the TeenSet and Teen World magazines. She was twelve and into the Fab Four gossip about their girlfriends and wives. I was eight and couldn't care less about Cynthia and Pattie.
What I cared about was an orange and cream Dansette record player and one particular Beatles 45—a Tollie label, lemon yellow, "Love Me Do" (side A), "P.S. I Love You" (side B) recording I listened to over and over. Here's how: the Dansette played a stack of 45s and had a j-hook arm that swung over the top of the stack. But if you only wanted to hear one record because you loved that song so very much, you moved the j-hook arm to one side. When the record was done playing, the needle arm would lift and move itself to ready-for-another-record-to-drop position, but with the j arm to the side and no other 45 to drop, the needle arm said, oh, you want that again? And it'd play the record again.
This went on for hours.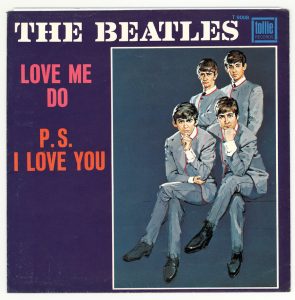 Why did I do that? I was learning the lyrics. Inventing dance moves. Lip syncing. Pretending that was me on stage. I air-played Paul's left-handed guitar. When the harmonica part came, I became John. I was the music. I was a Beatle.
Fast forward to the fall of 1968. I got nabbed for shoplifting at Stuarts Department Store. Age twelve. That warrants its own essay, but it's relevant here because two things happened. One, my juvenile probation involved some Saturday visits to 44 Hurd Street in Lowell. And two, although I was grounded in my room for mom said would be "forever," dad sympathized with the daughter who'd made a terrible mistake but would never to do that again and so bought her—me—a stereo for those lonely forever days.
A serious upgrade from Denise's Dansette, my new Symphonic Electronics stereo system had a BSR turntable and dual speakers. I had a few mono LPs—Beach Boys "inherited" from Armand—but no stereo LPs. Learning that the Beatles would be releasing a new stereo double LP was amazing. And irresistible.
Record Lane on Central Street was on my route from the bus stop to Juvenile Court. That last Saturday in November 1968, the White Album sat in the window. I walked in. I didn't ask for the album, but did ask how much it'd cost.
$9.98
Ten dollars—a lot of money. Month's worth of babysitting. The cost of a new winter coat. I needed a winter coat. The previous winter, mom had bought a boys stadium coat, black melton wool, with a white contrasting stripe running down the sleeve. It was cheap and she figured when I outgrew it, a younger brother could wear it. How I hated that coat. I'd just started Junior High and standing at the bus stop was brutal. I tried to fancy it up with a girly scarf and white leather pocketbook with snazzy silver chain. But it was all wrong.
Is that your brother's coat? It's not Easter, why you carrying a white purse?
"Next year," is all mom said when I bugged her please buy me a girl's coat, a nice navy pea coat, with a double row of buttons.
This was next year. End of November. And getting cold. On purpose, I ripped a bunch of tears in the black stadium coat and showed it to mom.
"I can't see my probation officer in this," I said.
She opened the snap wallet that moths flew out of and handed me a ten dollar bill for a pea coat. Saturday, December 7, 1968, I flattened that bill on the counter at Record Lane. "The White Album, please."
But I'd forgotten about sales tax.
"That'll be $10.28."
"Huh?" I felt my feet melting.
"That's $9.98 plus thirty cents state tax."
I rummaged through my pockets and found a quarter and a dime—thirty-five cents that I'd need for bus fare home.
Bus fare. White Album. Not a hard choice. The clerk slid the Beatles album into a thin paper bag and I began the long walk home.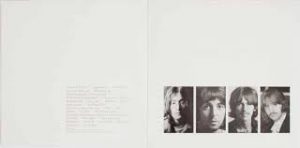 Mount Everest is five miles high. From Record Lane to Catherine Street in Dracut is also five miles. One mile out, icy rain began to fall. At the Lowell-Dracut line, the skies opened up. I stashed the bag under my coat which was neither a pea coat nor a black melton wool with white stripe and slashes, but a spring cotton jacket and soaked. Also, my penny loafers were soaked. Every step sounded like this: squish-flop. As I squish-walked, I pressed the Beatles to my body for warmth. Then I stuck my thumb out for a ride.
I'd never hitchhiked before. Didn't know I should walk backwards with that thumb out. Nevertheless, around Dracut Tire, a pickup stopped.
"You look miserable," the man said. "Need a ride?"
I pressed the White Album tighter. Was the cover turning wavy already? If that man planned to abduct me, I didn't care. I had to get my record out of the rain. I turned the door latch and slid onto the seat.
"What you got there?" he asked, motioning towards my coat.
I didn't answer. Didn't talk. Kept my hand on the truck door handle as we drove along Lakeview. When we got to the A&W I said, "This is it."
"You live at the A&W?"
"I work here." I lied.
"Looks closed."
"It'll open soon." I lied.
But he let me off and when he was gone, I went home.
*
I listened to each side of the White Album and the stereo made it heavenly. One track especially had me reliving my Love Me Do replay days. But I was no longer a childish eight. I didn't dance, sing, or pretend that I was George Harrison. At twelve, I had entered the world of juvenile justice, sneak-tricking my mom, and taking rides from strangers. Instead, I shivered with near pneumonia and positioned the needle to play and replay track 7's aching guitar and plaintive voice. My new normal. I look at you all see the love there that's sleeping . . . .