Traveling with My Adventure Gang
Braiding the Sweetgrass in a
Subaru Outback:
Traveling with My Adventure Gang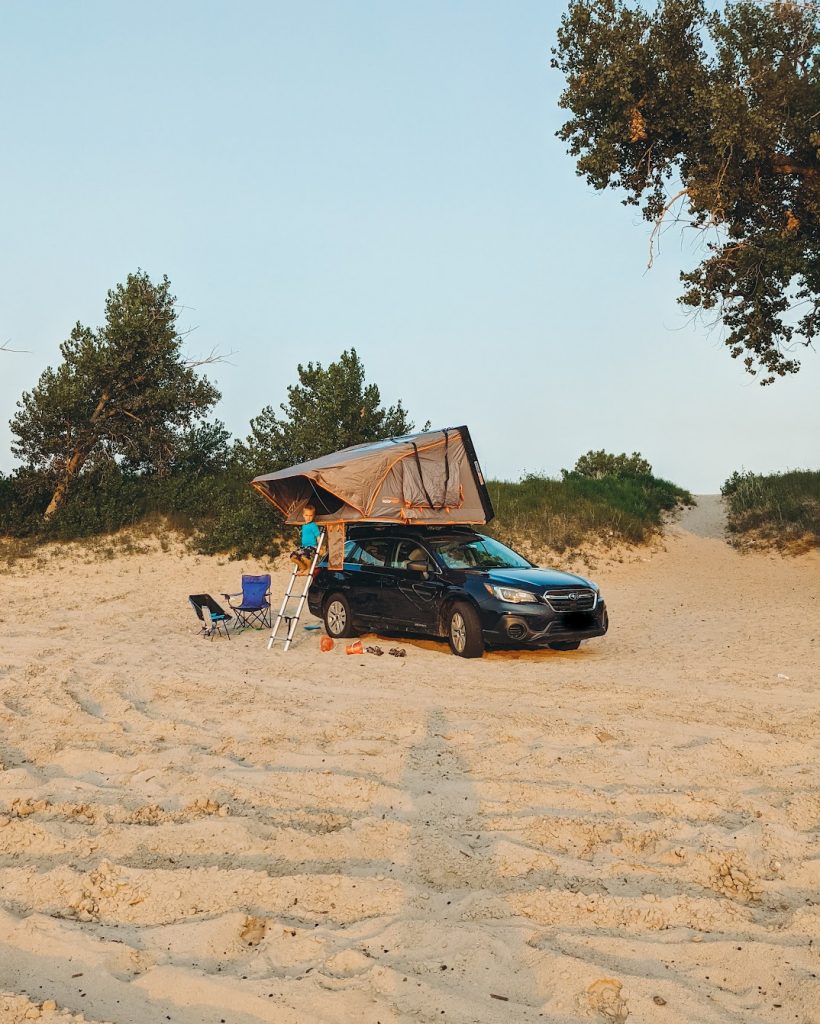 My Adventure Gang at an overnight campsite
Road trips are a staple in American culture. And it's not surprising that from a nation of immigrants came a nation of travelers. Here, Old World pilgrimages follow new paths: Route 66, the Appalachian Trail, or the Kangamagus Highway; and they bring travelers to the sacred places of America: the Grand Canyon, Mount Katahdin, the Redwood Forest, and many more. With knapsacks and Ray Bans; Airstreamers, motorcycles, and camper vans, Americans annually take to the road and sleep under the stars.
This past summer, Lowell resident Lydia Blanchard, set off on a 5-week road trip with her sons, 2-year old Wyatt and 5-year old Benton, in their Subaru Outback. They are the core members of My Adventure Gang, and on July 15th the trio left their Highlands neighborhood home for an epic road trip. It was a beautiful day at the height of summer. Benton and Wyatt were strapped in the back seat, and a Condor XL Roof Nest tent was strapped above them. Windows open, tee-shirts fluttering, all breathing in the fresh air of vacation.
From the dash, the start of an audio book: "She fell like a maple seed, pirouetting on an autumn breeze. A column of light streamed from a hole in the Skyworld, marking her path where only darkness had been before." They are the first lines of Robin Wall Kimmerer's, Braiding Sweetgrass. It begins with the story of creation as told in Native American culture, and as My Adventure Gang made their way across the country, Lydia played bits of the book every day.
When the Subaru rolled up their driveway on August 20th, its odometer clicked the last of the 8,603 miles they traveled since that first bright day in July. Together the trio visited five National Parks, thirteen State Parks, two National Lakeshores, and two National Monuments. They consumed countless boxes of ramen noodles, bags of vegetables, fruit snacks, Kodiak cakes, and for Lydia, a Tempered coffee every morning. Benton and Wyatt collected seven of Ranger Badges, and nearly every day encountered fish, snakes, salamanders, insects and at least one really fuzzy caterpillar. But the richness of the trip, the growth of her children, the depth of joy experienced in the wilds of our country could not be measured in miles, days, or numbers.
Back home in Lowell, on the same street that On the Road author Jack Kerouac once lived, I had a chance to catch up with Lydia, and hear the stories of their travels, of where they went, of what they learned, and why they go.
Let's start with you telling us what MAG is all about and when it started?
My Adventure Gang is all about traveling with my sons and the adventures we experience on the road, but it all started on our couch actually. I was watching my son Benton playing with our dog Java and they looked like such a team, a real adventure gang. I thought I have to do something with this crazy gang. After a trip to Europe with Benton in 2018, it raised a lot of questions about the benefits of traveling and educating children. I came home and registered the name "My Adventure Gang." Today, the members of MAG are myself and my two sons, and when work allows, my husband Craig can join us on the road.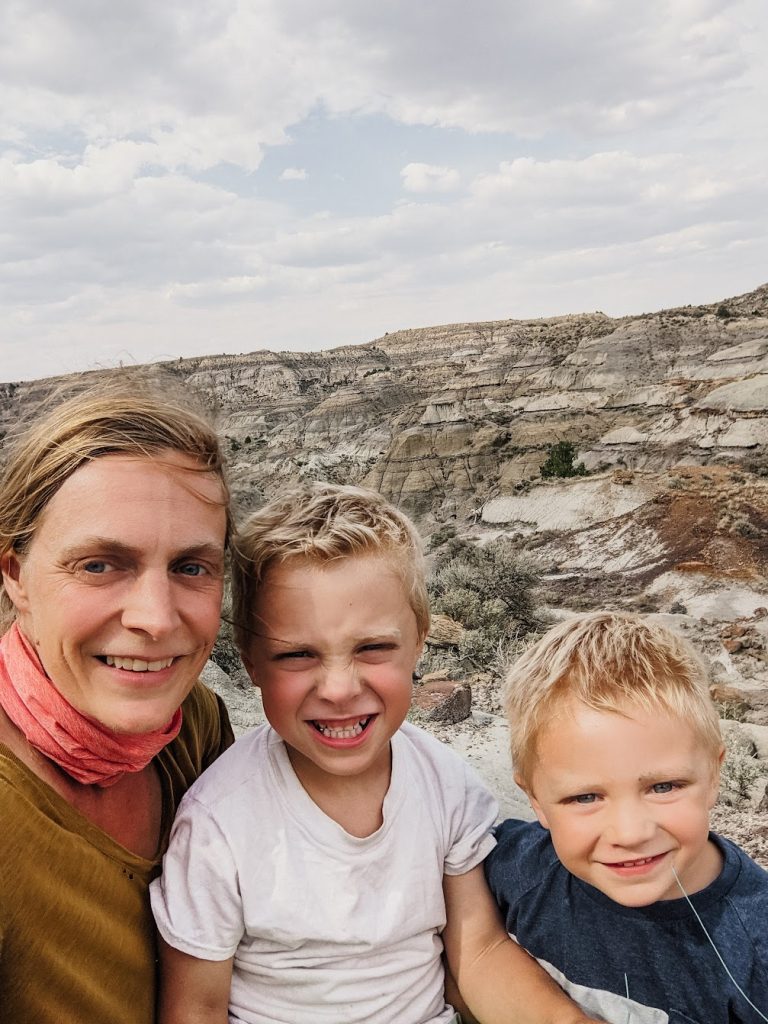 MAG members Lydia, Benton, and Wyatt
For those thinking trips of this nature are for the inherently outdoor-types, what do you say?
Well, I grew up in New York City. We weren't by any stretch an outdoor family. My mother, Ann Hill, was a professor of economics at Queens College; and my father, Monty Blanchard was in finance. We did a lot of traveling, but no real hiking and camping.
When did you first become interested in spending time in the outdoors?
Sometime when I was in high school, I went on a two-week wilderness trip of rock climbing and rafting. It was then that I really connected with the importance of the outdoors. In college I majored in psychology, but my narrow interest was in what would now be part of Wilderness therapy. Society is recognizing the importance of things like forest bathing and wilderness retreats. Research is telling us that in developing fine motor skills in kids, nothing beats climbing trees, or tactically exploring the natural world. These activities develop a child's brain in such a way, that other activities, like reading, actually become easier for them.
What was this summer's adventure?
It was a 37-day trip across the grasslands – through states like Ohio, Nebraska, South Dakota, Wyoming, Idaho, Utah, Montana, Minnesota, Wisconsin, as well as the Upper and Lower Peninsula of Michigan. The idea was to visit several of our State and National Parks with the boys and just really let them explore, learn, and grow. In the middle of our trip, my husband Craig joined us for a week. Apart from planning for my husband's visit, there was little structure for the trip. I had done lots of research before leaving, so once on the road things could remain flexible. During this entire stretch, we camped at only five paid campsites, and stayed at a motel once. On all other nights we found our campsite by day's end.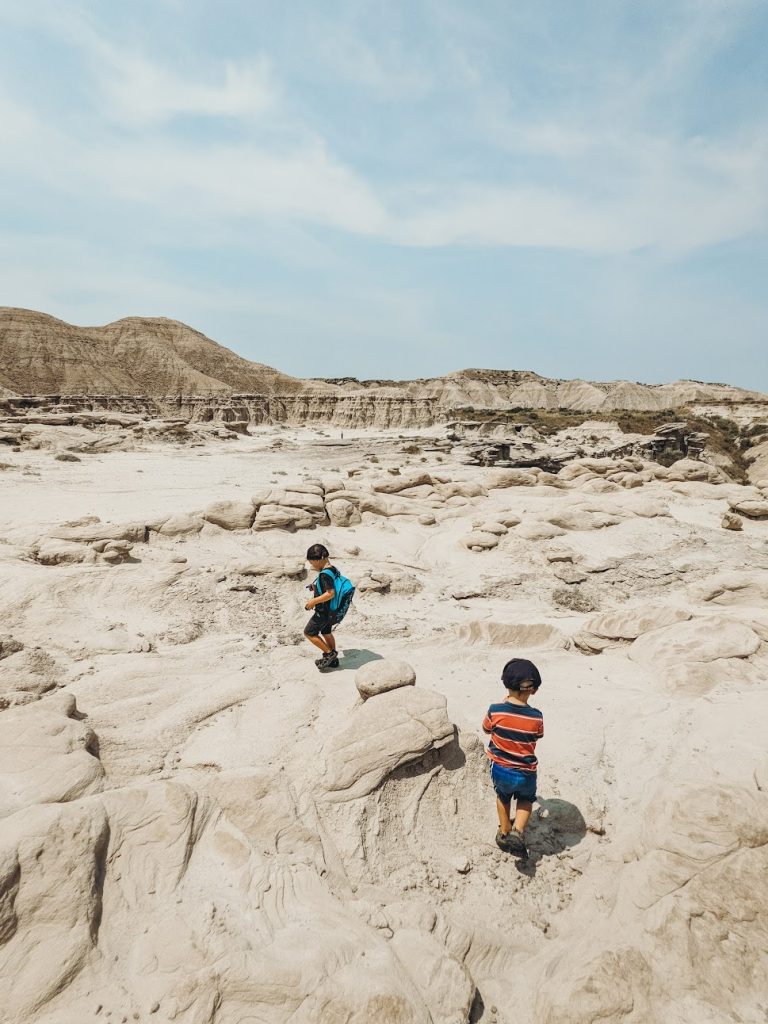 Benton and Wyatt at White Sands National Park
Describe a day on the road with two Pre-Schoolers?
Every morning we would usually sleep in a bit, and begin the day around 7-8 AM. The kids would immediately resume exploring the area we camped in that night for an hour or so. Meanwhile, I'd make some coffee and start packing up our camp. Breakfast for the boys would be in the car as we traveled to the next place. Each day we would hit two big destinations. In the time it takes to drive to each place, the boys would generally nap. By the end of the day, we'd set up camp, pop up the tent, and start dinner. This summer no campfires were allowed anywhere we went. I used a Coleman propane two-burner stove. Our food was kept in an RTIC cooler. For the whole trip I only had to stop for groceries five times. After dinner, and the extended light of day, we'd explore: hike, fish, watch the sun set. At night in the tent, we'd read. The boys loved two books in particular: "The Nocturnals," and "A Wolf Called Wander."
How do you decided on the places you're going to visit?
Lots of research goes into these trips. It's all the pre-planning that gives us the freedom to go where we want, when we want, and for how long we want. I bookmarked about 1,000 places before we left. I built the trip around some key places I most wanted to see: Grand Tetons and Yellowstone; Zion and Bryce.
For readers who would like to go on similar adventures, how would they start, and what equipment would they need?
Start small and cheaply. First try an overnighter. Maybe borrow a tent and other basic equipment before investing in your own. Not much is really needed, particularly if you are camping during the summer, but you will need a cooler or food bag; a tarp or tent; sleeping bag; and plenty of water. On some of my posts I've given readers complete lists of what I take, and what really are the essentials.
What skills have your kids picked up from this summer's adventures?
It's hard to describe, but they are more confident and self-reliant than when we started. You would have to try really hard to be the same person you were before a trip like this. Any of these trips, from a weekend getaway in the woods, to a longer adventure, has an impact on them. The boys each did things they were convinced they couldn't. So, when they pulled a fish in by themselves, carried their own pack for the whole of a hike, or stood on that mountain top they were convinced they couldn't reach, it has a profound impact on them.
This year there has been more thoughtful discussion about issues of equity in the workplace, in schools, in sports: are there issues of equity in accessing to "the great outdoors"?
The TGO has historically been the domain of the "great outdoorsmen," and although things are changing, that is still largely the case. From my travels this summer, I can tell you that there were few persons of color camping and hiking; and, I think there are several reasons for that, and they are rooted in the inequities that persist in America. First, our National Parks were segregated until 1945, so BIPOC have been internally shut out from outdoor recreation.  Also, it's hard to think you're welcome in a hobby when there is virtually no representation in that industry. Many outdoor brands don't gear ads or products to BIPOC because they don't consider them legitimate customers. Eddie Bauer is one of the only brands I see putting their money where their mouth is and organizing trip and gear scholarships for historically excluded groups of outdoor enthusiasts, particularly introducing teens to TGO who might become life long enthusiasts. Efforts are being made today to ensure that these great wilderness spaces are being experienced by all Americans, so equitable recreation will continue to be a critically important topic and goal moving forward.
YouTube and Instagram have lots road-trippers and bushcrafters, are there any you follow?
Yes, there are lots of great ones to follow. Some of my favorites on Instagram are: Coleyrach; Meanderingmay; Theamericanfieldtrip; Thetravelingchild – their motto is that if kids can live there, kids can travel there.
A difficult question: of the National Parks you visited which was your favorite?
All the parks were just amazing, but if I had to pick a favorite, I'd go with White Sands National Park in New Mexico. It's hundreds of miles (275 square miles) of pure white sand dunes made of gypsum crystals. Some of the dunes have a depth of 30 feet, and others are as high as 60 feet. These white dunefields are considered one of the world's great natural wonders. I'm going back.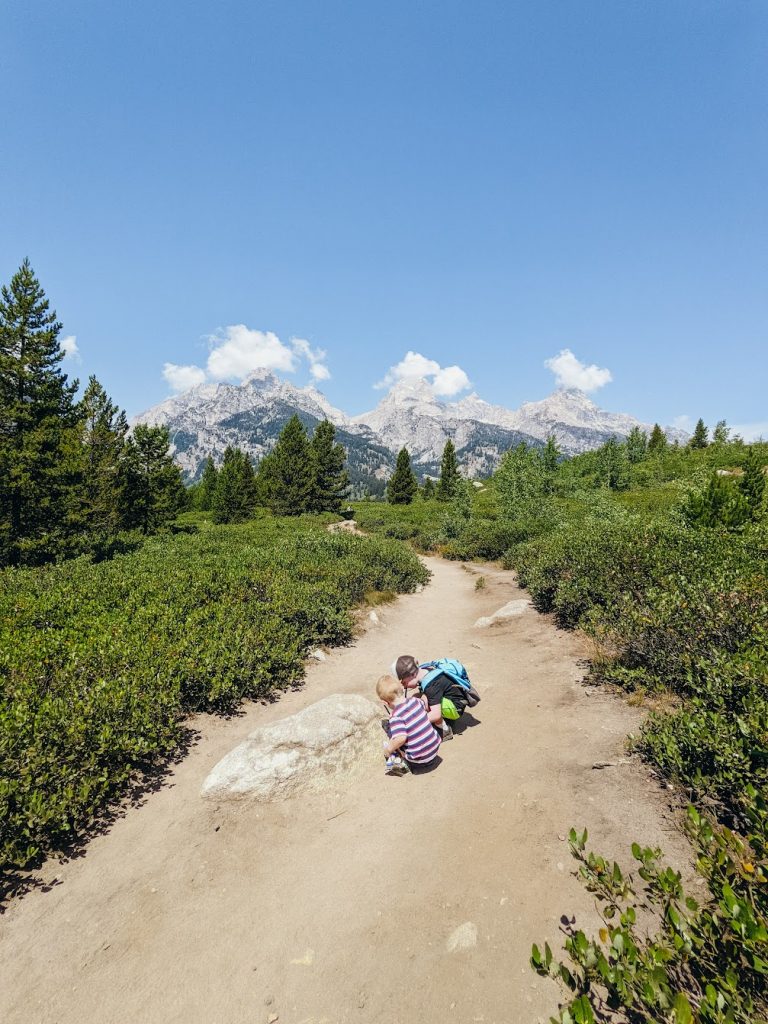 Benton and Wyatt in the Grand Tetons
Your Instagram account has loads of fabulous photos from your trips? Is there one for you that stands out?
Actually, yes. We had hiked to this gorgeous spot in Grand Teton National Park. It was a stunning vista of the mountain range, and the boys had their back to it all because they were enthralled over a really extra fuzzy caterpillar. I took a picture of it. It's a reminder that they can find beauty in the little things we miss.
"They go crashing through the woods, their laughter flashing bright in the dim coolness."
From Braiding Sweetgrass.
* * * * *
Lydia Blanchard is an avid outdoor enthusiast who loves sharing her passion with her family and anyone who will listen on Instagram. When not climbing mountains working on her NH48 4000 footers or dreaming up business ideas, she is fishing with her two small anglers; Lydia just might be the most knowledgeable angler for someone who doesn't like fishing, but isn't that part of parenthood. For more on Lydia's travels and adventures visit My Adventure Gang.
Christine O'Connor is a contributor to the Richard Howe Blog, and is one of three editors of Trasna, featuring writing from and about Ireland.