Linda Ibbotson, "Homage to Kinsale" and Other Writings
As we reach mid-June with the fervor to celebrate the season and enjoy beloved places, Trasna welcomes Linda Ibbotson and her tribute to the beauty of the coastal town Kinsale, to the legacy of Irish culture, and her creative collaboration with Russian pianist and composer Arsentiy Kharitonov. A gifted poet and lyricist, whose artwork and photographs have won acclaim, Ibbotson shares her spirit of renewal in both the present and the past with readers.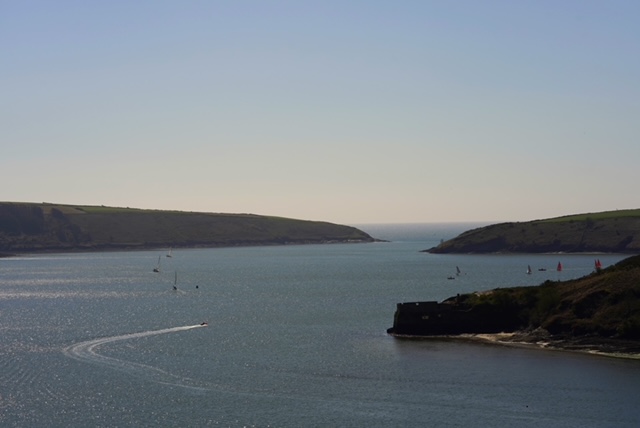 Notes From an Empty Room

Collaboration with Arsentiy Kharitonov

As a classical piano lover, I was delighted when Russian pianist and composer Arsentiy Kharitonov emailed a composition to me and invited me (if it inspired me) to write a poem to the music.

It was several weeks before I could focus on this project in its entirety. On listening to the opening notes the gentle, wistful tones moved me deeply on a personal level. My mother had recently passed away.

I eventually approached this as if looking through the eyes of an imagined composer, one that had personally known Rachmaninov and had experienced solitude, sensitivity, the angst, the adulation. My creative ideas emerged, when I explored the life of Rachmaninov, the Russian landscapes and culture, the onset of the Revolution, the way he had to swiftly depart Ivanovka his beloved idyll, fleeing with few possessions with his family to New York, to begin a new chapter of his life in 1917.

Working with the music I wanted to reflect the delicacy of mood and rhythm, a harmonic sequence of expressive images, imbue a feeling, not only of dissolution and yearning but indicative of triumph too and tenacity against all odds. In the finale, a sense of optimism.

The Rachmaninov Concerto No 2 in C minor, written after a long period of depression, had been greatly loved by my parents. They were in my foremost thoughts as I wrote this poem.

*Arsentiy studied at the Rimsky- Korsakov College of Music of the St. Petersburg Conservatory. He holds a Doctor of Musical Arts Degree from University of North Texas in piano performance.

Listen to the music composed by Arsentiy Kharitonov at this link.
Notes From an Empty Room
for Arsentiy Kharitonov
There is a room in St Petersburg.
From the piano there is a view, a courtyard,
each cobblestone, a story in a language of its own:
the voice of exiles, desolation, of silence in winter snow.
There are shadows etched with grey charcoal,
as brittle as dead men's bones.
Moonlight plays on empty walls,
icicles melt, water trickles like tributaries,
edges of windows freeze breath.
A chandelier, the colour of cathedral glass,
hangs, as fragile as discontent.
At night, there is a vision of a Chagall in blue.
I turned my eyes to the west, New York, 57th St,
think of nights spent with red wine and introductions,
of playing the Rachmaninov – Concerto No 2 in C Minor;
the opening strike of church bells fortifying our very existence.
In contrast, the Adagio Sostenuto, as soothing as a still lake.
Laughter, silk dresses, encores, a standing ovation from strangers.
Critics wrote Rachmaninov lives on.
~
I recall endless summers with Sergie at beloved Ivanovka,
of picnics in fields of dew and wild orchids,
watch the solitary arms of a windmill paint the sky.
From the doorway of the music room I observe virtuosity,
hands stretch across thirteen notes, stretch across the hours,
decipher beauty, sorrow, surrender.
There was nothing broken then.
On an October wind, a fist of dissonance marched.
You grasp your coat and hat, a small case of music,
from the sleigh, your eyes still mapping the keyboard
as a cartographer maps the world.
~
At the piano, I count time,
shape notes, rearrange with restless hands,
black cuts into white,
the same way a skater's blade cuts into ice,
slender limbs glide beneath a long white dress,
chiffon folds like pages of a dying love.
Scores scatter on the floor as if confetti,
legato, diminuendo, highlighted in orange and blue,
the treble clef resembling an arched swan's neck,
the curve of the Volga river, the curve of a body.
I watch clouds as they spiral in the salt winds to the Steppe,
fall into blades of wild grass,
listen to the wasteland, cold and barren,
hear its stones crying out for want.
Time wound me around its fingers,
as I rehearse with longing and doubt,
desire to remain in the solace between sleep and wake.
There is a room in St Petersburg.
From the piano there is a view, a courtyard,
each cobblestone, a story in a language of its own,
the voice of exiles, desolation, of silence in winter snow.
Outside, a storm breaks as I peer through the darkness.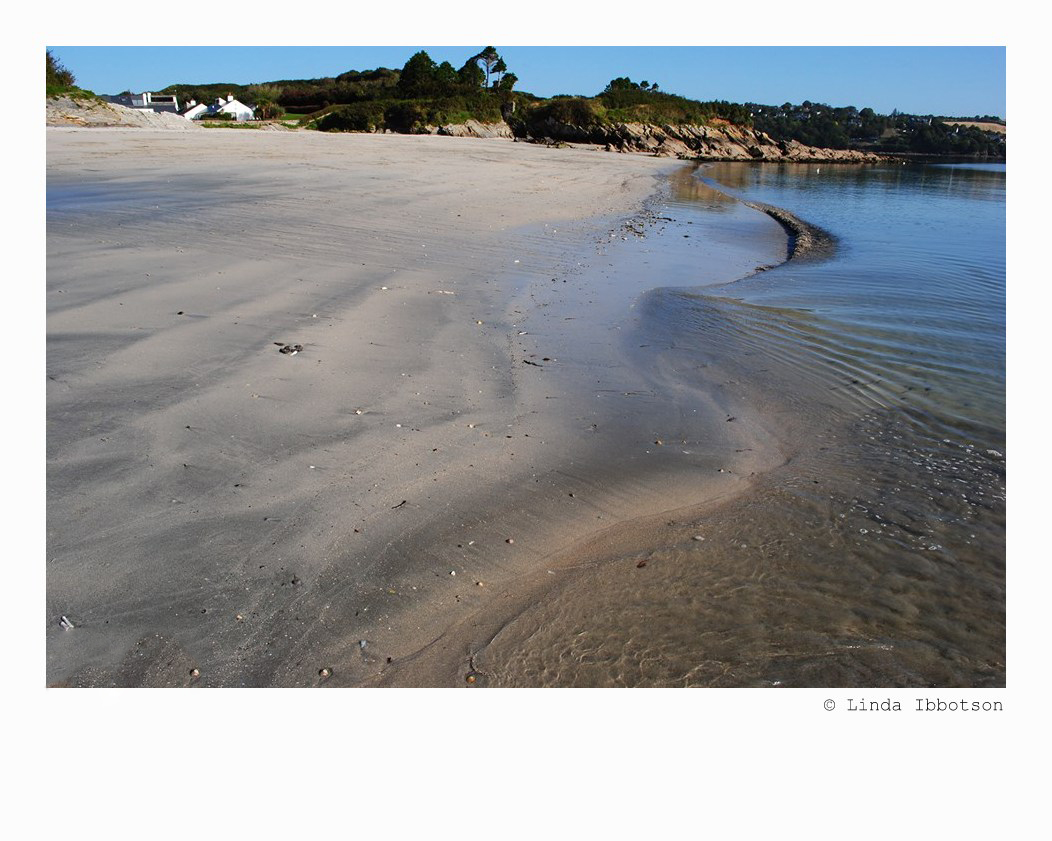 Homage to Kinsale
As night's obsidian curtain lifted,
the skylark heralds the dawn chorus
in my demesne of duck egg blue.
From my balcony,
a mirage of matchstick masts
navigate the thirsty mouth of the harbour,
and my skin drinks it all in.
Sometimes, when I bury myself, in myself,
never quite reaching the point when thinking stops,
I unlatch the door, drink tea, and savour wild berry tart
at Poets Corner,
or stroll to the Spaniard
where the swans dance to Francesca's mandolin,
and in my solitude I feel quietly content.
I look at life in black and white at The Gallery,
buy a chiffon scarf from Stone Mad,
peacock feathers with hand stitched beads
and fly it like a kite on the beach.
After sundown you'll find me in The Black Pig
sipping a glass of red,
satisfied with the feeling that finally,
I have arrived.

A Celtic Legacy
Rising from Celtic mists,
calloused white boned fingers
on goatskin
unravel lyrical etchings
on ancient stone
that weeps beneath wounds
swathed in redolent moss
and pink veined thrift.
Stone that cleaves to breath
from Uilleann pipes
shaped to spear the horizon
of Atlantic blue,
carrageen and crab.
Flint and turf furrow
Skellig spines
that once housed the faithful
and guillemots.
Ribs of currachs
kneel before
Ulysses and crosses
scoured by silent storms as
ancestral skin stretched
to beckon retreating tides.
Anchored between the sacred
and calloused white boned fingers
the Book of Kells
lay bleeding.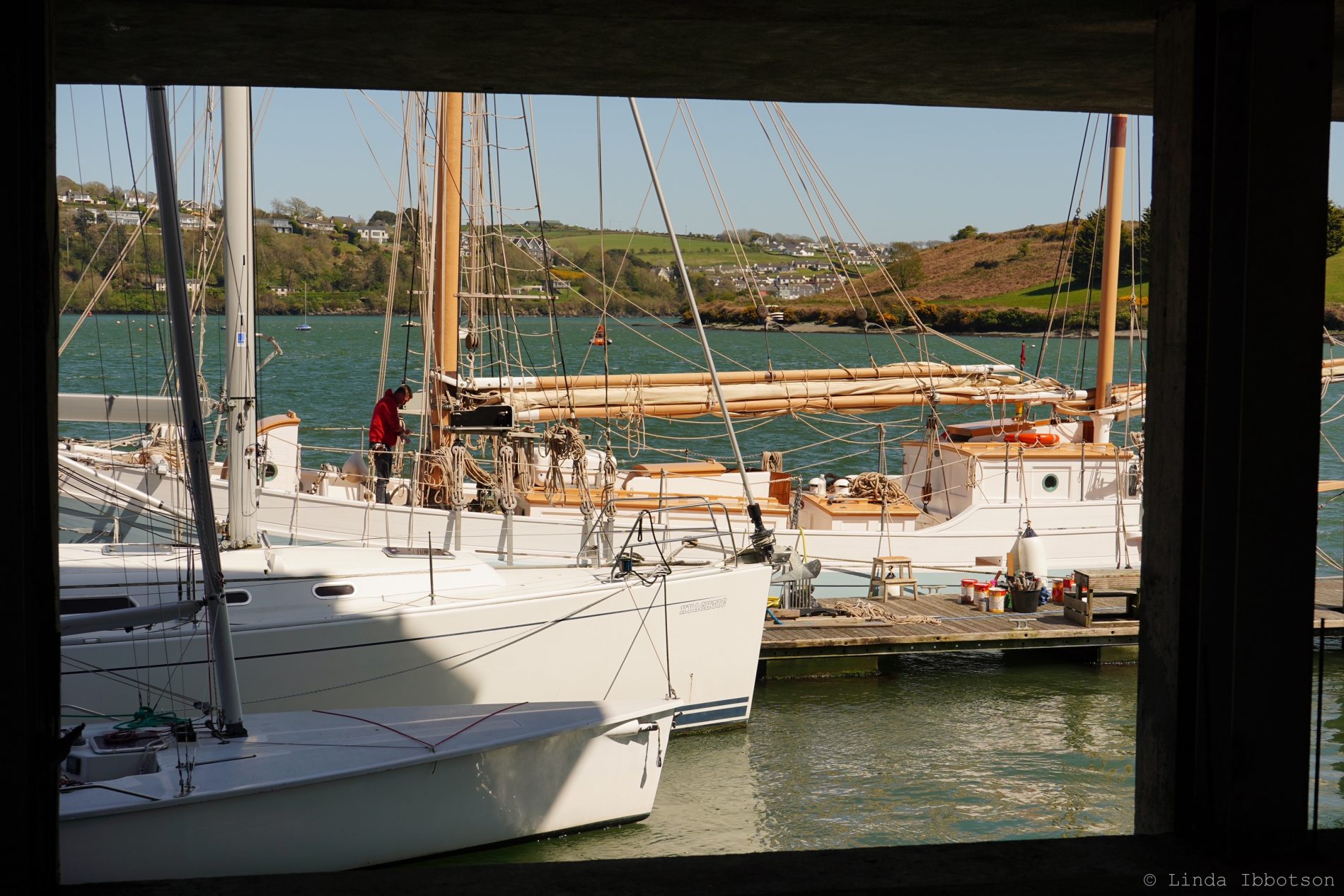 'The Ilen', a restored 1921 ketch, used for 'Sailing into Wellness'.
Beat of the Bodhran
I hear your hands.
A benediction of skin to skin,
a mantra of ancient bone
rising above celestial scars
and swan sons of Lir.
I hear your hands
beneath the solstice;
acoustics ascending
from wings of sorrow
as Tara's breath exhales,
lifting her emerald veil,
meadowsweet and whitethorn
woven to crown the halos of pilgrims.
In the distance,
shadows awaken
and dance with eyes
that speak of legends.
Drifting,
in the half light of an eclipse
time falls like snow
on Sliabh Luachra,
cold flesh bound
in sacred stone
as Danu's limbs
coil around the limbs
of the immortal.
I hear your hands
In the heartbeat of ravens,
echoing in the womb
of the Holy Well
and the gentle whispers
of the wind that
cradle a lament.
I imagine laughter,
binding the wounds of heroes
turning blood into
petals of scarlet flax
as if fragility
becomes fertile.
On the street of the stone ringfort
I see streams of colour
in a blind piper's eyes.
Through each scarred hue
a solitary reed softly sings.
Behind, a damselfly
opens its wings
to catch the colour
before it too
bows its head in prayer.
I hear your hands
as they slip between Atlantic blue,
each wave knowing its birth.
In time and out of time
the restless salt breeze
flies with wild geese.
Somewhere,
in the rhythm of soft rain,
each drop remembers.
I hear your hands
in the flute song of the egret
as Erin kneels before the ephemeral,
the sanctuary
of the known and the unknown,
her mossy gown
unfolding half forgotten myths.
I hear your hands,
a heartbeat
on an incandescent moon of skin,
a rhythm
in the wintered hands of a scythe,
in the footfall of red deer,
and in the light of the eternal.
And as I watch Celtic mists rise
above ancient stone,
I feel both a longing
and a belonging
to this land, this people, these words
that linger as a mantra,
in the warmth of solace
beneath the silent boundary
of my skin.
~~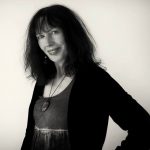 Linda Ibbotson is a poet, artist and photographer from the UK, currently residing in Co. Cork, Ireland. Her work has been published internationally, including The Irish Times, Irish Examiner, Bealtaine, Poethead, časopis Harmonie (Czech music magazine), Limelight        (Australian classical music and arts magazine) and Boyne Berries 27.
A photograph of Hugo Vegter, Instrument maker in Cork was in an exhibition The Maker's Hands.
A photograph of her artwork was in an exhibition in Summer 2020 at Lismore Castle Gallery, Co. Waterford, Ireland. Her poem A Celtic Legacy was read on radio and performed in Paris and Lyon by Irish actor and musician Davog Rynne. In May 2021, she collaborated with Russian pianist and composer Arsentiy Kharitonov, where her poem Notes From an Empty Room was written to his piano composition.
She writes arts and culture blogs Contemplating the Muse and One. Her poem, 'Homage to Kinsale', was first published in the Irish Examiner, through an initiative of the Munster Literature Center.
Photo credits: Linda Ibbotson