Dylan Rolls His Thunder in Lowell (Nov. '75)

WEARING A FEATHERED WIDE-BRIMMED GRAY HAT, Bob Dylan could've been a Mexican balladeer with a new Durango song, bouncing on stage and stamping his whole leg in time to the drum. Ramblin' Jack Elliot dedicated "Me and Bobby McGee" to Jack Kerouac, who as a kid had played King of the Hill on the sandbank right across the way on Riverside Street. Roger McGuinn brought out his "Chestnut Mare" with its fifty-nine lines plus chorus. To finish, the entire troupe, not the least of which was Joan Baez, plus Allen Ginsberg on jangling tambourine, sang Woody Guthrie's "This Land Is Your Land" with everyone (including my girlfriend Marie after she had given tissues to a nosebleed guy she had dated once in high school)—all of us choir-ing and clapping until basketball game lights re-flooded the college gym at Lowell Tech.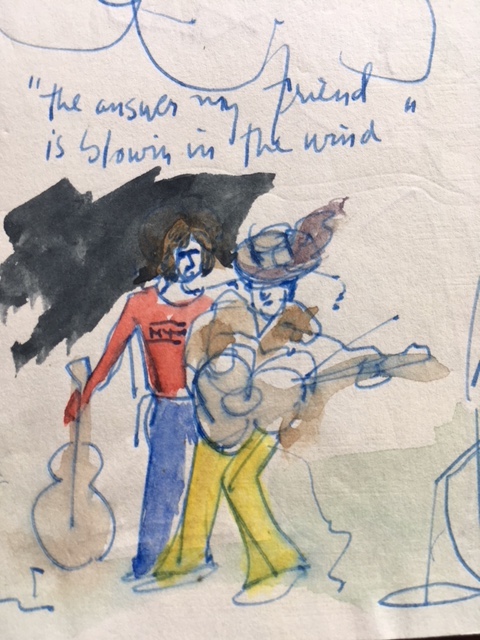 Baez and Dylan in Lowell, notebook sketch, PM, Nov. 1975
After an overnight in the Holiday Inn near the Pancake House off Rte. 495, Dylan and crew with movie camera went all pilgrim on the Jack Trail, led by one of the surviving brothers-in-law, Tony the Elder, who took them to the Franco-American School, a former patent-medicine king's mansion and later an orphanage that was once visited by a campaigning Jacqueline Kennedy, and the adjacent medium-scale Lady of Lourdes Grotto topped by a monumental Jesus-on-the-Cross under which Dylan stood to be photographed in color for Rolling Stone magazine (the river sounding behind him), pictured not for the cover but for a long splashy story ("The Pilgrims Have Landed on Kerouac's Grave")—there's that pilgrim word again in New England context.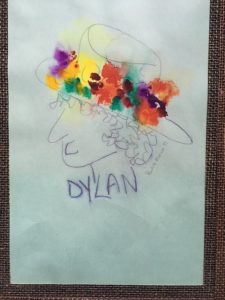 Watercolor, PM, 1977
Early-November maples blazed gold and crimson. Bob and Allen Ginsberg sat cross-legged on the sun-warmed earth before Jack's simple flat stone in Edson Cemetery, talking about the writer in the ground before them and the words "He Honored Life" cut into the tablet by the erudite school teacher and carver Victor Luz of the monument company across the street. Allen read a bit from Mexico City Blues, whose choruses had rung in young Bob's brain back in Minnesota and Greenwich Village, all those years ago. He was here to make a statement, to see for himself the place in the books, the land of origin. (11-75)