Paul Marion: 'Relay to Home on Daniel's Throw from Left Field'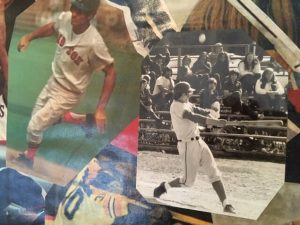 That's me taking a swing for Dracut High baseball in 1972  in a collage in one of my notebooks. That's Yaz coming in to score for the Sox and at bottom left Gerry Cheevers kicking out a shot for the Bruins.
Nice peg, Dave.
     Oh, man, I like Dave Daniel's short takes combined into something bigger. Like base-to-base offense in hardball.
     In number 3, he gave me back something that had leaked out of my brain through my ear and onto the ground forty years ago, probably. That scene of tossing the ball onto the roof and waiting for it to come back down who knows where based on the topography of the roof. And then sometimes I'd throw too hard and pitch the ball over the backyard roof and onto the matching slope, in my case the front roof slanting toward our small front lawn that angled to the road — the ball would wind up in the neighbor's yard. Go shag it. Oh, man, that feeling of waiting for the ball to roll back down, picking up a little speed, and then leaping a bit off the edge at the gutter, which made it harder to catch cleanly in my fielder's glove.
     And, yes, I'm on that Daniel's team for unorganized ball vs. organized ball. I didn't play town ball until my final year of eligibility for the Babe Ruth League in Dracut, Mass. It was freshman spring, when I shocked myself by making the frosh squad in high school. We had three levels, freshman, junior varsity, and varsity baseball — a lot of good players. When there was a schedule conflict, I was supposed to be on the high school team bus to Tewksbury or wherever. Babe Ruth games were scheduled on the high school field when the school team was playing away. One time I stayed home and played for my Babe Ruth League team — my freshman coach saw me when he got off the bus and was not happy.
     But, hey, I wasn't in the coach's starting lineup, barely subbing, that freshman year, while on the Babe Ruth Yankees (I know, the dreaded Yankees, with yellow jerseys like the new Red Sox marathon uniform shirts) — so, while on the BR Yanks I started at third base, pitched once or twice a week, and batted in the top five in the lineup. Easy choice for me about where to show up in a schedule clash.
     I played four years of high school baseball, starting infielder for JV, subbing on Varsity last two years, and had a couple of hitting highlights. I felt it was an accomplishment to make the roster, but the neighborhood pickup games were the ideal, the idyll, for ball playing, going back to being six years old in the yard of a compact ranch-style house in Dracut.
     Later, in random stalled-out farmer fields in our New Boston Village/Crosby Heights neighborhood, we had the shorthand game of scrub when there was only a handful of players. Two kids (boys & girls) at bat trying to keep the line moving, home plate to first base and back. First person to be called out at first or home then goes in the outfield and the pitcher gets to bat — everyone rotates position swinging toward being the pitcher and then next up.
     Rollies-at-the-Bat was another favorite when not enough kids for team vs. team. Hit the baseball out of your hand and let the fielders throw the pill back in, trying to hit the bat that had been laid down in front of the makeshift home plate. Roll the ball into the bat or plunk the bat on the fly (rare event), and you are next up.
     And the father thing. Wow. "Fathers Playing Catch with Sons," wrote poet Donald Hall. Mythic.
     I better stop now because I'll fill up another page of screen.
     And Dave's snapshot of the Reggie! candy bar man signing baseballs at the Hall of Fame. Unforgettable. American small business ethic.
     "Chatter" is its own dialect. That's for another post.