Pandemic Update from Alaska
Mike McCormick, a Haverhill native who has lived and worked in Alaska since the mid-1970s has become a regular contributor to this site. Last June, he filed a report on the pandemic as seen from Alaska. Today, he gives us an update one year into it.
Our Pandemic Year:
An Update from Eagle River, Alaska
By Mike McCormick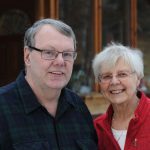 Mike McCormick and his wife Katy Spangler (web photo courtesy of Anchorage Daily News/Phil Roth photo)
The sun pours through our home's south-facing windows. Sunlight hours have doubled since the first of the year. These lengthening days energize Alaskans every March. But this year, the combination of advancing light coupled with the arrival of Covid vaccines has ignited a sense of well being that's above and beyond our typical end-of–winter relief.
My son Patrick, wife Katy, and I all have received two Covid shots. Mary, our daughter, scheduled her first vaccination for tomorrow. Twenty-five percent of Alaska's population has received one or more shots. After months of shivering with friends around fire pits in single digit temperatures, I look forward to inviting people over to share dinner and drinks around out kitchen table.
When the pandemic first struck, Alaska recorded the lowest number of cases per capita in the country. Government leaders and health officials coordinated a plan with clear guidelines that seemed to work. On days when some "Lower 48" states reported triple-digit caseloads, Alaska reported single-digit, and occasionally, no new infections.
Unfortunately, the low numbers didn't last. Republican Governor Mike Dunleavy (a strong supporter of Donald Trump) never issued a statewide mask mandate. Reacting to our early successes, he quickly dropped many of Alaska's initial guidelines.  When fishermen and other seasonal workers began arriving, the pandemic walloped Alaska. Local governments were left on their own to issue community-based regulations; masking advocates battled anti-maskers in stores and restaurants, at municipal assembly meetings, and in community councils.
As the pandemic's threat grew exponentially in Alaska and throughout the world, our family grappled with unusual challenges.  Patrick, a gill net fisherman in Prince William Sound, chose to quarantine on the water for two weeks in order to meet requirements to enter the fishing village of Cordova. Mary struggled for months in isolation in a dormitory room three hundred miles north of the Arctic Circle in Alta, Norway where she was working on a master's degree. Her return to Alaska was delayed until June because commercial airlines cancelled all flights out of her village for months.
As the risk of contracting Covid increased, Katy and I stayed away from public places as much as possible. Our children often shopped for us. We confined our restaurant visits to take out.
Increasingly, we immersed ourselves in the natural world.
We watched snow buntings, typically the first songbird migrants here, spring from a snow-covered field during a late March storm.  Early in April, our spirits rose seeing mew gulls emerge like winged ghosts through fog over a frozen coastal marsh. One afternoon, we were thrilled to discover a pair of trumpeter swans, the first we'd seen in months, paddling in narrow skein of recently opened water.  And in May the return of warblers, terns, shorebirds, and thrushes reassured us that facets of the natural world remained intact.
Two sightings were especially memorable. In early June I chanced upon a brightly colored harlequin duck swimming past me in the frothing current of a glacial stream while I searched willows for dazzling yellow Wilson's warblers. On another early summer excursion, Katy and I were thrilled to spot common, red throated, and Pacific loons on the same day in Anchorage 's Lake Hood.
By the time songbirds had nested and robin songs filled the evening air, we began relishing the wildflowers. Anchorage has more wildflower species growing in and around its municipality than any other American city. Katy and I often tallied two-dozen or more species on June and July walks. Wild flags, twinflowers, alpine azaleas, yellow anemones, Sitka roses, chiming bells, chocolate lilies, and shooting stars were favorites. Feasting out eyes on the vivid blossoms, some species with flowers smaller than a thumbnail, the pandemic seemed far away.
As July slipped into August, Patrick stuffed our freezer with salmon. One weekend Katy and I took a thousand mile round trip road trip into the Interior to a cabin in the Big Delta farming region. We feasted on buffalo burgers from a take-out stand, picked blueberries from the alpine tundra, and watched a band of white-winged crossbills pry seeds from white spruce cones.
Many Alaskans let out a sigh of relief in September. Covid case numbers seemed to level off.  The state had survived the summer without the multiple forest fires many communities coped with in recent years.
We monitored daily changes.  The mountainsides turned burgundy as the blueberries, bearberries, and other alpine plants assumed autumnal hues. Day by day, birch and poplar leaves transformed from green into brilliant gold.  Meandering along forest trails, we immersed ourselves in the pungent smells of autumn decay; delighted ourselves listening to the crackle of dead leaves under our footsteps.
Snows blanketed the landscape in late October.  In recent winters unseasonably warm temperatures quickly melted the snow cover. Trails iced up. Denied the opportunity to engage in favorite outdoor activities because of lack of snow cover, Alaskans grew gloomy during the darkest months.
But not this year! For the first time in recent memory, skiers, dog mushers, snowshoe and snow machine enthusiasts enjoyed their winter passions week after week. Ironically, Alaskans celebrated a return to normalcy in the midst of the pandemic.
And now, we have made it back to March again.
The population of common redpolls has erupted.  Dozens of these songbirds swarm onto our feeders in a frenzy several times a day. Last Sunday, I watched a robin sized sharp shinned hawk dive into the songbirds in an unsuccessful attempt to strike one for dinner. The redpolls scattered in panic. The hawk settled into the alder ten feet from our window where it perched still as a statue. When no redpolls appeared, it flew away on steady wing beats.  The redpolls returned minutes later.
Tonight when I walk the dog after dinner, I'll admire a warm twilight glow behind the Chigmit Mountains.  Once darkness descends, I'll watch from the living room for the two calves and a cow moose that sauntered through our yard to browse on willow last night. I wondered if they are the same animals that bedded down in our yard last June when the twins were newborns.  Before I slip into my pajamas, I will step into my driveway and search overhead in hopes of catching the dance and shimmer of northern lights.
Katy and I plan to travel to Washington State next month. Although we look forward to seeing friends and favorite places there, we are saddened that the continuity of our days here will be severed. We've relished our close connection with the natural world. We've cherished spending time with Mary as she finishes up her Norwegian studies via long distance classes from our home.
Alaska now leads the nation in the percentage of residents who are vaccinated. The vaccine has been carried to the remote reaches of our far-flung land by bush plane and fishing boats, by dog sled and snow-machine, by truck and train and helicopter. Our state is lucky to have received vaccine designated for the Indian Health Service to use with members of the state's 229 sovereign tribes. And, since Alaska has the most veterans per capita on the United States, the state also accepted large allotments to serve its military population.  Vaccine is so plentiful here that anyone over the age of sixteen is already eligible for a shot.
It seems that we could put the virus well behind us if the state would keep restrictions in place while immunized numbers ramp up. However, municipalities are bowing to pressure and lifting restrictions in restaurants, bars, and other gathering places.  Our local representative on the assembly has been outspoken in her opposition to all forms of mandatory proclamations and restrictions to curve the virus.
Governor Dunleavy, who contracted the virus earlier this month, published a letter in the "Anchorage Daily News" lauding the state's success battling the virus in spite of his decision not to issue a statewide mask mandate. He wants residents to know that we are beating the pandemic without yielding freedoms.
Although Kodiak and a few other communities have vaccinated 90 percent of their adult population, statewide herd immunity does not seem likely.  Earlier this week, our district's state senator was barred from the legislative floor because she refused to wear a mask. Alaska, a state that annually ranks in the bottom of the country in population percentage getting flu shots, has many residents– some who are political leaders– who embrace a strong "don't tell me what to do" ethos.  Soon, tourists and seasonal workers who will flock here for summer months bringing additional pandemic challenges.
Despite being fully vaccinated, Katy and I continue to exercise caution. We are hopeful, but not greatly optimistic, that the worst of the pandemic is behind us.