Mike McCormick: Virus in Alaska
Eagle River Virus
By Mike McCormick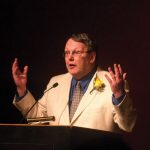 I'm sitting on my deck listening to the ebullient calls of ruby-crowned kinglets as they flit from branch to branch high atop birch and spruce trees.  My wife Katy is transplanting geraniums from inside our arctic entry room to outdoor flower boxes. We are enjoying a late spring day in a manner that we've come to cherish in the thirty-plus years we've lived in this house.
Throughout this Covid pandemic I have felt fortunate to live in Alaska.
Our Governor Mike Dunleavy declared a state of emergency on March 11, a day BEFORE Alaska's first reported case of the virus. By March 13 he'd ordered all schools to close. Other restrictions followed quickly.
Perhaps most critically, the state requested that any person arriving in Alaska from out-of-state quarantine for two weeks. Some remote villages required anyone who visited, even people traveling in state, also quarantine for fourteen days. Some villages have restricted air travel in and out almost entirely. Although the state doesn't enforce the statewide-level quarantine (it's a request, not a mandate), every single person I know has complied with the suggested guidelines.
Our son Patrick, a commercial salmon fisherman, works out of the isolated (accessible only by boat or plane) Prince William Sound community of Cordova. Prior to the season, Cordova mandated a fourteen-day quarantine period for all incoming fishing industry personnel.  Patrick submitted a plan to quarantine aboard his boat for the two weeks while he traveled about the Sound.
Serving his quarantine, Patrick lived in the cramped aft cabin of his twenty-nine-foot fiberglass boat as he explored some of the most beautiful wilderness waters on the continent. Anchoring in bays stretched under glacial hung mountains, he observed a migrating young gray whale, hundreds of sea otters, rare cackling geese, and other wildlife. Occasionally, he anchored off and paddled his raft to shore for a few hours fly-fishing for rainbow and cutthroat trout. He also managed to find snow to ski on not far above the shore. One evening, he dropped a line deep down and pulled up a red snapper for dinner.
The Copper River salmon season has started slowly. Only about 20 percent of the estimated migrating fish due at this time are back. In general, Patrick has been slightly disappointed with his take. He did however land a thirty-five-pound king salmon that fetched nearly $500 from the tender who buys his fish. The news brought a smile to all our faces.
The coordination amongst our state leaders has been admirable. Governor Dunleavy, a strong Republican supporter of President Trump, has worked closely with Ethan Berkowitz, the Democratic mayor of Alaska's largest city of Anchorage. Governor Dunleavy appointed an economic stabilization team headed up by a former Republican Governor Sean Parnell and Democrat Mark Begich.
Regular public briefings have been a model of decorum and professional efficiency. Dr. Annie Zink (Alaska's top medical expert in the pandemic response) joins with the political leaders to share emerging data, policy, and perspectives. The leaders present a calm, coordinated view. Questions from reporters and citizens are accepted and answered respectfully.
There has been very little public pushback against the pandemic containment plan. Part of the reason for the widespread support may be that some measures are recommended and not mandated. And the recommendations haven't been as stifling as citizens in many states face. For example, although children's playgrounds were taped off for weeks, parking lots in municipal and state parks were not closed. Trails remained open. Most small businesses and restaurants were free to develop socially distanced take-out and delivery plans. Additionally, restaurants were free to sell alcohol with take out orders. Alaska's numerous marijuana dispensaries and alcohol stores, deemed "essential services," remained open. These businesses thrived.
Alaska's pandemic strategies have to date been highly successful.  As of May 29, our state of about 730,000 people has experienced ten deaths. There have been a total of 430 cases, but 367 of these have recovered. At this moment, there are only fifty-three known active cases; fourteen of these people are hospitalized.  Dr. Zink and her Covid response teams are attempting to trace every case.
To put Alaska's pandemic numbers into a Merrimack Valley perspective, Haverhill, Lawrence, and Lowell EACH have far more cases, deaths, and hospitalizations that our entire 630,000-square mile state.
Time will tell how well our economy weathers the storm. The state was already grappling with a seismic economic downturn because of the decline in oil prices. Thousands of jobs in the tourist industry have been lost at least through next winter. Fish prices are down due to lower than normal demand from worldwide restaurants and from China. The state has no income or statewide sales task to supplement lost oil revenue. The state's university system, public schools, and almost every conceivable state service, including the lifeline ferry system, is on the budget chopping block.
As our day slides into late afternoon, I think of our daughter Mary who is finishing up the first year of her graduate studies in tourism in Alta, Norway, two hundred miles above the Arctic Circle.
In early March Norway shut down swiftly and tightly soon after she returned to her university from volunteer work in Sami villages supporting a long- distance sled dog race. Since several of her dormitory mates had returned from trips outside of the region, Mary and all other students who had interacted with the travelers were required to quarantine.
When President Trump announced that American students should return to the United States immediately or prepare to stay put indefinitely, Mary chose to remain. She felt a sense of spirit de corps with her classmates; she was proud to be a resident of Norway. She loved her classes and the idea of janteloven, a Norwegian tradition of sacrificing individual desires and pleasures for the greater good of society. When she thought about returning to the States, she realized that she would have no health care if she left Norway. She relishes having that country's free or inexpensive easy access to health care and medicine due to her status as a resident.
Norway's rapid, thorough testing, universal healthcare availability, and stringent lockdown measures checked the spread of the Covid virus in much of Norway; the virus has been totally absent in Noway's  Finnmark region where Mary lives for weeks.
Mary quarantined in her dormitory for more than a month. Since she was not able to enter the local grocery store, a Norwegian friend delivered groceries, handing them through her dormitory window, once a week. The Norwegian government provided Mary and other foreign with a stipend to purchase food.
Norway is making progress re-establishing life under the new normal. Recognizing the connection between returning to work and caring for children, Norway reopened the schools starting with pre-school, kindergarten and primary grades. Leaders understood that both the young students and their parents would gain maximum benefit by getting the littlest ones back to school. Prime Minister Erna Solberg hosted two virtual town halls for children to help the youngest Norwegians cope with the pandemic.
According to one economist, Norway planned for 16 percent unemployment. Many workers have been paid 100 percent of their salaries for the first thirty days of the lockdown and 62 percent thereafter. When jobs start up again, these workers will find the jobs that furloughed them waiting for their return.
Mary has a year to go in her studies. She had originally hoped to spend this summer in Europe where she had two or three possible tourism-related job prospects and many travel ideas. These are by the board because of the pandemic. Because of the Covid uncertainty in the months ahead, her professors and academic advisors have cleared her to take classes virtually in the fall and to write her thesis while living in the States.
Unfortunately, travel arrangements are a challenge as she tries to get home.  Her flight from Oslo to Seattle on Iceland Air was cancelled this week. The airline has no plans to resume service on that route in the foreseeable future
Luckily, she was able to retain her seat on a Scandinavian Airlines flight from her village to Oslo since it is the only flight out scheduled for weeks. She has also re-booked her international travel. If all goes well, after two nights in hotels and four flight changes she will be back with us in early June. We are in the process of setting up a space in our home for her to quarantine. Hopefully, she will be able to obtain Covid testing a few days after her return.
If all goes ideally, Katy, Mary and I will drive seventy-five minutes on the summer solstice to Whittier's boat harbor on Prince William Sound for a family reunion with Patrick.