Untold Lowell Stories: Black History (UMass Lowell)
Every month is Black History Month even though February stands out in the spotlight. We're happy to share news of a special resource at the UMass Lowell Center for Lowell History, based at the Patrick J. Mogan Cultural Center as well as online.
"Untold Lowell Stories: Black History" brings together extensive research done by long-time university librarian Martha Mayo. She managed the Center for Lowell History during her long tenure on campus. Local Black history, women's history, and immigration history were particular interests of hers.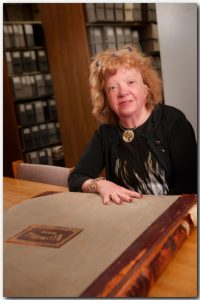 Martha Mayo (photo by Kevin Harkins)
Learn about the Underground Railroad in Lowell, Rev. Martin Luther King, Jr.'s day in the city, basketball star Harry "Bucky" Haskell Lew, Elizabeth Cornwell who gained her freedom in Lowell in 1859, and abolitionist poet Lucy Larcom, among many other figures and events.
Here's the link to the page on the UMass Lowell Libraries website.