Aguisín, ("Afterword") a Reading by Aifric Mac Aodha
Throughout the month of March, Trasna is featuring Irish language writers. This week, we are pleased to share the work of Aifric Mac Aodha, an accomplished Irish-language poet. We are also pleased to share the spoken word, two readings, each in Irish and English, by the poet. For many Americans, Aifric Mac Aodha's reading may be your first encounter with this rich and ancient language. As evident from the translations of her poetry, there is beauty here, not just of language, but of images: "But don't be so hard on my youth,/ that I loved fire and not the fireplace./ Time I started over and like Cúchulainn/ went to war with the waves."
Aifric Mac Aodha reads "Aguisín" and "Gabháil Syrinx"
Aguisín
Níor eitil an t-éan i ndiaidh a rubaill,
níor thréig aon bheach coirceog,
níor shiúil an leon faoin gcathair mhór,
an chathair mhór, níor dódh.
An leithscéal a bheadh agam féin,
gur briseadh orm gan choinne,
ní mise is fearr, de réir dealraimh,
i dtaca le scaoileadh nod(a).
Ná tógtar orm é, m'óige,
nár thuigeas an teallach ón tine.
Tá in am agam tosú as an nua,
dul ag coraíocht leis an tonn tuile.
Afterword
The bird didn't fly tail-first
or the hive lose a single drone,
the lion didn't prowl below the city
and the city didn't burn down.
All I've got by way of excuse
is being caught on the hop,
who was never the first in line
for when the penny dropped.
But don't be so hard on my youth,
that I loved fire and not the fireplace.
Time I started over and like Cúchulainn
went to war with the waves.
Trans. David Wheatley
Gabháil Syrinx
Critheann an solas
ar chothrom an locha,
ritheann an ghealach
den chiorcal róchumtha.
Stopann fad spéire
fán aimhréidhe theann,
ropann a loinnir
inneach na gcrann.
Feileann an t-iomlán
do theorainn na luachra,
ceileann an chiumhsóg
tosach an bhruacha.
* * * *
Ligim uaim le haimsir
pictiúr seo na bruinnille:
ní ghéilleann sí d'éinfear
ná ní sheasann ina choinne.
Anáil mhná, ní scaoileann
ach eadarghlór ar tinneall:
i láthair na gabhála,
ceiliúrann sí is critheann.
The Taking of Syrinx
Light flickers
on the face of the water
and the moon flies
the glamoury circle.
A length of unmoored sky
defies strong snares
and the trees' weave
is torn by lustre.
The whole sets off
the rushy edge,
the narrow bounds
where the river-bank ends.
* * * *
Over time I develop
this picture of the girl:
she yields to no man
nor stands in his way.
A woman won't breathe
unless ready, between-words:
at the site of the ambush,
she sways, transformed.
Trans. David Wheatley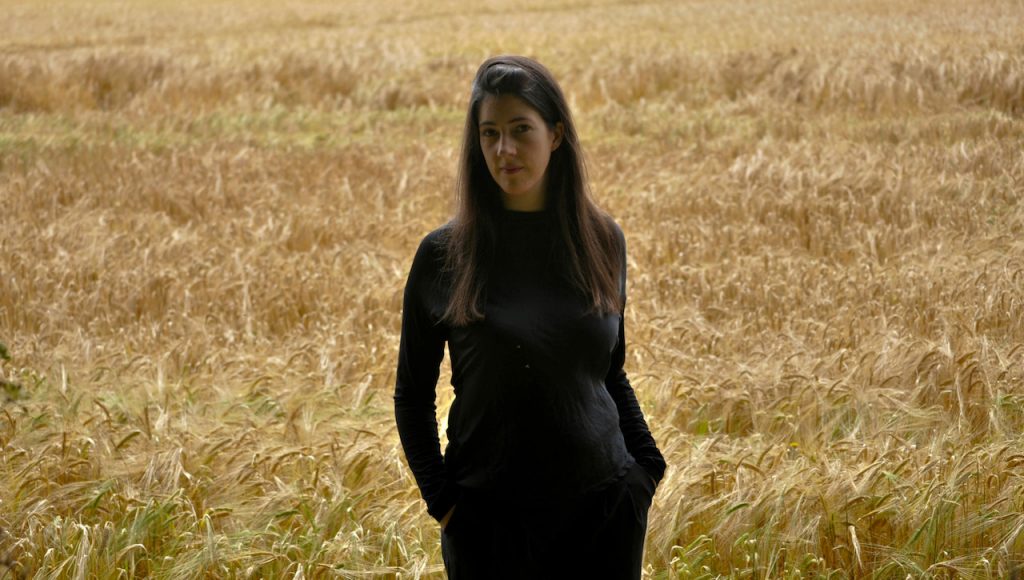 Aifric Mac Aodha is the Irish-language poetry editor of Poetry Ireland Review, gorse and The Stinging Fly. Her first poetry collection, Gabháil Syrinx (The Taking of Syrinx), was published by An Sagart in 2010 and she has had work in various magazines and journals, including POETRY Young Irish Poets. Her work has been translated to many languages, including French, German, Italian, Spanish and Czech. She has been awarded several bursaries by The Arts Council and, in recent years, she has read at numerous festivals in Europe, America and India. She was the winner of the Oireachtas Prize for Poetry (2017). Her latest collection, Foreign News, with translations by David Wheatley, was published by The Gallery Press in 2017: https://www.gallerypress.com/product/foreign-news-aifric-mac-aodha-david-wheatley/
She lives in Dublin where she now works for the Irish-language publisher, An Gúm.